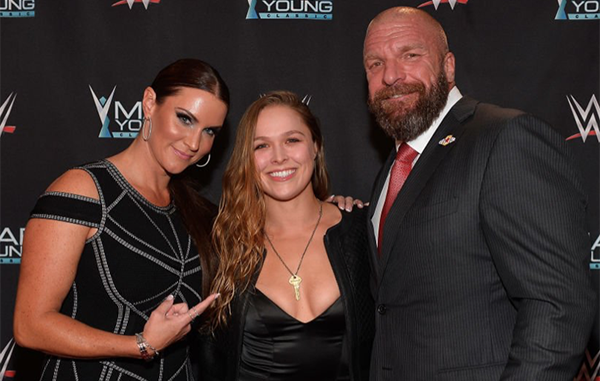 ---
SPOTLIGHTED PODCAST ALERT (YOUR ARTICLE BEGINS A FEW INCHES DOWN)...
---
Many Possible Turns for the Women…
Recap: After a long series of PPV recaps, the show began with Alexa Bliss and Mickie James entering the ring. Alexa cut a promo putting over Mickie while burying the other four women from the Elimination Chamber. She also predicted that she would defeat Asuka at WrestleMania.
Asuka then came to the ring to confront Alexa. Alexa mocked Asuka's English proficiency. Soon after Asuka arrived, however, Nia Jax approached the ring. While Nia was on the ramp, Asuka attacked Alexa and Mickie, but once Nia reached the ring Asuka was taken down by the three heels. Bayley and Sasha Banks then ran to the ring to assist Asuka.
During a commercial break, Kurt Angle set a six-woman tag. At one point during the match, Sasha reached to tag Bayley, who jumped off the apron to leave Sasha out to dry. The announcers were quick to point out that Bayley was willing to rescue Asuka during the match, but not Sasha.
Asuka ultimately submitted Mickie to win the match for the faces.
Evaluation: Sasha was still a face tonight. [Interestingly. as the match cut to a commercial break, a loud, clear voice of a fan calling Sasha a terrible friend served as an outro.] Of the two, Bayley actually acted more heelish tonight.
Mickie was a clear heel tonight, despite not really turning last night. A heel turn isn't a bad idea for her since she wasn't being used as a face, but I would've preferred she did something clearly nefarious last night if this was the plan.
Forecast: It looks like Sasha and Bayley will be fighting at WrestleMania. Tonight's angle was designed to create some doubt as to which would be the heel in the matchup, but I still believe it will ultimately be Sasha. Sasha is a proven heel, and Bayley doesn't seem to have the personality to play a heel well. That said, they could surprise us, and perhaps Bayley has a fantastic dark side just waiting to come out on screen.
Tonight's show still operated under the assumption that Asuka will challenge Alexa Bliss at WrestleMania. It's notable, however, that Asuka still has not announced her choice, which bolsters my belief that she'll instead challenge Charlotte Flair. It's clearly a better match, and would free up Alexa to finally play out her "frenemy" feud with Nia Jax.
Cena Figures It Out…
Recap: A replay of John Cena's Raw Talk segment was shown. Cena looked lost and distraught at not having a definitive plan for WrestleMania, but mentioned that he would "figure it out".
Cena then came to the ring to address the fans. He admitted he failed, and that he was demoralized. He stated that based on the crowd's reaction to him, he knows that he must go through failure alone. He intimated that his character was being tested, but that he wasn't feeling sorry for himself.
Cena claimed that he had figured out his road to WrestleMania, and then issued a challenge to the Undertaker, to a giant pop from the crowd. However, Cena then said that he had been told that the Undertaker match wasn't happening, killing the crowd's excitement. He told the crowd that they now knew what failure felt like.
Cena then said he was picking himself up, and that as a free agent that meant heading to SmackDown to try to earn his path to WrestleMania there.
Evaluation: I liked Cena throwing the Undertaker match out there, then taking it away from the fans. The Undertaker matchup was so widely expected that teasing it then pulling it away it was a good curve ball. I doubt anyone saw the move to SmackDown coming.
Forecast: I'm hoping that tonight's fakeout by Cena was real, and that the Undertaker match truly is DOA. The Undertaker has wrestled multiple WrestleManias too many. He's had several "final matches" which have cheapened each successive one. There also isn't much he can do in the ring anymore.
With so much of this year's WrestleMania having been considered a foregone conclusion for such a long time (Reigns-Lesnar in particular), Cena going to Smackdown for a new feud is a welcome occurrence.
Movement Toward a WrestleMania Mixed Tag…
Recap: Triple-H and Stephanie came to the ring, recapping last night's events. Stephanie said that Kurt Angle's comments were driven by pneumonia-driven hallucinations. She also mentioned "owning" Ronda Rousey, and teaching her the hierarchy of WWE. Stephanie then announced that Kurt Angle would be coming to the ring to apologize, but before he could get there, Ronda Rousey stormed down the ramp in a rage. Kurt stopped her and attempted to calm her down. He told her to work within the system. He pled with Ronda that he needed the GM job, and told her that he lied about what he had said at Elimination Chamber.
Stephanie thanked Kurt for setting the record straight, and seemed ready to move on from the matter. Before she could, however, Ronda stated that Stephanie owed her an apology for last night's slap, and threatened to tear her arm out of its socket absent such an apology. Stephanie did in fact apologize, but before Stephanie and Triple-H left the ring Triple-H took down Kurt.
Evaluation: I'm torn here. On one hand, I hate the idea of Stephanie McMahon in the ring. On the other hand, I recognize that without the benefit of a couple of years in NXT, it makes sense for Ronda to ease her way into the ring rather than throwing her into a one-on-one match with top talent right away. And there is precedent for this type of management vs talent in-ring feud, most successfully Austin vs. Vince McMahon in the 1990s.
Forecast: It definitely appears we're moving toward a Kurt & Ronda vs. Stephanie & Hunter mixed tag match at WrestleMania. Stephanie can't wrestle, and Kurt did not look good when we last saw him in the ring. Hopefully they can put together a passable match to keep the crowd interested.
Random Thoughts…
-Again there were no cruiserweights on Raw, however the announcers put over 205 Live by mentioning that Seth Rollins' long distance frog splash was the type of thing more regularly seen on the cruiserweight show….
-It appears that Seth Rollins and Finn Balor both want the Intercontinental Championship. After seeing Rollins irritated at Finn for upstaging him after his match with the Miz, I think this will ultimately result in a Rollins-Balor match at WrestleMania….
-Teasing the crowd with a Brock Lesnar appearance, then taking it away and disappointing the fans was a smart move. Roman Reigns came across as the defender of the fans for calling Brock out on not appearing as scheduled. It made Reigns seem to care about the business and the title. That's important, because it counteracts Reigns' perceived "too cool for school" attitude that turns off so many fans…
---
NOW CHECK OUT LAST WEEK'S COLUMN: TOP 3 DEVELOPMENTS – RAW 2/19: Two hour Gauntlet match opens show, Asuka promo and Rousey hype, Final Chamber hype