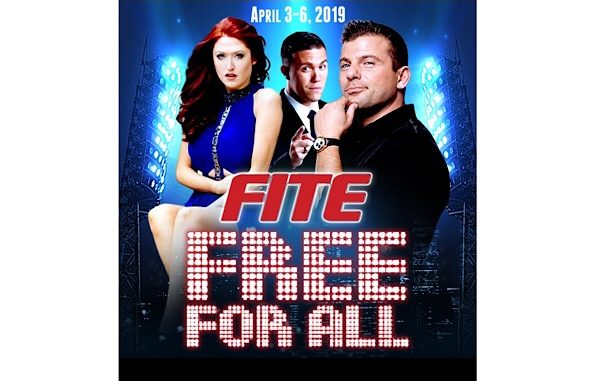 ---
SPOTLIGHTED PODCAST ALERT (YOUR ARTICLE BEGINS A FEW INCHES DOWN)...
---
-Fite TV is airing 31 events total during WrestleMania week. They will be available individually or in three packages (GCW Collective, WWN Live: More Than Mania, and The WrestleCon Bundle Pack. For a limited time this weekend, Fite TV is offering a Fite Fest bundle, which gives you 20 events for $119.00. You get access to all of the wrestling events that aren't part of The Collective at White Eagle in this bundle including ROH/NJPW G1 Supercard, RPW, WrestleCon SuperShow, and more. The bundle will be available from 7 p.m. ET on March 29 until midnight ET on March 31.
-Fite Free For All will be a live viewers guide to Fite Fest. It will be a studio program that will be available for the viewers of Fite Fest and to everyone with a Fite TV account for free. The hosts will be SoCal Val, Cyrus Fees, and Matt Stryker. Fite Free For All will have live looks at events as they air similar what you see on the MLB Network and ESPN during live sporting events. The shjow will also feature interviews with wrestlers and breaking news.
-Below is a list of all of the events airing on Fite.tv during WrestleMania weekend. Included below are the start times and price of each events if you prefer to events individually on Fite.tv.
Wednesday April 3
8:00pm ET Beyond Wrestling – Uncharted Territory Worester, MA $9.99
8:30pm ET WrestlePro Does Funny Money Rahway, N.J. $14.99
Thursday, April 4
12 Noon ET INDY.TV White Eagle $9.99
4:00pm ET GCW Josh Barnett's Bloodsport White Eagle $14.99
4:00pm ET WXW LaBoom $14.99
7:00pm ET WrestleCon SuperShow Hilton – NYC $14.99
7:30pm ET ISW Boner Jam IV: Balls OutWhite Eagle $9.99
8:00pm ET DDT LaBoom $14.99
11:00pm ET Impact Wrestling: United We Stand Rahway Rec
11:00pm ET AIW – The Slumber Party Massacre White Eagle $9.99
11:55pm ET Kaiju Big Battel LaBoom $14.99
Friday, April 5
11:00am ET WrestleCon USA vs The World Hilton – NYC $14.99
11:00am ET Shimmer LaBoom $14.99
12 Noon ET Chikara – Once Upon A Beginning White Eagle $9.99
3:00pm ET RPW Hilton – NYC $14.99
3:00pm ET WWN Super Show – Mercury Rising LaBoom $14.99
3:30pm ET Black Label Pro – Adventures in Wrestling White Eagle $9.99
4:00pm ET Stardom Japanese Women's Wrestling NYC Arena $9.99
5:00PM ET ROH/NJPW G1 Supercard Press conference Hulu Theatre Free
8:00pm ET GCW Joey Janela's Spring Break 3 – Part 1 White Eagle $14.99
8:00pm ET Joey Ryan Penis Party Hilton – NYC $14.99
11:59pm ET Blackcraft Wrestling – No Apologies White Eagle $14.99
Saturday, April 6
11:00am ET Pro Wrestling Revolver – Pancakes and Pile Drivers Hilton – NYC $14.99
12 Noon ET GCW Presents – Orange Cassidy is Doing Something or whatever White Eagle $9.99
2:00pm ET House of Glory – Culture Clash 19 NYC Arena $14.99
2:00pm ET MoreThanMania.com 2019 Wrap up Party LaBoom $14.99
4:00pm ET IWS – Unstoppable White Eagle $9.99
6:30pm ET Drags and Dropkicks House of Yes $9.99
7:30pm ET WrestlePro vs. CZW Rahway Rec $14.99
7:30pm ET ROH/NJPW G1 Super Show MSG $39.99
11:59pm ET GCW Joey Janela's Spring Break 3 – Part 2 $14.99
Locations
White Eagle Hall, 337 Newark Ave. Jersey City, N.Y. 07302
NYC Arena, 91-12 144th Place, Jamica, N.Y. 11435
LaBoom, 56-15 Northern Blvd. Woodside, N.Y 11377
Rahway Rec Center, 275 E. Milton Avenue, Rahway, N.J. 07065
House of YES, 2 Wyckoff Avenue, Brooklyn, N.Y. 11237
Hilton Midtown, 1335 Avenue of the Americas, New York, N.Yy. 10019 Madison Square Garden, 4 Pennslyvania Plaza, New York, N.Y. 10001
PWTORCH GIVEAWAY
To win a free Fite Fest bundle that will give you access to 20 events next weekend that aren't part of the collective on Fite TV. Included in the bundle are events from ROH/NJPW, WrestleCon, Impact, RPW, and more. To enter the contest, simply retweet the tweet below. The contest will end tomorrow at 8 p.m. EST and the winner will be announced on Twitter.
New @PWTorch contest. One winner will be chosen tomorrow night at 8p.m. EST to win a free @FiteTV Fite Fest bundle that includes over 20 events from WrestleMania weekend including ROH, NJPW, RPW, Wrestlecon,To enter:

(1) Follow @sr_torch

(2) Follow @PWTorch

(3) RT this tweet pic.twitter.com/gJ1UPKykdI

— Sean Radican (@sr_torch) March 30, 2019