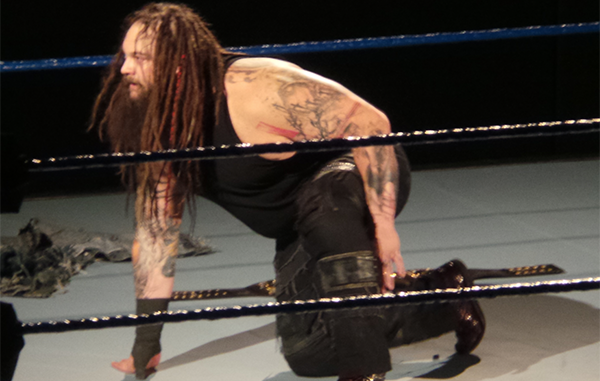 ---
SPOTLIGHTED PODCAST ALERT (YOUR ARTICLE BEGINS A FEW INCHES DOWN)...
---
The following report was originally published five years ago this weekend on PWTorch.com…
---
WWE Live show results
March 28, 2014
Raleigh, N.C.
Report by R. Eric Smith, PWTorch correspondent
(1) IC champion Big E. beat Kofi Kingston and The Miz in a triple threat match to retain the Intercontinental Title. Decent match, but too much stalling. One guy got knocked/thrown out of the ring and acted like he was barely conscious while the other two went at it for a while. Good sequence of nearfalls from all three, then Big E. double-clotheslined Kofi and Miz. Then, more third man stalling. Big E. planted Miz with the Big Ending for the win.
(2) Bella Twins & Eva Marie beat Alicia Fox & Layla & Aksana in a six-Divas tag match. Either Brie or Nikki took out Layla for the win.
(3) Real Americans (Cesaro & Jack Swagger w/Zeb Colter) beat R-Truth & Xavier Woods. Prior to the match, Zeb complained about being in South Carolina. Swagger told him it's North Carolina, and Zeb said, "Who cares, it's all the same." Zeb then read an announcement: "Will the owner of a green hatchback with license plate please move your car. It's not blocking anything. It's just a piece of crap." There were a lot of "What's Up?" vs. "We The People" chants. The match ended when Cesaro got the Big Swing on Truth and took him out with the Neutralizer.
(4) Daniel Bryan beat Kane via DQ. Bryan came out with his shoulder and ribs wrapped in gauze. Bryan had the early advantage and peppered Kane with running dropkicks and Yes! kicks. Kane retaliated by smashing Bryan's arm on the ringpost and barricade. After a lengthy beat down, Bryan made his comeback and wrapped Kane up in the Yes! Lock. Ryback then randomly stormed in to make the save, DQ'ing Kane.
Post-match, the Real Americans ran in and the three stomped on Bryan. Then, The Shield emerged from the service entrance and came to Bryan's rescue. Kane tried to sneak up on Bryan with a chair, but Roman Reigns spears him. I was glad to see the Shield, as they weren't advertised on the card, but no match from them.
[Intermission]
(5) Dolph Ziggler & Emma beat Fandango & Summer Rae in a mixed tag match. Rae and Emma worked most of the match. Good thing, because I think Fandango wrestles like a turd. Ziggler basked in a lot of babyface heat and took Fanny out with the Zig-Zag. I will never understand why WWE thinks Emma's pointy finger dance will get her over.
(6) Big Show beat Damien Sandow. Sandow was hilarious. He called us "barbarian half-wits" and "simple." He said that he's going to do his entrance again and everybody better cheer him this time. They didn't. Big Show had fun tossing around Sandow and gave him a stinkface 6-7 times. He counted along with the referee while his butt was planted on Sandow's face. Show won with the KO punch.
(7) John Cena & Goldust & Cody Rhodes beat The Wyatts in a six-man tag main event. Awesome match. Luke Harper and Erick Rowan acted like they were hypnotized as they pounded on the face trio, Goldust looked so fit and trim, a lot better than he did in the '90s, Cody got off some amazing aerial work, and Cena worked the crowd. I was hoping Bray would do the crab walk, but he didn't get around to it. The match ended with finishing move trade-offs until Cena and Harper were left. Cena won with the AA.
– Biggest babyface pops: Cena, Big Show, and Daniel Bryan were really popular with the kids. Ziggler worked the crowd well.
– Biggest heel heat: Sandow (by far), Zeb Colter, and the Real Americans. The Wyatts are more like a silent freak show that slither around like snakes.
---
RECOMMENDED: 5 YRS AGO – NXT TV REPORT (3/27/13): Charlotte vs. Natalya, Xavier Woods vs. Tyler Breeze, plus Corey Graves, Bo Dallas, Mojo Rawley, Neville