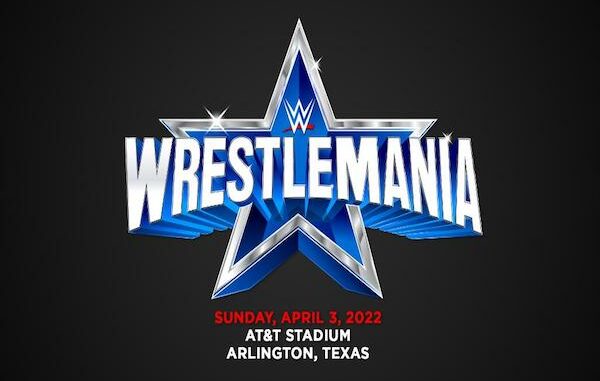 ---
SPOTLIGHTED PODCAST ALERT (YOUR ARTICLE BEGINS A FEW INCHES DOWN)...
---
April 2, 2022, WrestleMania Saturday will emanate from AT&T Stadium in Arlington, Texas. It is the first night of "the most STUPENDOUS two-night event in WrestleMania history", WrestleMania 38. The women's Royal Rumble winner, Ronda Rousey challenges for Charlotte Flair's WWE Smackdown Women's Championship in the main event. Also, the "Texas Rattlesnake" "Stone Cold" Steve Austin defends Texas's honor from Kevin Owens in what been promised to be a physical confrontation, Seth Rollins eagerly awaits a mysterious opponent selected by the Chairman himself, Vince McMahon, and Bianca Belair and Becky Lynch meet again, this time for the Raw Women's Title. All of that and more on night one of a two-night affair.
Charlotte Flair (c) vs. Ronda Rousey – WWE Smackdown Women's Championship Match
Story in a nutshell: Ronda Rousey won the 2022 women's Royal Rumble match, and she chose Charlotte Flair as the champion that she wanted to face.
After returning at, and successfully wining the Royal Rumble, Ronda Rousey had to choose between facing one of her rivals in Charlotte Flair or Becky Lynch. She chose to face Flair, warning Lynch that she was next. Flair and Rousey had several physical altercations with Rousey getting Flair to tap to a freshly unveiled ankle lock submission. Flair tried to get Rousey back by forcing her to tap but Rousey, thus far, has not.
Prediction and analysis: With submission being a key component of the build to this match, I expect submissions to play key role. Either Flair has Rousey beat but decides to humiliate Rousey by forcing her to tap, giving Rousey the opening to win, or Rousey wins by some other means that is not a submission and Flair parlays the fact that she didn't tap to a future "submissions only" match. Either way, Rousey wins.
"Stone Cold" Steve Austin vs. Kevin Owen – KO Show confrontation
Story in a nutshell: Failing to get a match for WrestleMania, Kevin Owens called out Steve Austin for a confrontation on his talk show, The KO Show.
Kevin Owens tried, unsuccessfully, to politick for a spot in WrestleMania. He teamed with Seth Rollins to try to capture the tag team titles but they came up short in that endeavor. In desperation, Owens played up that he hated Texas and called out Steve Austin, inviting him on the KO Show. Austin accepted.
Prediction and analysis: So, while not technically a match I think there will be more than just a stunner and beers with Austin celebrating in the end.
Seth Rollins vs. TBA
Story in a nutshell: Failing to get a match for WrestleMania, Seth Rollins unsuccessfully tried to "steal" his way into other peoples' feuds until Vince McMahon told him that he'd find Rollins an opponent.
Seth Rollins found himself in the same boat as Kevin Owens without a clear path to WrestleMania. When they failed to win the tag titles Kevin Owens came up with his plan to confront Steve Austin. Rollins in desperation tried to take Owen's place so that he'd be the one to face Austin. The spot was put up for grabs in a match, but Owens won. The Rollins tried to muscle his way into the match between AJ Styles and Edge. Rollins failed there too. Rollins's disruption of the product caught the attention of Vince McMahon who said he'd find Rollins an opponent.
Prediction and analysis: It's going to be Shane McMahon. He's going to come out, do his little dance and get taken out by a returning Fiend. This way Vince gets to humiliate his son and "punish" Rollins with the monster that pretty much destroyed him. (Or it might just be Cody.)
Becky Lynch (c) vs. Bianca Belair – WWE Raw Women's Championship Match
Story in a nutshell: Bianca Belair won the 2022 women's Elimination Chamber match to get a shot at the champion, Becky Lynch, who had been avoiding giving Belair a fair title shot.
Becky Lynch returned to action after some time off at SummerSlam where she beat Bianca Belair for the WWE Smackdown Women's Championship in 26 seconds after landing a sucker punch. Afterward, Lynch fended off Belair by trying to avoid facing her and, when finally cornered, winning via nefarious means. After the WWE Draft, Lynch and Belair went to Raw and the Smackdown title transmogrified into the Raw title. Lynch continued to play keep-away with the title until Belair won the Elimination Chamber match to be Lynch's challenger at WrestleMania. Along the way, Belair whipped Lynch with her hair (likely scarring her, look up the video, it was gnarly), Lynch's throat was injured and she in turn injured Belair's throat. Lynch then went after Belair's braid only for Belair to turn the tables and chop up Lynch's hair sending Lynch into an apoplectic rage.
Prediction and analysis: All logic tells me Belair should win so I wouldn't be surprised if Lynch retains. I am going to trust my gut and go with Belair.
Drew McIntyre vs. Happy Corbin
Story in a nutshell: Drew McIntyre wants revenge on Happy Corbin and his stooge, Madcap Moss, after they nearly ended McIntyre's career when they ambushed him at WWE Day 1.
The "jokesters", Happy Corbin and Madcap Moss drew the ire of Drew McIntyre. (I swear I didn't do that on purpose). This led to a match between Madcap Moss and McIntyre at WWE Day 1. McIntyre won but while being interviewed backstage later that night, he was waylaid by Moss and Corbin. This put McIntyre's on the shelf for a while. McIntyre returned at the Royal Rumble as a surprise entrant and when after his assailants. Having taken out Moss already, McIntyre set his eyes on Corbin next. Corbin was able to get his hands on McIntyre's sword but McIntyre was able to recover it. Also, Moss's jokes lately have come at Corbin's expense leading to a bit of friction there.
Prediction and analysis: McIntyre beats Corbin and hopefully we can all move past this. I expect Moss to take the blame for the loss.
Jey Uso & Jimmy Uso (c) vs. Shinsuke Nakamura & Rick Boogs – WWE Smackdown Tag Team Championship Match
Story in a nutshell: Rick Boogs defeated Uso in a one-on-one match to earn a shot at the WWE Smackdown Tag Team Champion
The Usos, Jey and Jimmy Uso, realized they didn't have opponents line up for WrestleMania. Rick Boogs came out selling an injured leg and challenged one of the Usos to a match to earn a title shot. The Usos accepted thinking Boogs would be easy prey, but Boogs was faking the leg injury and won the match.
Prediction and analysis: It makes more sense for the Usos to retain since it keeps them strong, but the titles don't get much play in their hands since the Usos are more tied to the Roman Reigns storyline then doing their own thing. The titles would get more play in the hands of Boogs and Nakamura, so I lean towards a Nakamura and Boogs win.
Rey Mysterio & Dominick Mysterio vs. The Miz & Logan Paul
Story in a nutshell: Miz is jealous of the attention Rey Mysterio receives so he picked a fight with him.
The Miz was upset with Rey Mysterio for being chosen to be on the cover for the WWE2K22 video game and for getting a chance to qualify for the Elimination Chamber. This led to a series of matches between Miz and Dominick Mysterio with Miz cheating to win, and claiming Dominick cheated when he'd win. Miz brought in Logan Paul to even things out. At one point Miz stole Rey's mask, but the Mysterios were able to recover it.
Prediction and analysis: The Mysterios win, and Logan Paul will likely lay out Miz at some point.
King Woods & Kofi Kingston vs. Sheamus & Ridge Holland
Story in a nutshell: King Woods and Kofi Kingston seek revenge for what Sheamus and his crew of Ridge Holland and "Butch" have done to them, including injuring Big E.
With King Woods out with an injury, Big E came over from Raw to help Kofi Kingston keep the "New Day" ship afloat. They ran into Sheamus and his protégé, Ridge Holland who destroyed Big E's ATV. Sheamus and Holland introduced a debuting Pete Dunne know known as "Butch" leading to what was likely going to be a trios match once Woods returned. Unfortunately, Big E took a bad suplex on the floor that broke his neck and is out indefinitely (Get well soon Big E). Kofi was forced to take on the three alone until Woods made his comeback to somewhat even the odds.
Prediction and analysis: New Day wins.
---
CATCH-UP: LECLAIR'S WWE HALL OF FAME 2022 REPORT: Detailed coverage of 2022 induction ceremony featuring The Undertaker