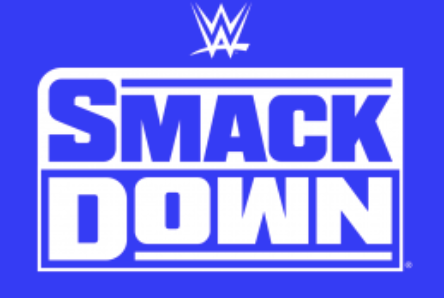 ---
SPOTLIGHTED PODCAST ALERT (YOUR ARTICLE BEGINS A FEW INCHES DOWN)...
---
WWE SMACKDOWN TV REPORT
JANUARY 13, 2023
GREEN BAY, WISC. AT RESCH CENTER
AIRED ON FOX
Announcers: Michael Cole, Wade Barrett
Ring Announcer: Samantha Irvin
---
[HOUR ONE]
-The "Then, Now, Forever, Together (not counting the "founder's" family)" brand stamp aired. Then the Smackdown opening theme aired.
-Michael Cole introduced the show as being from "Title Town." (I'd say it's time for a fact check on that, but as a Minnesota Vikings fan, I'm prohibited.)
(1) GUNTHER vs. BRAUN STROWMAN (w/Giovani Vinci, Ludwig Kaiser) – Intercontinental Title match
Cole noted Braun lives about an hour and a half from Green Bay and is thrilled to be having this title match near his "home turf." He said he is hoping to start his second IC Title reign tonight. When Gunther came out, Cole noted he's been IC Champion since June 10, so 217 days. They replayed the ringside attack by Vinci and Kaiser on Braun, sending him shoulder-first into the ringside steps two weeks ago. Cole said that could be a factor in the outcome of this match. Then Samantha Irvin did formal ring introductions. The bell rang 5 minutes into the hour.
Gunther bailed out seconds into the match. Boos rang out. Gunther wiped his feet on the apron and returned to the ring. Strowman powered Gunther over the top rope and then charged at him at ringside and sent him flying into the announce desk. They cut to an early break at 2:00. [c]
Wade Barrett said styles make fights, and Gunther understands Braun is a bad match-up for him since it takes away the size advantage he's used to. Gunther had Braun locked in an armbar after the break. Cole talked about entities giving Gunther some Match of the Year honors including ESPN. Barrett called Gunther "a no thrills dark destroyer." Braun backdropped Gunther, who landed on his knee. The ref checked on Gunther as Vinci and Kaiser attacked Braun. Cole said Gunther might have feigned an injury at an opportune time so his henchmen could give him that advantage. Braun absorbed two chops, but countered a charging Gunther into a tile-a-whirl slam for a near fall. They cut to another break at 10:00. [c]
Back from the break, they exchanged chops. Gunther charged and Braun turned it into a spinebuster for a near fall. Gunther landed a running dropkick a minute later followed by a hard clothesline for a near fall. He landed a top rope splash for another two count. They battled on the top turnbuckle. Gunther yanked Bruan's arm over and then delivered a powerbomb off the top with a stacked cover for the win.
WINNER: Gunther 18:00 to retain the Intercontinental Title.
(Keller's Analysis: That finishing sequence was clumsy, but it was otherwise a solid and even compelling battle between two tanks wrestling largely a style playing off of their power move style. The arm yank and then subsequent powerbomb were both weak looking. They didn't even play up the arm yank during replays even though that was a key storyline going into the match because it looked so weak.)
-A sponsored recap aired of the Sami Zayn-Bloodline storyline.
-They went backstage where Sami was knocking on the Bloodline locker room door. Paul Heyman answered suspiciously quickly. Sami said he wanted to talk to the guys. Heyman said he's the only one there. Sami was confused. He said he talked to the others earlier. Heyman said Roman Reigns told him earlier he wouldn't be showing Sami love if he didn't let him beat Kevin Owens on his own for them. Heyman said Reigns is not there out of love. Sami asked Heyman to do him a favor and call Reigns and tell him that he made the right call because he will solve this problem tonight. Sami said, "It's not a prediction, Paul, it's a spoiler." Heyman smiled, but when Sami walked away, Heyman looked distressed. [c]
-As Rey Mysterio made his ring entrance, they showed a graphic with wrestlers declared and qualified for the Royal Rumble so far, which included Baron Corbin, Santos Escobar, Bobby Lashley, Seth Rollins, Austin Theory, Ricochet, and Kofi Kingston. Rey said holidays are supposed to be the best of times, but Dominik ruined it. He said Dominik has been running around like he's some hardened criminal and a thug. He said it breaks his heart as a father. He said as a man, he's pretty fed up with that sh–. He was bleeped. He said to prove his point that he can get back on track, he's going to enter the Rumble and win it. Fans cheered. He was interrupted by Karrion Kross's music. Kross and Scarlett came out.
Kross entered the ring in his leather jacket and white shirt with a tie and circled Rey in a show of dominance. His special effects lights finally stopped and he said, "Well, well, well, in the flesh, Mr. Rey Mysterio." He said he was in the back hearing Rey talking about goals. He said he needs goals because how else would he "manage to peel your old broken ass out of bed every day." He said the years haven't been kind to him. He said people remember 17 years ago when Rey won the Rumble. Fans cheered. Kross said, "I said 17 years ago, so relax." He said he's sure it was a special moment for your son, Dominik. He said Rey must not know either way because he was never around for Dominik when he was a kid.
Kross said he and Scarlett want to know if at the end of the day, who does he hate more, his son Dominik for not growing up to be just like him or Rey failing to raise his son to be just like him. Rey had enough and punched Kross several times. Kross caught him and squeezed. Rey escaped with an elbow and sent Kross into the middle rope. He went for a 619, but Scarlett tripped him up. When Rey turned back around, Kross put him in the Straight Jacket.
(Keller's Analysis: Kross was really good there. The digs at Rey were deeply personal and mean, and his delivery was straight forward and not overly cartoonish like he's been in the past.)
-Backstage, Emma asked Liv Morgan about the wisdom of entering the Royal Rumble no. 1. Maxxine Dupri also questioned her. Raquel Rodriguez walked in and told Liv she has a nice fighting spirit, but the strategy isn't great. She said someone of her size would have a better chance to succeed if she entered last. Raquel said she thinks she's built for this match. Liv said she got her palm read and look close. She then slapped Rodriguez. Rodriguez said she's tired of people underestimating her. She said she'd see her in the ring.
(Keller's Analysis: Rodriguez was better there as a heel than she's been as a babyface. Her size just gives her an advantage that should be presented in this context as a bully who believes she's better than the smaller women.)
-Xia Li made her ring entrance. [c]
(2) TEGAN NOX vs. XIA LI
Barrett said Xia spent her first six months in WWE walking on egg shells and trying to smile and please everybody. He said she realized that gets you nowhere in this industry. He said her change of attitude can help her get ahead. Xia landed an overhead suplex a minute in. She charged with a tornado kick, but Nox ducked and then hit a quick Shiniest Wizard for the win.
WINNER: Nox in 2:00.
-They went to Cole and Barrett at ringside who threw to a clip of the Usos vs. Drew McIntyre & Sheamus last week, focused on Solo Sikoa taking out Drew. He said after they went off the air, The Viking Raiders attacked Drew and Sheamus from behind.
-A vignette aired with The Viking Raiders. They were stirring a bowl of teeth as they talked about suffering awaiting Drew & Sheamus.
-Backstage, Drew and Sheamus told Adam Pearce they want the Viking Raiders tonight. Drew slapped Sheamus. Sheamus slapped him back. It was friendly but intense. Pearce stepped between them and said next week he's starting a tag team tournament for a title shot and they'd face the Raiders in the first match next week. Drew and Sheamus slapped his back and said it'll be another banger.
-Cole hyped that Bray Wyatt was up next. [c]
-Cole hyped that Hardy would perform at the Royal Rumble live.
-Bray Wyatt's ring entrance took place.
[HOUR TWO]
-The entrance carried over into the first couple minutes of the second hour. When his music stopped, Cole narrated highlights of the angle two weeks ago when "the mysterious Uncle Howdy" entered the ring and gave Wyatt a Sister Abigail as L.A. Knight stood by and watched. Cole plugged the Royal Rumble match between Bray and Knight.
Knight sat in a rocking chair mid-ring. He addressed the fans and said, "Green Bay, we're here." He giggled and said it's sure wild how sometimes we forget who we are and what made us in the first place. He said then you realize all you have to do is revel in what you are and it all comes back to you. He said he is the color red in a world full of black and white and the eater of worlds. He said he is Uncle Howdy. "I am him," he said. He said he is the nagging conscious of a world that has thrown itself away to moral monsters. He said he has to remember who he is. He said at the Rumble, it will be his true rebirth. He said Knight should know that when the lights go out, he should run. The segment suddenly ended.
-Kayla Braxton interviewed Kevin Owens backstage about facing Sami later. Sami interrupted Kayla's question. He asked if KO is happy about what's happening. He said he should have just stayed on Raw. KO said he was on Raw, but Bloodline showed up and ran their mouths each week. He said he didn't ask for this match or the tag match with John Cena. He said Reigns is the one putting him in those situations. He said he's using him so he doesn't have to come to work. Sami emphatically said KO doesn't understand that the Bloodline are his family and he should see evidence of it every week. Sami turned and left.
(Keller's Analysis: Good exchange there. Both performed their roles earnestly and you buy into the idea that they each have their own point of view on what's going on. KO isn't being mean to Sami, since deep down he's sad he's caught up in trying to be accepted by a group who are using him and playing him. Sami probably deep down suspects that, but suppresses those thoughts and talks himself into his fantasy that they like and respect him or that they can be convinced some day to like and respect him.)
-Liv's ring entrance took place. [c]
-They showed scenes of the Green Bay Packers. They're down to touting that the Packers beat the Bears every year. Barrett said the Bears are the worst team in football. (As a Viking fan, I'll sit in the background and eat popcorn while those two non-playoff teams go at it.)
-Kayla interviewed Imperium backstage. She asked if the victory gave Gunther the momentum he needed. Gunther said it's a glorious day because he overcame his biggest challenger so far. He said it's time to capitalize on that at the Rumble and throw body after body out of the ring so he can go on to the main event of WrestleMania.
(3) LIV MORGAN vs. RAQUEL RODRIGUEZ
Rodriguez overpowered Liv early. Cole said smaller wrestlers can win the Rumble. He cited Rey and Shawn Michaels. Barrett said Michaels wouldn't appreciate him calling him small. Liv knocked Rodriguez over the top rope with a running clothesline. Cole said if this were the Rumble, that would have eliminated her. [c]
Liv knocked Rodriguez down and then set up a table. Cole said it's not a No Holds Barred match, so he's not sure what's trying to accomplish other than showing the locker room that she's indeed not quite stable. Liv put Rodriguez on the table and then climbed to the top turnbuckle. Rodriguez rolled back into the ring. Liv dove at her, but Rodriguez swatted her out of mid-air. Rodriguez then hit the Tahana Bomb and scored a three count.
WINNER: Rodriguez in 5:00.
-Cole explained that the winner of the Women's Rumble can choose to face either the Smackdown Champ or Raw Champ. They threw to a clip of Charlotte Flair beating Sonya Deville last week.
-Deville ranted at Pearce backstage and wanted a rematch with Charlotte. Pearce said she lost and she doesn't get a rematch because that's not how things work around there. Deville said there's a double-standard for Charlotte and others. She said she'd figure out a way to get the rematch.
-Cole plugged that the main event was up next. It was only 22 minutes into the second hour. [c]
-They cut backstage to Charlotte and Deville brawling. A referee pulled Charlotte off of Deville, but she got in one more kick. Charlotte insisted she didn't start the fight. Deville swung a chair at her. Others arrived to separate them. Charlotte tossed Deville over a rolling crate. She put her arms up and was going to leave, but Deville leaped off the crate and hit her with a forearm. The brawl continued for another few seconds until they were separated.
-They went to Cole and Barrett at ringside. They threw to another video package on Cody Rhodes training for his return. It focused on his return to WWE which Cole framed as "the unlikeliest of WWE returns."
-Sami Zayn made his ring entrance. [c]
-Cole announced that Rey would face Kross in two weeks on Smackdown. Barrett said the Reigns-KO contract signing would take place next week, plus there'd be the first round of the tag team tournament.
(4) KEVIN OWENS vs. SAMI ZAYN
The bell rang 38 minutes into the hour. Owens offered a hand shake. Sami kicked it away. Sami suplexed KO onto the ring apron at 2:00. They cut to an early break. [c]
Back from the break, Sami was still in control. KO blocked a Sami superplex attempt with a headbutt and then landed a frog splash for a two count. Sami countered KO's Pop-Up Powerbomb with a Blue Thunder Bomb for a two count. Sami overhead suplexed KO, but KO fired back with a hard clothesline. Both were down as they cut to another break at 10:00. [c]
A commercial aired hyping Raw's 30th Anniversary in Philadelphia on Jan. 23 on USA Network. The logo said "Raw is XXX." Sami lifted his knees as KO went for a top rope swanton. They showed that during the break, Sami hit a tornado DDT for a near fall. Fans chanted "This is awesome!" KO landed a twisting suplex out of the corner for a near fall. They exchanged strikes on their knees and kept fighting when they stood. Sami gave KO two suplexes onto his head. Sami waited for KO to stand. They zoomed in on Sami's as fans began to react to something. The Usos and Solo Sikoa then charged into the ring and attacked KO. Sami looked confused and disappointed. Cole said Sami can't believe it.
WINNER: KO via DQ in 16:00.
-Cole said Sami felt he had KO set up for a Helluva kick and he might've won. The Usos and Solo cleared the announce table and then beat KO up. Sami told them they should have let him do his job. They said he did great. "You did it!" Jey said. Sami shook his head but didn't look proud or pleased at all. Solo leaped off the barricade with a running splash onto KO's chest and head, collapsing the announce desk. Sami didn't look like he was taking any pleasure in watching that beat down. Sami did join the Usos in standing over KO, but again looked like he was reconsidering how The Bloodline act.