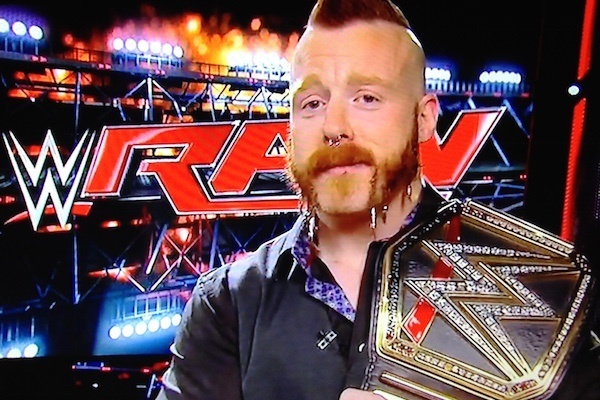 ---
SPOTLIGHTED PODCAST ALERT (YOUR ARTICLE BEGINS A FEW INCHES DOWN)...
---
TORCH TODAY – Tuesday, December 1
– LIVECAST ALERT: Join PWTorch editor Wade Keller and Jason Powell of Prowrestling.net on today's Livecast at 5:00 p.m. EST at PWTorchLivecast.com taking calls & emails!
– WWE wraps up this week's schedule Tuesday night in Hershey, Pa. with the Smackdown TV taping. Advertised for Smackdown is Bubba Ray Dudley (with Devon and Tommy Dreamer) vs. Bray Wyatt (with the Wyatt Family) in a big singles match.
Also advertised for the TV taping are WWE World Hvt. champion Sheamus, Roman Reigns, Dean Ambrose, IC champion Kevin Owens, Divas champion Charlotte, and Becky Lynch. Advertised for the live crowd at the Giant Center is Reigns & Ambrose vs. Sheamus & Owens in a bonus tag match. (We're looking for a Report sent to pwtorch@gmail.com.)
– WWE NETWORK HIGHLIGHTS: WWE does not have new content on Tuesday. Replaying throughout the day is Monday's new edition of "Breaking Ground" featuring Tyler Breeze.
While there is not a new episode on the Network today, WWE has added episodes of 1980s Mid-South Wrestling and 1990s Smoky Mountain Wrestling. (via WrestlingDVDNetwork.com)
– One of the biggest missing stars from Monday's Raw was Kevin Owens. There is no indication yet why Owens did not appear on Raw. Owens has not addressed his absence publicly, last tweeting on Sunday.
– There is also no indication whether there will be a WWE segment on the ESPNews SportsCenter broadcast Tuesday night. WWE did not announce a guest during Raw or on their website. Also, usual SportsCenter host Jonathan Coachman has not commented on whether there will be a guest or segment.
TUESDAY AFTERNOON UPDATE: Coach said there will not be a SportsCenter segment this week because Coach is traveling.
Unfortunately my work duties are taking me away from Bristol so there will not be a segment this week. https://t.co/3vMjbEnzaW

— Jonathan Coachman (@TheCoachESPN) December 1, 2015
– Neville, who usually produces a SportsCenter highlight on Raw, was also not on Raw. (He wrestled a pre-Raw Superstars match.) Neville linked up with Owens in a new interview with the Gorilla Position podcast where he said he hopes to face Owens for the IC Title at WrestleMania.
"I've got a lot of goals in this business. I can't say who'll be champion by the time WrestleMania rolls around. If it is Kevin Owens, I'd the love the opportunity to do that. I've got a lot of history with Kevin," Neville told Rob Leigh. Neville and Owens had numerous battles on the independents before WWE, most notably for PWG in California. [ Full Interview at TalkSport.com ]
– The CBS Pittsburgh affiliate covered WWE visiting the Pittsburgh Children's Hospital, which is linked to Connor's Cure, while in town for Monday's Raw. Stephanie McMahon, Ryback, and Lucha Dragons were among those on-hand.
– In a new interview, former Smackdown on-air GM Teddy Long talked about the origins of his GM role, the customary tag team main events he would announce, and his famous dance, which was inspired by his grandson trying to walk.
On the famous Teddy Long Tag Team Special, Long said on the Two Man Power Trip of Wrestling podcast: "I never really thought about it and there was never any thought behind it. I was told what to do, I was told we were going to turn this into a tag team match and I just started doing it on my own in giving the emphasis on 'tag team match' and doing my thing. But it actually got over and is all over YouTube. Everybody wants to see me make that tag team match.
"Whatever you are told to do is serious. It's strictly serious with Vince (McMahon), you don't laugh or play around so whenever they said tag team match I said well I am going out there and making this the best tag team match and better than the other ones I made. That's the way I always thought about it just being better than the last time. Stuff like that was probably discussed in a production meeting and don't get me wrong I had been invited to some of the production meetings but that is voluntarily if you wanted to go. I didn't really want to go to those because I didn't really want to know what was happening."
– Advertised for the December 15 Smackdown TV taping in Newark, N.J. is a bonus six-man tag match of Sheamus & Owens & Bray Wyatt vs. Reigns & Ambrose & Kane. This was advertised in the New Jersey market during Monday's Raw. (Thanks to Mike Omansky)
– Former NXT star Sami Callihan (Solomon Crowe in WWE) has been announced for two bookings in December. Callihan is scheduled for Rockstar Pro this Friday, December 4 in Dayton, Ohio. Callihan's opponent is Jake Crist. Callihan is also booked for his CZW return on Saturday, Dec. 12.
– Of note for TNA Impact on Pop TV distribution, CBS and AT&T U-Verse agreed to a carriage deal over the summer that will include all CBS-owned channels by 2016. Pop is currently not on U-Verse, but it is expected to be available sometime in 2016. It remains to be seen how deep into next year before Impact is available on the widely-distributed cable provider.
– And, finally, Sheamus has new WWE Title plates for his first WWE World Hvt. Title run (fourth major title overall), winning the unified title introduced at the 2013 TLC PPV.
To celebrate #December1st, I give you my #WWETitlePlates… I got two. #Laoch. pic.twitter.com/fTAZUp6SD1

— Sheamus (@WWESheamus) December 1, 2015