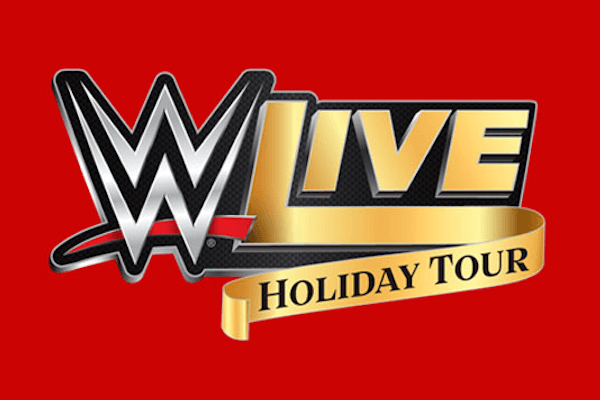 ---
SPOTLIGHTED PODCAST ALERT (YOUR ARTICLE BEGINS A FEW INCHES DOWN)...
---
WWE Live show results
December 30, 2015
Baltimore, Md.
Report by Tony Shadman (@TheDarthTony)
(1) Dolph Ziggler beat Tyler Breeze (w/Summer Rae). Ziggler came out with unusually dry hair. They danced around the ref and Summer before starting the fight. Standard back and forth with Breeze showboating in the corner causing "Let's Go Ziggler" chants. Back and forth with Ziggler doing the corner taunt right back at him. Breeze started to take a commanding lead, but Ziggler started to come back. Breeze distracted the ref, though, and Summer slapped Ziggler. Later, Breeze distracted the ref again and Summer choked Ziggler on the ropes. Two count for Breeze. Breeze went aerial, but got dropkicked in the face. Ziggler made a comeback with a combo splash in the corner before a neckbreaker. Ziggler hit a Fameasser for a two count. Ziggler set up for a superkick, but Summer interfered and was ejected. They try to pin each other, but keep reversing each other's attempts with another pin attempt. They hit the ropes and splashed into each other. Ziggler then got a three count after hitting Zig-Zag.
Next was a big 12-man tag match.WWE tag champions New Day entered first with Los Matadores, Heath Slater, and Adam Rose. Their opponents were Lucha Dragons, Damien Sandow, Curtis Axel, Fandango, and R-Truth. Truth did the What's Up chants while Big E. acted like he was going to fight a kid wearing a lucha mask. Truth asked the crowd to shout "New Day Sucks" every time he said "What's up?"
(2) Lucha Dragons (Kalisto & Sin Cara) & Damien Sandow & Curtis Axel & Fandango & R-Truth beat WWE tag champions New Day (Big E. & Kofi Kingston w/Xavier Woods) & Los Matadores (Diego y Fernando) & Heath Slater & Adam Rose in a 12-man tag match. New Day had way too much fun with the audience, as they kept dancing and booty-shaking mid-match. So, the other team took over the ring and started dancing to make fun of them. New Day taunted the audience refusing to throw a shirt to the fans so the other team stole the shirt and threw it to the audience three rows in front of me. The guy that caught it spilled his beer on someone, so he gave that person the shirt. New Day's team tagged in and out and at one point Xavier played Fandango's song to make fun of him. Sin Cara, who was injured on Raw, stole Xavier's trombone and chased him backstage. Kalisto then hit his finisher for the three count.
Bray Wyatt appeared on the screen to talk about how he will defeat Demon Kane tonight. Byron Saxton then appeared in the audience to ask a little girl's opinion on the match. Hannah said that she thinks Kane will win.
Next, Bo Dallas came out to talk to the audience. Bo received a much warmer reaction than he did last night at the Smackdown TV taping in D.C. Bo ranted that tonight we are witnessing history because it is the start of the Bo Dallas Winning Streak. Jack Swagger then entered to a lot of support.
(3) Jack Swagger beat Bo Dallas via submission. Back and forth, then Dallas slid out of the ring for a victory lap, drawing boos. Dallas offered to shake hands, but the crowd responded negatively. Bo then shook the ref's hand to show that he doesn't have bad intentions. He then shook Swagger's hand and they did a fancy handshake, including Swagger twirling Bo. Bo then twirled Swagger and punched him in the face. Eventually, Swagger won with the Patriotlock.
Bray Wyatt came out next with a lot of support, but when Kane came out, the arena erupted. The support was heavily in Kane's favor the entire match…
(4) Kane beat Bray Wyatt. They hit the standard offense with Kane and Wyatt each doing an Undertaker "wake-up" moment. It was a pretty standard and crowd-pleasing match, which ended with Wyatt attempting Sister Abigail, but being chokeslammed for the three count.
(5) Team Bellas (Brie Bella & Alicia Fox) beat Team B.A.D. (Naomi & Tamina). Both teams were missing their stars (Nikki and Sasha Banks) for the second night in a row. There is a rumor of Sasha being injured at Raw, prompting her absence. As for this match, Team B.A.D. generally dominated with Tamina putting on an exceptional show. Team Bella was dressed for Christmas, by the way, which seemed silly. Fox also performed much better than she is typically allowed to. Brie won with her X Factor for the three count.
Rusev and Lana were out next. Lana stomped on Santa's hat, saying Rusev will crush his opponent tonight and the only real Christmas is a Russian Christmas. Ryback entered as the opponent.
(6) Ryback beat Rusev (w/Lana). This was the match of the night, as the two monsters tossed the heck out of each other. They both sold really well and the crowd was at its loudest. The "USA" and "Feed me more" chants were only interrupted by "We Want Lana" chants. Ryback hit an excellent superkick for a two count, then he almost hit his finisher, but Rusev reversed into a sleeper. After breaking free, Ryback almost went aerial, but Rusev ran up to the corner and turned it into a top-rope superplex. Ryback ran into a superkick, but then hit Shell-shock for the win.
(7) WWE World Hvt. champion Roman Reigns beat Sheamus in a Street Fight to retain the WWE World Title. Sheamus got a lot of boos and the crowd was hugely supportive of Reigns. I left early to be first in line at the box office to get front row seats for Raw returning to Baltimore on May 23.