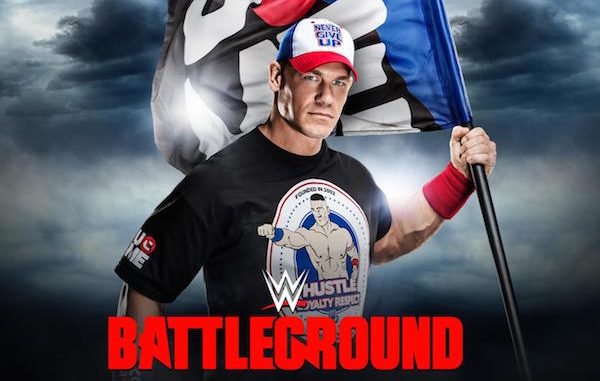 ---
SPOTLIGHTED PODCAST ALERT (YOUR ARTICLE BEGINS A FEW INCHES DOWN)...
---
Your Pat McNeill Live blog of WWE Battleground 2016 starts here:
We're live from DC.  Nothing's happened yet.  Tom Phillips is in the Social Media Lounge with GM's Mick Foley and Bryan Danielson.  Send in your questions.
@RealPatMcNeill just sent in a question to both general managers.  Why the hell didn't either of you goofs pick Nakamura?
Fantasy picks?  Foley would have liked to have Terry Funk. Daniel Bryan would have liked to have Shawn Michaels.
I like how both GM's talk about taking the focus off the authority figures in a segment where the focus is on the authority figures.
Earlier today, Darren Young picked up Bob Backlund as Bob was hitchhiking to the arena.
Ranallo & Saxton have the call for our preshow bout between The Usos and Breezango.  Let us take you back to Tuesday, when Tyler Breeze and Fandango were drafted to the Kickoff Show brand.
Tyler Breeze just pinned an Uso, setting up Smackdown Live's big tag team feud of the summer.  (Seriously, who did the Usos piss off? Or was it something Naomi did?  You can tell us.)
A video package about our main event of Dean Ambrose vs. Roman Reigns vs. Seth Rollins, following up on that Seth Rollins heel turn from, um, 25 months ago.
WWE Network wants to slowly morph Renee Young into their version of Megyn Kelly.  If I were her, I'd watch out for WWE's version of Roger Ailes.
The battle flag opening for Battleground.  By the way, I wouldn't say no to a signed Sasha Banks battle flag.  It'd be, um, for a friend.
Speaking of Sasha, we kick off the program with Charlotte and Bodybuilder Barbie against Sasha Banks and whoever.
For those of you who were wondering whether WWE fans would know who Bayley is, turns out they do.
The good news is: Bayley & Sasha Banks are tag team partners.  The bad news?  I think Deonna Purrazzo is the new #1 contender for the NXT Women's Title.
Bayley takes the heat.  Sasha takes Charlotte's head off her shoulders, and it looks like we're set for our title match at SummerSlam.  Now all we need is for Daniel Bryan to option Carmella back to the minors to clear a main roster spot for Bayley.
Up next, it's The New Day against The Wyatt Family in the battle for tag team supremacy.  (Non-title, of course)
Boy, JBL sure seems broken up about this being his last time teaming with Cole & Saxton on commentary.
The worst job in WWE?  Whoever has to explain New Day promos to Mr. McMahon.
Your storyline is all about Zombie Xavier Woods not being much help for his partners.
"Who do you tag in?  Xavier or Big E?"  You're joking, right, Byron?
Finally, we get the staredown between Xavier and Bray.  And Xavier finally snaps out of it and goes after Bray.  Hurrah!  And Bray finishes Xavier with Sister Abigail.  Wow, things got quiet.
Oh my goodness.  Roman Reigns is back in WWE.  The fans boo the sight of his Twitter profile.  Not a good sign.
Lana is out, dressed as Melania Trump.  Lana announces to management…I mean, the WWE Universe that Rusev is the only one who can have her.
Now let's meet our International announce team of La Parka and Funaki.
Rusev vs. Ryder for the United States title.  Zack Ryder's dad thinks he'll win.  Zack's mom picks Rusev.  Has The Big O weighed in yet?
Saxton explains that Ryder's gear for this match was inspired by Mike's Airbrush City at the Paramus Mall.  (Okay, not really.)
Yeah, Rusev wins, and it's time for the Bulgarian Brute to beat up Zack some more.  Mojo Rawley runs out to make the save.  If you're rooting for Rusev to kill this guy, you probably subscribe to the WWE Network.
Backstage, Mick Foley is telling Stephanie McMahon about his prime rib dinner at Golden Corral.
Seth Rollins tells his bosses that Roman Reigns is a wild animal.  A wild, juiced up animal who's freaked out on speed and…(cut to the announce table.)
Sami Zayn vs. Kevin Owens.  Those wacky Quebecers just can't get along.
I've seen this match about a dozen times.  Fortunately, it's been really good about a dozen times.  That last move was either a ridiculous botch or one of the best sell jobs of all time.
Okay, so it was a botch.
Zayn gives Owens a brainbuster on the apron.  This was on purpose.  The crowd chants "This is awesome".  I chant "That looked painful".
Saxton puts over the "impassioned disdain" in this feud.  That sounds like something I would type after a half dozen Mountain Dew Pitch Blacks.
Zayn wins with the Heluva Kick after both men take enough German suplexes to give Otto Wanz a headache.
And now, enjoy Corey Graves's final appearance as part of the WWE All-Star Panel.
(Yes, I did hear JBL say that Bayley's appearance on the main roster tonight was a one-off.  Not buying it.  Did you HEAR that crowd reaction?)
We don't have a popcorn match on WWE pay-per-views.  But if we did, it would be Becky Lynch against Natalya.
This is a pretty good grudge match.  Nattie keeps working the sharpshooter, and Becky finally has to tap.  This feud must continue!
Shane and Daniel Bryan give Dean Ambrose a pep talk before the main event.  Ambrose listens, sort of.
It's Brock Lesnar vs. Randy Orton on August 21st at SummerSlam.  The main event nobody demanded!
Speaking of stuff nobody demanded, time for Darren Young's Intercontinental Title shot against The Miz.
BREAKING NEWS: John Layfield has officially added the word "fictitional" to the English language.
Cole points out that Backlund held the WWF Title for 1,235 days.  To give you an example of how long that is, 1235 days ago, Raw regularly drew above a 3.0 rating.
Backlund bumps for Maryse, then bumps for Miz.  Then Maryse pretends Backlund hit her, yadda yadda yadda, double countout.  That finish probably looked better when they drew it up in AutoCAD.
Coming up next, The Club gets one last chance to #BeatUpJohnCena.
In fact, one of the big reveals from DNCLeaks was that Debbie Wasserman Schultz was paying interns to #BeatUpJohnCena.
"John Cena's coming home to the place he started!"  Where's that?  The Today Show?
Enzo Amore auditions for the role of life coach.  The highlight here is WWE Network trying to bleep the word "crap" from Enzo's promo.  And failing.  (How you doin'?)
This is a really long match.  And a really good match.  And Cena eventually hits Styles with an Attitude Adjustment off the second rope for the win.  So much for that feud.
WWE Network ad.  I don't think Noelle Foley will get to be Cactus Jill.
This is followed by The Gift of Jericho.  Y2J is interviewing Randy Orton on the Highlight Reel.
Randy Orton comes out, pumped and bumping fists with the fans.  Which means he'll be turning heel any minute now.
Jericho is going to give Randy the gift of Jericho.  Something tells me Orton would prefer a Hickory Farms gift card.
Orton says his RKO has "No enhancement needed".  Oh, dear.
Yes, Orton eventually hits the RKO from Outta Nowhere.  Tune in to Smackdown on Tuesday for more information.
It's time for our main event.  And why not?  We have…seventeen minutes of satellite time left.
You know what this show needs?  If you said "separate entrances for all four authority figures", give yourself a big hand.
Roman Reigns comes out for his title match and…that's definitely a reaction from the crowd.
JoJo gets to ring announce the main event.  This may be one of the bigger stories of the show.
Ambrose vs. Rollins vs. Reigns.  They give Roman some potentially crowd-pleasing spots, but the crowd seems more interested in booing Reigns.
It strikes me about five minutes into this match…we sure have seen a lot of Ambrose vs. Rollins lately.
All three men knock each other down.  Now would be a great time for the Social Outcasts to do a run-in.  (But they don't.)
Ambrose and Rollins join up to powerbomb Reigns through a table.  (And there was much rejoicing.)
Roman rallies and beats up both opponents by himself.  This is getting close.  Ambrose rallies and pins Reigns with Dirty Deeds.  Shane McMahon takes a victory lap, grinning like an idiot.  Okay, that was worth having Shane at ringside.
So, I think we're due for postgame coverage.  Join James & Greg on PWTorchLivecast at the bottom of the hour.  VIP members, you get us oldsters in a VIP roundtable, coming soon.