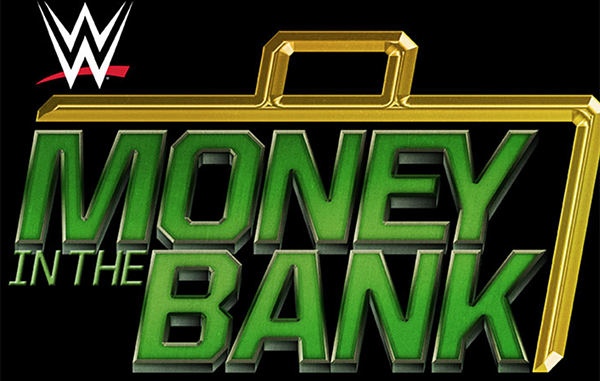 ---
SPOTLIGHTED PODCAST ALERT (YOUR ARTICLE BEGINS A FEW INCHES DOWN)...
---
KELLER'S WWE MONEY IN THE BANK PPV REPORT
JUNE 18, 2017
AIRED LIVE ON WWE NETWORK
KICKOFF SHOW HOTES
-Renee Young, Booker T, and Sam Roberts hosted.
-A video feature aired on the first-ever Women's Money in the Bank match. The video showed Mae Young, Fabulous Moolah, Wendi Richter, Alundra Blayze, Jacqueline, Trish Stratus, Lita, and Beth Phoenix as the key women in the evolution of women's wrestling. They framed MITB as a chance for the women to advance the cause of women's wrestling and as a "milestone moment." The women said it will be their time to prove something, with soundbites from each talking about what it means to them.
-Naomi talked about her title defense and the Women's MITB match. She said Lana has likely picked up a lot from being "under Rusev's wing" and watching his matches for so long. She said she looks forward to more challengers coming from the upcoming 32 women tournament. Booker T gave her a hard time for being nonchalant about how to plan for the MITB winner cashing in. Despite that, Booker picked Naomi to win. Sam Roberts picked Lana to win because Naomi is just "giving away opportunities" and doesn't seem to be setting herself up for a long reign.
-In the Social Media Lounge, the Usos, full of heel attitude, answered fan questions. They talked about "Day One Ish," saying it means going through a tough time and getting through it, and if you don't get it, then it's not about you. Jey said New Day have three members and cheat, so no wonder they're the longest-reigning tag champs. He said they will have their number. If they could face any legendary tag team, it'd be a long list – Hart Foundation, Harlem Heat, Demolition, Legion of Doom, Samoan Swat Team, and the Head Shrinkers.
-Renee Young said when she interviewed Jinder Mahal on Talking Smack, Jinder said Randy Orton isn't working as hard as him these days. She asked Roberts and Booker if they agree. Roberts said Jinder beat Orton, so there's perhaps something to what Jinder is saying. Booker said Jinder still feels under appreciated and he's going to be looking to make a statement tonight. He said he wants to beat Randy in his hometown in front of his father. Roberts said Jinder didn't have the best win-loss record since he got to Smackdown, and since he won the title, he's done more celebrating than title defending. Booker said Jinder told him on his podcast a week before he won the title that he was going to shock the world and prove that after all he had been through, he could prove he was the best. It ws quite the inspirational story Booker laid out there for a top heel. Sam said Jinder hasn't won clean. Booker, of of course (*sigh*) said Jinder put his name in the history books with his win as if that justified his tactics. Booker picked Mahal. Roberts picked Orton because he seems to be on to Jinder's tricks. Renee said she couldn't bet against Orton, "not in his hometown."
(A) THE HYPE BROS. vs THE COLONS
Ryder opened the match against Epico. The Colons went after Ryder's knee a couple minutes in. They cut to a break. [c]
After the break they built to the hot tag and eventually Mojo got the tag. He went to work on both Colons and then played to the crowd. Mojo scored a near fall with his Overdrive, but the other Colon broke it up. Four-way action broke out. Then came a top rope Hype Rider for the win.
WINNERS: The Hype Bros.
-Renee announced that Daniel Bryan returns to Smackdown on Tuesday. Booker quipped, "It's about time."
-Sam said the social media opinion on Shinsuke Nakamura right now is that he's brought it in terms of rock star ring entrances, but he hasn't brought it inside the ring yet. He said tonight he thinks he'll bring it, but he ended up picking Sami Zayn to win. Booker picked A.J. Styles.
MAIN PAY-PER-VIEW
-Announcers: Tom Phillips, Byron Saxton, JBL.
-A video package opened the show with a focus on Jinder Mahal vs. Randy Orton, the men's Money in the Bank match, and the women's MITB match.
-After ring entrances, the same video that aired near the start of the Kickoff Show aired again, including Stephanie McMahon talking about the Women's Revolution and Shane McMahon announcing the match, then each of the women talking about rising to this occasion.
(1) WOMEN'S MONEY IN THE BANK LADDER MATCH: CHARLOTTE vs. BECKY LYNCH vs. TAMINA vs. CARMELLA (w/James Ellsworth) vs. NATALYA
The bell rang 13 minutes into the hour. #MITB was the no. 1 trend in the world on Twitter in the opening minutes. The women brawled early and took turns taking shots at one another. Tamina threw some side kicks and was the first to pick up one of the many ladders and bridged on the second rope in the corner. She catapulted Natalya into it. Charlotte charged into Tamina and knocked her hard into a ladder propped in the corner. Then she jabbed her in the gut with the ladder. Natalya threw Charlotte out of the ring. Becky knocked the ladder into Tamina, who dropped onto her back. Becky and Natalya had a tug-o-war with the ladder, but when Tamina stood, they rammed her with the side of the ladder, then went back to pulling on it. A "Becky!" chant broke out and Becky shoved the ladder into Natalya. Natalya came back and slammed Becky onto the ladder.
Natalya was the first to climb a ladder at 4:00. Charlotte chased her up the ladder just as Natalya got her right hand on the case. Natalya kicked Charlotte down twice, but the third time Charlotte lifted Natalya onto her shoulders and dropped back with an Electric Chair Drop. Charlotte set the ladder up and climbed a few rungs, but Carmella yanked her down. Carmella climbed the opposite side the ladder. Charlotte met her at the top. They exchanged blows. Tamina tipped the ladder over. Natalya rammed Tamina with the top of the ladder. A "This is awesome!" chant broke out. Natalya put Becky in a sharpshooter mid-ring. Carmella broke it up.
Natalya gave Charlotte a butterfly suplex and then looked up at the briefcase. Becky reverse-whipped Natalya into a ladder leaning in the corner, then looked up at the briefcase. Becky climbed, but Carmella came up behind her and pulled her down. Then she gave Becky a rana out of the corner. Ellsworth cheered on Carmella, who had trouble figuring out how to lifted the ladder off the top rope on which it was leaning. That was a little embarrassing for about ten seconds. Then she climbed, but Charlotte yanked her leg off the ladder. Charlotte gave Becky a running boot. Meanwhile, Tamina took Natalya out at ringside. Charlotte quickly climbed the ladder, but Tamina hit her from behind with forearms and a headbutt to knock her to the mat.
Charlotte speared Tamina into the ropes; Tamina tumbled to the floor. Charlotte speared Tamina into the stairs. Charlotte did a flip-dive off the top rope ontoTamina and Natalya at ringside. They showed it from multiple angles including a super slo-mo version. Becky powerbombed Carmella inside the ring off the ropes. When Becky grabbed the ladder, Ellsworth entered the ring and tipped the ladder over. JBL uttered helplessly, "It's no disqualification." Ellsworth saw that Carmella was knocked out, so he climbed the ladder and he grabbed the briefcase. He took it off the hook and got cheered. Then he dropped it into Carmella's hands. The bell rang. Two referees chatted with another referee. They told him, "He isn't even in the match. He isn't in the match! It should not count." Ellsworth lobbied and grabbed the mic from the ring announcer. He declared Carmella is the first ever Miss Money in the Bank. Carmella's music played. Carmella celebrated. JBL said because it's not DQ, there are no rules. Saxton said there is no precedent for something like this. Saxton said the whole premise of the match is for one of the women to grab the briefcase. JBL said you can't break a rule that doesn't exist.
WINNER: Carmella at 13:20.
(Keller's Analysis: They managed to incorporate the ladder quite a bit without taking any crazy chances with ladders tipping over the top rope or awkward unpredictable bumps onto them. The finish was flat and really undercut the whole build as this being a historically significant occurrence. If anything, it just made a mockery of WWE for having such ridiculous rules.)
-Dasha Fuentes interviewed Lana backstage. Lana said the women are very lucky she was not in the MITB ladder match. Dasha said this is her first-ever singles match. Lana said she will shut up all her doubters and it'll be all the sweeter. "The Land of Opportunity will be ruled by the lavishing Smackdown Women's Champion."
(2) THE USOS vs. THE NEW DAY (Kofi Kingston & Big E w/Xavier Woods) – WWE Tag Team Championship match
The New Day walked to the ring and did some talking on their way. They asked the audience to prepare themselves for new tag team champions because "New… Day Rocks." A minute in Big E splashed Jey as he leaning off the edge of the ring apron. That looked more dangerous than it needed to be. Jimmy pulled the top rope down so Kofi tumbled over the top rope to the floor. Jey charged and gave Kofi a running clothesline as soon as he stood up. Then the Usos suplexed Kofi into the ringpost at ringside.
JBL said New Day started having success when they decided to stop making jokes and got serious. He said it's about being professionals now because you have the rest of your life to be funny and crack jokes. Jey yanked Kofi out of the ring by his hair. JBL said the Usos are suffocating Kofi and keeping him away from his corner. A New Day chant started. Kofi surprised Jey with a double mid-air stomp to show some signs of life. Then he leaped over to his corner and hot-tagged in Big E. Big E. gave Jimmy three belly-to-belly suplexes. Then he swiveled his hips. That gave Jimmy a chance to recover, making him look foolish and undisciplined. Big E. one-arm slammed Jimmy seconds later to score a two count. He clapped and got the crowd to clap with him. Then he went for a Big Ending, but Jimmy countered it. Kofi blind-tagged in.
Big E dove through ropes and speared Jimmy at ringside. Xavier ran over to celebrate and check on Big E. Big E threw Jimmy back into the ring. Kofi slapped and went for Trouble in Paradise. Jimmy ducked and tagged in Jey. Jimmy chopped Kofi's leg. Jey then put Kofi in a submission leg lock mid-ring. Jimmy dropped Big E from interfering. He dove through the ropes, but Big E caught him and suplexed him. Big E entered the ring, but Jey leg go of Kofi and kicked Big E. Kofi got up and gave Jey a spinning hook kick to the head, then applied a reverse chancery. Kofi fended off Jey and then gave him an SOS for a believable near fall that popped the crowd. Kofi tagged Big E, but Jey didn't notice. Jey superkicked Kofi, took off his shirt (copyright Jeff Hardy) and climbed to the top rope. He dove, but Big E caught him and dropped him and then picked him up again. Big E then gave Jey the Big Ending for an apparent victory, but Jimmy broke it up at the last moment.
Xavier stood on the ring apron and played the trombone. That got Jimmy's attention. Jey rolled up Big E from behind for a two count. The Usos gave a charging Big E double knees. Big E backdropped them both over the top rope to the floor. Kofi then did a variation of a Nestea Plunge off the top rope onto the Usos at ringside. Big E lifted Jey and Kofi delivered the Midnight Hour for a near fall. Jimmy pulled Jey out of the ring as the ref was counting. The Usos retreated at ringside and got intentionally counted out. A befuddled JBL said it's a foul and unsportsmanlike thing for the Usos to do.
WINNERS: The New Day via countout in 12:00, so the Usos retained the Smackdown Tag Team Championships. (***3/4)
(Keller's Analysis: Two unsatisfying finishes in a row. If Jinder retains, a heel wins the men's MITB, and Lana beats Naomi, what a downer of a night this could be for fans who like to root for babyfaces to win.)
-A commercial for Gold Bond aired with Shaq.
-A "Don't Try This At Home" message played.
-Phillips read a Daniel Bryan tweet saying what happened in the women's MITB was "Absolutely unacceptable and cheap" and he'd deal with it first thing on Smackdown.
-They showed Sgt. Slaughter and "Cowboy" Bob Orton chatting backstage.
(3) NAOMIA vs. LANA – Smackdown Women's Title match
Naomi came out first for some reason. Then Lana danced to the ring in her gown. Lana wrestled in a one-piece somewhat traditional wrestling outfit, not the gown. Naomi attacked Lana aggressively at the start. The ref scolded her for not breaking right away. Lana went to work on Naomi for a few seconds until Naomi swept her to the mat. She rammed Lana head-first into the middle turnbuckle. Lana avoided a diving Naomi and scored a quick two count. Naomi rolled to the ring apron. Some fans chanted "We Want Rusev." Lana kicked Naomi to the floor.
Back in the ring, Lana held Naomi down with a headlock. JBL said was impressed so far by Lana. Saxton agreed, noting Lana has controlled the majority of the match. JBL said you never know until someone gets an opportunity. He gave kudos to Shane "for allowing this to happen." Lana suplexed Naomi into the bottom rope, and then into the middle rope. Lana then worked over Naomi's leg. Naomi countered into an armbar, but couldn't hold it. JBL said he thought this match would be over in two minutes, at best. Naomi held Lana's arm and threw three round kicks. She then yelled "It's Glow Time!" to the crowd. She gave Lana a Rear View for a two count. Lana came back with a sitout powerbomb. JBL annoyingly declared "We have a new champion." Of course, Naomi kicked out.
Carmella then danced to the ring with Ellsworth, carrying her briefcase. The announcers said Carmella is going to cash in. She teased handing the briefcase to the time keeper, but then pulled back and watched the match, telling them to continue on. Lana went for a pin and got a one count. Seconds later, Naomi applied the submission she used at WrestleMania to win the title mid-ring and Lana tapped out. Carmella again teased cashing in the briefcase, but then said nope, another time. Naomi celebrated her win.
WINNER: Naomi to retain the WWE Smackdown Women's Title in 7:30.
(Keller's Analysis: That was largely passable action, and I think did exceed expectations in that regard. That said, putting Lana in a World Title match and then gushing about how good she looked nonstop doesn't make up for the absurdity of putting her in this match and how much it undercuts the whole lip service of the Women's Revolution. Lana isn't a women's title level wrestler yet, obviously, and I'm relieved they didn't decide to go for shock value and have her win it out of the gate.)
-They went to the announcers on camera who discussed the show so far. Then they threw to the latest "Fashion Police" segment.
-This was called "Fashion Vice" and was a spoof on "Miami Vice." The quote on the screen said, "Still haven't found… what we're looking for." Fandango had a large cordless phone with "Property of Paul E" written on tape stuck to the site. Fandango told Tyler Breeze the guys at the lab are going to send over some forensics based on his sketch of the stick figures. A fax came through and the noises scared Breeze so he pulled a water gun. Breeze said a VHS tape arrived. Fandango asked if is Coliseum Video. Breeze said no, then put it in a VCR. Two shadowy figures, along the lines of the Black Scorpion, said it was them and they'd like to face them later tonight. Breeze and Fandango discussed the possibility and agreed they don't stop until they get enough.
-The announcers agreed Breezango are two strange guys.
-ROH and TNA alum Mike Bennett and Maria walked out to their new entrance music, which sounded like it was from a cheesy 1980s movie, as hearts were projected onto the stage and ramp. The screen said "Mike & Maria Kanellis." Maria introduced herself as Mike gazed into her eyes. Mike introduced himself next. They were both wearing those wireless mic mouthpieces. Maria said they aren't seeing things. She said the first lady is back in WWE. Maria said she was looking for the perfect partner. Mike said they found each other. Maria said they're going to show Smackdown the power of love. Their music played next as they continued to look into each other's eyes in an over-the-top way as if they were at that early stage of dating where they drive everyone nuts. Then they danced and rubbed noses and kissed a little.
-They went to the announcers at ringside. JBL noted that Mike took Maria's last name. The announcers shifted to reviewing the results of the Women's MITB match.
-A video package aired on Jinder Mahal.
-The ring announcers introduced legends at ringside: Greg Gagne, Larry "The Axe" Hennig, Baron Von Raschke, Sgt. Slaughter, Bob Orton Jr., and Ric Flair. It's suddenly become "AWA Night."
-They went to the announcers at ringside. JBL said Harley Race would have been there if he hadn't been hurt in a recent home accident. He wished him well.
-The Singh Brothers introduced Jinder Mahal. Another champion introduced first.
(4) JINDER MAHAL vs. RANDY ORTON – WWE World Hvt. Championship match
Orton went aggressively at Jinder after the bell rang. Jinder bailed out to ringside when he avoided an early RKO attempt. A "USA" chant started as the Singh Brothers gave Jinder a pep talk. When Jinder re-entered, Orton tackled him and then dropped him over the top rope. Next came the Orton Stomp all over Jinder's body. He looked to the cheering hometown crowd, then went back after Jinder with a clothesline sending Jinder over the top rope. He charged at Jinder with a clothesline at ringside, too. The crowd chanted "Randy! Randy!" All Randy early until Mahal backdropped Randy over the top rope and Randy sold a knee tweak.
Jinder went after Orton at ringside, clipping his knee and kicking his knee. Jinder broke the count, then went after Orton again, whipping him shoulder-first into the steps at ringside. Back in the ring, Jinder wrapped Orton's leg around the middle rope. Jinder drove some knees into Orton's chest and shoulder. Orton came back against Jinder at ringside and suplexed Mahal into his dad's lap at ringside. Greg stood up and looked like he was ready to flee the scene. Jinder came back and dropped Orton's knee onto the announce table.
Back in the ring Jinder worked over Orton's knee. Orton stood and broke free with a fallaway slam. Jinder rolled to the floor. Orton rolled after him. Jinder immediately kicked his knee. Jinder lifted and dropped Orton's knee on the ringside barrier. Jinder made mean faces at the crowd, then threw Orton back into the ring. Jinder gloated and kicked Orton's pose. Orton almost surprised Jinder with an RKO, but Mahal blocked it and kicked his leg again. Jinder scored a two count. Jinder went back to work on Orton's left leg. He settled into a leg lock. JBL said Jinder feels America is against him, whether that's true or not. Saxton said he does feel people judge him because of how he looks and speaks. Jinder applied a figure-four leg lock. The announcers talked about doing that in front of Ric Flair. Orton rolled over, reversing the pressure. Jinder grabbed the bottom rope to force a break. Orton clutched his leg in pain and Jinder went right back to work on the leg. Orton surprised Jinder with a small package for a near fall.
Jinder went right back on the attack. Orton eventually came back and superplexed Jinder off the second rope. Both were slow to get up. Orton got the better of Jinder with two clotheslines and a powerslam once both stood up. The crowd was engaged. Orton then set up a DDT off the middle rope and delivered. Orton struggled to put weight on his left leg. JBL said, "Orton is going to that place." He played to the crowd and got cheered. He then pounded the mat and gave Jinder an RKO. He made the cover, but a Singh Brother put his leg on the bottom rope to stop the count.
Orton told the ref to throw them out of ringside. The ref did. The Singh Brothers threw a fit. They walked past the legends who were smiling and applauding that they got booted. They had a conference, then decided to turn back and get int eh faces of the legends. The legends mounted off back. They grabbed Bob by the lapels. Orton hit them from behind. Then he threw them into the ringpost and into the time keeper's zone. Orton then gave one of them a back suplex onto an announce table at ringside. He then beat up the other Singh Brother. Jinder was out for a long time here, nowhere to be seen and not mentioned by the announcers. Orton gave him a running RKO through the table. Some fans chanted "Holy sh—." When Orton re-entered the ring, Jinder immediately gave him his finisher for the win.
WINNER: Mahal to retain the WWE World Hvt. Championship at 20:50. (***)
(Keller's Analysis: This was a match that might just have pleased the legends at ringside. The crowd also was into it, even if it was rather basic in execution with a lot of Jinder working over Orton's leg and a rather predictable finish. Why did Jinder have to break the ref's count earlier in the match, but Orton didn't when he was attacking the Singh Brothers.)
(5) BREEZANGO vs. THE ASCENSION
This was the "come down" or "buffer" match.
WINNERS: Breezango at 3:50.
-The announcers recapped the show so far and previewed the men's MITB match.
(6) MEN'S MONEY IN THE BANK LADDER MATCH – BARON CORBIN vs. SAMI ZAYN vs. SHINSUKE NAKAMURA vs. A.J. STYLES vs. DOLPH ZIGGLER vs. KEVIN OWENS
JBL picked Ziggler to win. When Shinsuke's ring entrance took place, Corbin attacked him from behind and hit him with the ladder and a TV camera. Nakamura was helped to the back. A "Nakamura" chant started. The referees got together and decided to go forward with the match. The bell rang.
Chaos early with everyone. Corbin turned against Ziggler, and then jabbed Styles with the ladder at ringside. Ziggler got revenge with a superkick. Sami charged at Ziggler and knocked him off the ring apron. Owens ended up controlling the ring with a ladder, hitting Styles and knocked everyone else off the ring apron to the floor when they tried to enter. When he charged at Styles again, Styles used a drop toe hold to take him down. Styles set up a Styles Clash, but Owens backdropped him over the top rope. Sami ended up sending Owens flying off the top rope onto a ladder on the mat. The ladder twisted a bit and Owens cried out in pain.
Sami set up a ladder mid-ring and fans gasped at something off-camera. Ziggler entered the ring and threw Sami onto a ladder propped in the corner. Sami and Ziggler battled for a while until Styles entered the ring. Ziggler and Styles battled atop the ladder. Ziggler knocked Styles down. Corbin yanked Ziggler down. Corbin pretended he has never seen a ladder and wasn't sure how to climb it as Ziggler took his time getting up and giving him a Zig Zag from behind. Ziggler climbed the ladder. Styles came up behind him and slowed him down. Sami re-entered the ring and climbed the ladder on the other side. All three punched each other. Styles was the first knocked down. Sami gave Ziggler a powerbomb off the top of the ladder. Wow, a lot could have gone wrong there, but they landed it.
Owens then re-entered the picture. He and Sami battled on the ring apron. Sami suplexed Owens over his head and onto the edge of the ring apron. Owens crashed to the floor and didn't move. Sami slowly climbed the ladder. Styles springboarded at him with a Phenomenal Forearm. Both were slow to get up. Corbin yanked Styles to the floor by his boot and threw him into the announce table. A minute later Corbin thwarted a Styles rally by giving him a chokeslam onto a ladder bridged at ringside. Sami then gave Corbin a Helluva kick and climbed the ladder. Sami stopped Ziggler from yanking him down, but Owens succeeded. Owens then kicked Sami in the crotch. Phillips said there are no DQ's in this match. Owens climbed the ladder. Styles yanked him down. Owens set up a powerbomb on the ring apron. Styles blocked it and lifted Owens onto his shoulders. Then he slammed him onto the ladder. Owens hit the ladder and bounced to the mat.
Styles looked up at the briefcase and climbed the ladder. Ziggler pulled the ladder out from under him. Styles hung onto the chain, then eventually let go and he crashed onto the mat landing on his forearms and chest. Ziggler smiled. Corbin threw Ziggler into the announce table and then quickly began to climb the ladder. Shinsuke walked out, holding his shoulder. Corbin decided not to climb the ladder, nut rather throw it at Nakamura. Nakamura ducked and then attacked Corbin, showing real emotion. The crowd sang his entrance theme as he began kicking away at Corbin.
Nakamura gave Ziggler two kinshasas. Then Sami entered the ring and Nakamura went to work on him with an exploder suplex and kinshasa. Nakamura showed fire. Fans chanted "Nakamura." He tried to slide a ladder from ringside into the ring. Owens tried to stop him. Nakamura gave him a kinshasa. Nakamura then set up the ladder and braced it. Styles joined him in the ring. They stared each other down, then set the ladder aside and faced off for battle. They milked the moment, then exchanged blows. I think that spot was designed to get a bigger pop than it did. Great action, though, as they went at it rapid-fire. Nakamura gave Styles an exploder suplex. Styles came back with a flying forearm. "This is awesome!" chanted the crowd.
Styles got up and set up the ladder again. The other four were out at ringside for a long time here, pushing credibility. Styles climbed the ladder. Nakamura met him at the top. He got his right hand on the briefcase. Styles punched him. An "A.J. Styles / Nakamura" battle chant broke out. Corbin entered the ring and knocked the ladder over. Corbin then climbed the ladder and unhooked the briefcase to win.
WINNER: Corbin at 29:45. (***3/4)
(Keller's Analysis: A solid MITB match, but that depends on your expectations for this type of match and how much the finish matters. The Corbin attack on Nakamura before the match took Nakamura out of most of the match. I'd be interested to know the strategy there. It served to give Nakamura a big pop and a chance to be showcased late. Corbin's win is no surprise considering Sami pinned him on Smackdown last week, and then he got heat on a lot of wrestlers with those ladder shots.)