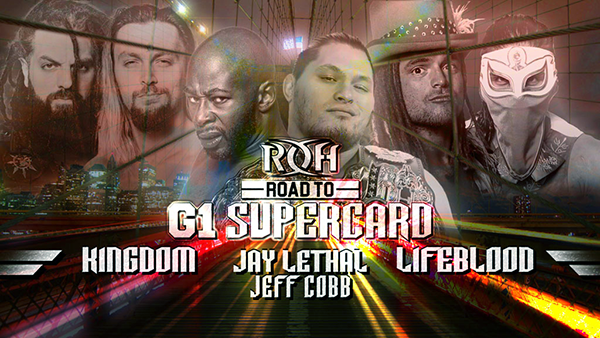 ---
SPOTLIGHTED PODCAST ALERT (YOUR ARTICLE BEGINS A FEW INCHES DOWN)...
---
ROH ROAD TO G1 SUPERCARD
MARCH 31, 2019
BALTIMORE, MD AT UMBC EVENT CENTER
AIRED ON ROH HONOR CLUB
REPORT BY HARLEY R. PAGEOT, PWTORCH CONTRIBUTOR
Commentary: Ian Riccaboni, Colt Cabana
We opened in the arena with the commentators apparently running down the card but there was no audio of any sort. Rush made the first entrance of the night.
(1) "HOT SAUCE" TRACY WILLIAMS vs. RUSH
The audio finally came on 6:40 into the show. Rush ran Williams into the guardrail and spat on him at different points. Williams' chest wound up very red and bloody. Rush also grabbed referee Todd Sinclair by the throat and threatened him for not counting fast enough. Rush hit a belly to belly suplex that sent Williams into the corner and followed with his running dropkick.
WINNER: Rush in 12:13.
-Dalton Castle's music hit. He and Los Chicos addressed Rush from the stage. Castle asked him to bring that same intensity to G1 Supercard because Castle's going to beat him and then go home and write something really mean on his Facebook wall. "At Madison Square Garden I am going to smash your face."
(Pageot's Perspective: Good match that seems to position Rush as a heel now that his initial mini-feud with The Kingdom is behind him. It's kind of an odd time to do that considering Castle is also entrenched in a "losing streak results in a heel turn" story but maybe the two will align in MSG in some way that's not obvious right now. I still like the idea of them starting Los Ingobernables de América.)
-Rhett Titus came out to the smooth jazz and posed on stage with his fitness trophy. He joined commentary and announced he was entering the Honor Rumble in MSG.
(2) SHINOBI SHADOW SQUAD (Cheeseburger, Eli Isom, & Ryan Nova) vs. COLIN DELANEY & COAST 2 COAST (LSG & Shaheem Ali)
Isom and LSG started for their teams. Ali caugt Isom on a crossbody attempt and turned into in a swing-out slam at 9:00. Everyone took out everyone, including LSG hitting Saint's Flowsion on Cheeseburger. Ali with a gutwrench powerbomb to Isom but his partners broke up the pin. Isom was hung upside down in one corner for an attempted triple coast to coast from his opponents in each other corner but Burger and Nova prevented it. Burger with a shotei to Delaney. 3S hit Oyasumi and Burger pinned Delaney.
WINNERS: Shinobi Shadow Squad in 11:39.
-Ali was frustrated post-match and seemed to blame Delaney for the loss.
(Pageot's Perspective: The commentators talked up 3S as being in line for a six-man title shot, while C2C wrestled more aggressively than usual. That and Ali's post-match expressions seem to forecast a heel turn for them.)
(3) MARK HASKINS vs. "THE LAST REAL MAN" SILAS YOUNG
Young targeted Haskins' knee early. Haskins caught Young with an armbreaker at 12:00 for his first offense in a long time. Young reached the ropes with his foot. Haskins continued to target Young's left arm. Anarchist suplex from Young. Haskins avoided Misery and hit a falcon arrow. Milwaukee Plunge. They fought on the apron. Young tried to steal a pin by holding onto the ropes. Sinclair kicked Young's hands off the ropes, which led to Haskins countering into a roll-up of his own for the pin.
WINNER: Mark Haskins in 18:07.
-Young kicked Haskins between the legs and turned on Sinclair. Bully Ray hit the ring. They backed Sinclair into the corner. Ray derided Sinclair for kicking Young's hands and again insisted that he never said he quit at Final Battle. He told Sinclair to reverse the decision and announce Young as the winner. If he wouldn't do it, they'd take it out on Haskins. He told Young to get the tables. Finally the rest of Lifeblood hit the ring to chase off the heels. Robinson took a mic and called Ray back into the ring. They went nose to nose. Robinson declared himself Ray's opponent in his open challenge street fight at G1 Supercard.
(Pageot's Perspective: A little slow with the methodical Young on offense for most of the match. The Lifeblood crew have been around for months now but I still don't know anything about guys like Haskins and Williams. Young was protected by the finish here, at least, and we get more fuel on a Plague-Lifeblood feud once Ray's heel faction finally, officially forms. With Flip Gordon getting reinjured I'm guessing the idea was to announce Ray's opponent now, rather than risk people being disappointed by the "surprise reveal" on the night of the big show. Does Robinson win in MSG thanks to an assist from Todd Sinclair?)
(4) SUMIE SAKAI & JENNY ROSE vs. KRIS STADTLANDER & TASHA STEELZ vs. GABBY ORTIZ & KRISSA RIVERA
Stadtlander & Steelz played heels from the start, kicking the streamers out of the ring. Ortiz & Rivera are future of honor babyface rookies. Stadtlander started with some of her alien antics. She creeped out Rose, Ortiz, and Sakai enough that they each tagged out immediately. Steelz tagged in to face Rivera instead. Riccaboni offhandedly mentioned Jenny Rose, Hazuki, & Kagetsu vs. Sumie Sakai, Hana Kimura, & Stella Grey happening in MSG, presumably on the pre-show. At 7:00 Steelz took out her partner with a suicide dive by accident. Sakai followed with a crossbody from the top rope onto both women on the floor. Everyone took out everyone. Stadtlander with a knee to Ortiz's chin and Alien Food for the win.
WINNERS: Stadtlander & Steelz in 8:42.
-Kelly Klein made her entrance in jeans and high heels. She helped Ortiz to her feet and shook her hand. She said she was so proud to be a part of Women Of Honor and represent them in MSG. She vowed to win the title back from Iwatani and be a fighting champion again. All they have to do is ask. The commentators called her out on having not even won it yet. Sakai said she was so lucky to get a second chance. But she'll need a third chance, fourth chance, and fifth chance because Iwatani is so much better than her. Sakai with a mic drop.
(Pageot's Perspective: Good little match and the four new(ish) women would all be fine additions to WOH, especially with news of Tenille Dashwood's apparent departure. I suspect Klein takes the title back in MSG but I'm warming up to the idea of her losing again and that humbling her enough to turn babyface. As one of the only consistent players in WOH the fans already like Klein and are ready to back her. Heels like Stadtlander, Steelz, Hazuki, and Kagetsu could be lined up as competition while Iwatani defends in fresh match-ups against Rose, Sakai, and Grey.
-Recap of Villain Enterprises winning the tag titles from The Briscoes at 17th Anniversary.
(5) ROH WORLD SIX-MAN TAG TEAM CHAMPIONS VILLAIN ENTERPRISES (PCO & Brody King) vs. THE BRISCOES (Jay Briscoe & Mark Briscoe) – ROH WORLD TAG TEAM CHAMPIONSHIP
The Briscoes threw some steel chairs and a guardrail into the ring at 9:45. "Let's go Briscoes" chant. King shoved Mark off the top rope and through the timekeeper's table on the floor. PCO with a cannonball onto Jay. PCO did his flip off the top rope onto the edge of the apron. Jay threw King into the ring post. Froggy-bow from Mark to PCO. King broke it up. King threw some more chairs into the ring. King clubbed Jay with a chair from behind.
WINNERS: The Briscoes in 14:16 via disqualification. Villain Enterprises retain the tag titles.
-More chair shots form both parties. The Briscoes hit a superplex to PCO onto a pile of chairs and guardrails. "One more time" chant. Jay sat PCO on the top rope again. Mark hit him with a kendo stick. A second superplex onto the pile of metal. Kendo stick to King's head. King was laid across a broken table on the floor. Mark hit a cannonball off the top turnbuckle onto him. The Briscoes went into the crowd and celebrated with the fans.
(Pageot's Perspective: I don't know if ROH should be worried about all the pro-Briscoes support. Riccaboni spun it as being hometown love but the Briscoes are from Delaware and this was Maryland, so a totally different state. In a sense I get it. The Briscoes have been around since day one and PCO and King are essentially just monsters. They create a lot of carnage and like to no-sell but they don't exactly have the types of personalities you care about and actively want to see achieve their dreams.)
(6) "DAREWOLF" PJ BLACK vs. KENNY KING
Riccaboni positioned Black as a babyface now, having a new zest for life after his near-death experience. Black also wrestled more babyface than in his recent match with Nick Aldis, incorporating more of his Justin Gabriel flips and top rope offense into his move set. King tried to steal a pin with his feet on the ropes. Black with a springboard moonsault. Black offered a handshake but King spat into his palm. Pumphandle cutter from Black for a near-fall. Black went up top again. King shoved referee Paul Turner into the ropes, crotching Black. Royal Flush for the win.
WINNER: Kenny King in 12:57.
-King said he just signed a two-year deal with ROH. If they're going to disrespect him by putting him into the Honor Rumble instead of giving him a proper match, he demands they put him as entrant #1. That way he can run through the 29 other men and the decrepit old Japanese wrestlers to show the world how good he is.
(Pageot's Perspective: King continues to pick up wins via shenanigans while Black is further established as the new veteran enhancement talent, somewhat filling the void left by Christopher Daniels, Chris Sabin, etc.)
-On social media Shane Taylor suggested he should replace Marty Scurll in the three-way world title ladder match in MSG if he beats him and Scurll agreed.
(7) ROH WORLD SIX-MAN TAG TEAM CHAMPION MARTY SCURLL vs. SHANE TAYLOR – WINNER ADVANCES TO THE ROH WORLD TITLE LADDER MATCH AT G1 SUPERCARD
Taylor's size and strength prevented any attempts at Graduation or the chicken-wing. Scurll was able to crack his fingers at 10:20, though. Superkicks from Scurll. Knockout right hand from Taylor but he was too tired to make the cover. Scurll managed to get the big man over for a suplex. Matt Taven walked to ringside in a blazer and slacks at 12:00. Taylor grabbed one of the Briscoes' chains while referee Paul Turner was distracted by Taven. Low blow from Taylor. Knockout right hand with the steel chain.
WINNER: Shane Taylor in 12:25 to earn a world title match in Madison Square Garden.
Todd Sinclair ran out and consulted with Turner. Turner found the chain. The two referees spoke to ring announcer Bobby Cruise. He announced that the match must continue. Scurll grabbed Taylor from behind with the chicken-wing and forced him to the mat. Taylor tapped out immediately.
WINNER: Marty Scurll in 13:11 to maintain the status quo.
(Pageot's Perspective: If Scurll wins the world title in MSG he'll be one of the weakest paper champions in years. I can't remember the last time he's won a match without assistance. Obviously you don't want to bury Taylor here after his strong showing against Jeff Cobb at 17th Anniversary but this outcome managed to hurt both men with Taylor tapping out so quickly and Scurll only winning thanks to a distraction. Good job.)
(8) ROH WORLD CHAMPION JAY LETHAL & ROH WORLD TELEVISION CHAMPION JEFF COBB vs. LIFEBLOOD (Juice Robinson & Bandido) vs. THE KINGDOM (TK O'Ryan & Vinny Marseglia)
Code of honor between the babyface teams but not The Kingdom as expected. Lethal and Robinson officially started the match. At 12:20 the commentators announced that Mark Haskins had been attacked backstage but didn't say by whom. Bandido caught Cobb on a crossbody attempt at 15:00 to a huge reaction. 21plex to Marseglia but Cobb and O'Ryan broke up the pin. All six men fought in the ring. The Kingdom with House Of A Thousand Horses to Robinson. Lethal Injection to Marseglia!
WINNERS: Lethal & Cobb in 16:12.
-As Lethal celebrated with the title Taven suddenly appeared behind him in the ring. Scurll ran out with his umbrella.
(Pageot's Perspective: No real story, just a lot of good action with Lethal winning one final match as ROH World Champion. Where he goes post-MSG will be interesting to see.)
-The commentators ran down the full G1 Supercard to close. See you Saturday night for my live coverage, right here on the PWTorch.
---
Find Harley on Twitter @talkinghonor and listen to he and Emily Fear talk all things ROH every Wednesday on the PWTorch Dailycast "Talking Honor."