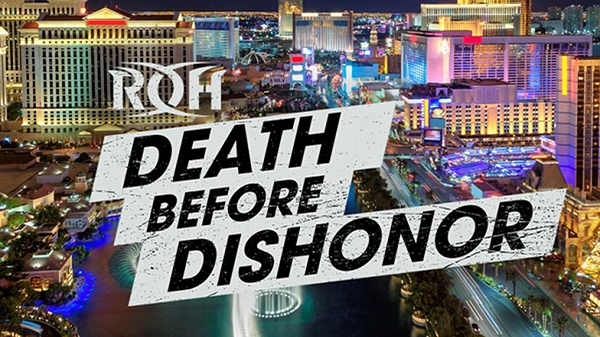 ---
SPOTLIGHTED PODCAST ALERT (YOUR ARTICLE BEGINS A FEW INCHES DOWN)...
---
ROH DEATH BEFORE DISHONOR: FALLOUT
SEPTEMBER 28, 2019
LAS VEGAS, NV AT SAM'S TOWN LIVE
AIRED ON ROH HONOR CLUB
REPORT BY HARLEY R. PAGEOT, PWTORCH CONTRIBUTOR
Commentary: Ian Riccaboni, Colt Cabana, Caprice Coleman
In a news update posted on social media this afternoon Riccaboni and Cary Silkin announced that Rush was not medically cleared to compete (he and his brother Dragon Lee were scheduled to face PCO & Brody King in tag action) so instead Lee would team with The Briscoes (for some reason) to challenge for the six-man titles.  They announced that Bandido also had a knee injury and returned home to Mexico so he also would not compete.  (He was scheduled to face Jay Lethal in the main event in the opening round of the world championship #1 contender tournament.)  Instead Bandido's tournament spot would go to PJ Black (who is 4-11 in singles action this year).  No word on how these changes would affect the rest of the card.  Black was supposed to face Rhett Titus in singles action and Jay Briscoe and Marty Scurll were set to be part of a wildcard eight-man tag.
-In classic ROH fashion their website had the show listed as starting at 9 p.m. EST but actually started at 10.  Once they did go live the stream was super choppy and lagging, virtually unwatchable.  (Twitter tells me this was the case for everyone across all viewing platforms.)  Quinn McKay was in the ring and introduced the new ROH World Champion, Rush.  He came out in a suit with his brother and father.
As the world champion made his way to the ring the commentators appeared to discuss the changes to tonight's card.  (It was so choppy you couldn't understand 70% of what they said.)  Then the feed dropped altogether.  When it came back Austin Gunn was making his entrance.
(1) AUSTIN GUNN vs. DAK DRAPER – 2019 TOP PROSPECT TOURNAMENT FINALS
The feed dropped numerous times during the match and the commentators remained unintelligible when there was video.  The match ended while the feed was down.
WINNER: Dak Draper to win the 2019 Top Prospect Tournament.
(Pageot's Perspective:  What happens in Vegas stays in Vegas, apparently.  Draper won the tournament, an ROH contract, and a future match for Shane Taylor's TV title.)
(2) "OVERKILL" MARK HASKINS vs. DALTON CASTLE – ROH WORLD CHAMPIONSHIP #1 CONTENDER TOURNAMENT: OPENING ROUND
Ring entrances were taking place when the feed went out again.  It went in and out every few minutes, remaining choppy and slow-motion when visible.  This match also ended off-air.
WINNER: Dalton Castle to advance to the semifinals..
(Pageot's Perspective:  We are 42 minutes into the show at this point.  Castle faces PCO in the next round.)
-When we came back a choppy PJ Black was making his entrance.
(3) JAY LETHAL (w/Jonathan Gresham) vs. "DAREWOLF" PJ BLACK – ROH WORLD CHAMPIONSHIP #1 CONTENDER TOURNAMENT: OPENING ROUND
The video quality remained unwatchable and dropped on a recurring basis.  Lethal went for a Lethal In- and the feed went down.  When it came back he was celebrating his victory.
WINNER: Jay Lethal to advance to the semifinals.
(Pageot's Perspective:  Lethal faces Marty Scurll in the next round.  Wrestlers on the roster with better 2019 records than Black include Gresham, Josh Woods, Tracy Williams, Silas Young, and Flip Gordon.  Why he was chosen to get Bandido's vacant tournament spot instead of any of them is a big question mark.)
-The Allure (WOH World Champion Angelina Love & Mandy Leon) made their entrance.  Love said she's beat everyone who's been put in her way and she's now a seven-time champion.  She said we're in The Age Of The Allure.  Kelly Klein stormed the ring and got in her face.  Klein called her a coward and said she'd get her rematch in New Orleans on October 12.  She told Love to bring her friend because she'd bring one of her own and they should be very, very afraid.  (Presumably implying Maria Manic.)
(Pageot's Perspective:  The feed decides to finally work and it's just in time for an Allure promo.  Well played, universe.  You trolled me good on that one.)
-Kathy Campanelli joined Riccaboni and Coleman on commentary for a random match between non-ROH wrestlers.
(4) JAKE ATLAS vs. BATEMAN
Campanelli said Atlas was the first LGBT wrestler to enter PWG's Battle Of Los Angeles.  Riccaboni said he beat Jungle Boy in the first round.  Campanelli was the most dominant voice on commentary with Riccaboni and Coleman playing support.  LGBDDT connected at 10:30 but Bateman rolled out of the ring to avoid getting pinned.  Tombstone piledriver from Bateman for the win.
WINNER: Bateman in 11:44.
(Pageot's Perspective:  Okay then.  Draper winning the Top Prospect tournament over the more recognizable Gunn and Atlas losing here is some odd booking.)
-The next match was the wildcard eight-man tag where participants were chosen at random.
(5) "THE HAWAIIAN JUGGERNAUT" JEFF COBB, KENNY KING (w/Amy Rose), "NUMBER ONE" BRIAN JOHNSON, & JOSH "THE GOODS" WOODS vs. "THE LAST REAL MAN" SILAS YOUNG, CHEESEBURGER, "THE PRESTIGIOUS ONE" JOE HENDRY, & RHETT TITUS
Young asked his protégé, Woods, to take a dive but it was Burger-King who would start for their teams.  Titus wanted to get his hands on his former tag partner, King, but Johnson tagged himself in.  Woods and Young wound up in the ring and engaged in some amateur wrestling.  Young tried to steal it off a roll-up with a handful of tights.  The crowd wanted Cobb-Hendry but Johnson stole the tag.  Hendry roughed him up and stopped to sign autographs at ringside.  Cobb roughed up Titus.  With Titus in trouble King was happy to tag in and pick the bones.  They built to Cobb and Hendry facing off for the first time but a double clothesline left them both laying.  Everything broke down and Woods rolled up his mentor from behind for the win.
WINNERS: Woods, Cobb, King, & Johnson in 17:55.
(Pageot's Perspective:  On paper a textbook "get everyone on the card" match but it was actually a nice showcase of guys who don't often get consistent screen time and a chance to touch on a bunch of different stories at the same time.  Sort of an autumn version of the annual Christmas Surprise ten-man tag, which is a personal favorite of mine.  Woods was so ecstatic post-match and Young was so flustered that I literally laughed out loud.  Great character work from both men.)
(6) FLIP GORDON vs. "HOT SAUCE" TRACY WILLIAMS – NO DISQUALIFICATION
Gordon attacked with his kendo stick during Williams' entrance.  A steel chair used at points.  Williams crotched on the top rope.  Crossface from Williams but Gordon escaped the ring.  Williams got his own kendo stick and went after Gordon.  Sword fight on the ramp.  Low blow from Gordon.  Williams with a piledriver from the second rope through a slanted table.
WINNER: Tracy Williams in 16:40.
-The lights went out and Bateman was in the ring to silence.  He put Williams down with a tombstone.
(Pageot's Perspective:  So we're just doing a street fight on every single ROH show now?  Sure.  I can't believe this one was thrown out here unannounced.  I guess this is the end of the Williams-Gordon feud.  Is Bateman working with Bully Ray?  Or is none of this going to amount to anything like when Soldiers Of Savagery attacked Lifeblood multiple times and then disappeared?)
-The Kingdom trio made their entrance.  Taven said he arrived in ROH seven years ago and was desperate to be a part of the promotion where stars were made and exciting things happened.  From the Top Prospect Tournament to the TV title to his tag title reign with Mike Bennett to the six-man titles with O'Ryan and Marseglia, more than anything he wanted to be ROH World Champion.  At Madison Square Garden all his dreams came true.  Since then he held that title with pride, acknowledging its legacy.  Whether we loved him or hated him he gave everything he had in the ring.  He said his future is up in the air.  There's been speculation online.  But he's here to stay, he has a lot still to prove, and a championship to regain.  The Kingdom will rise again.
(Pageot's Perspective:  Not too surprising that Taven's staying but interesting that he delivered a babyface promo with no twist or catch.  Marseglia gave him side-eye throughout the promo so much that I had my guard up for him attacking Taven but nope.  Does Taven go back to his old heel self next time we see him or does this constitute a turn?  After what Marseglia's done to the Bouncers the past few months it would make no sense to turn him face now so maybe this is the start of the end of the Kingdom.)
(7) VILLAIN ENTERPRISES (Marty Scurll, PCO, & Brody King) vs. DRAGON LEE & ROH WORLD TAG TEAM CHAMPIONS THE BRISCOES (Jay Briscoe & Mark Briscoe) – ROH WORLD SIX-MAN TAG TEAM CHAMPIONSHIP
Black Plague from Scurll to Mark for the most predictable of outcomes.
WINNERS: Villain Enterprises in 11:50 to retain the six-man titles.
---
Find Harley on Twitter @yrechoheart and listen to he and Emily Fear talk the week in women's wrestling every Wednesday on the PWTorch Dailycast "Grit & Glitter."