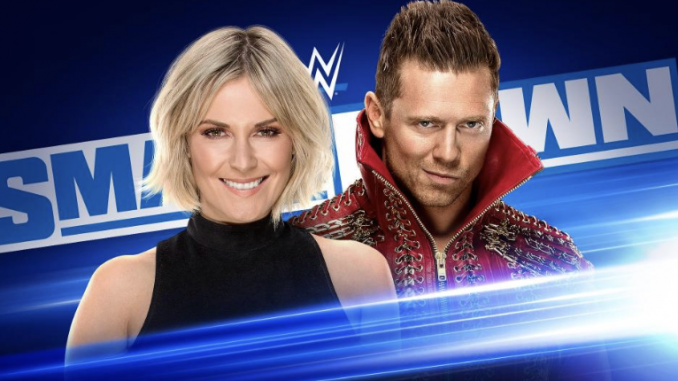 ---
SPOTLIGHTED PODCAST ALERT (YOUR ARTICLE BEGINS A FEW INCHES DOWN)...
---
WWE SMACKDOWN PRIMER
DECEMBER 13, 2019
MILWAUKEE, WI. AT RHE FISERV FORUM
AIRS ON FOX NETWORK, 8:00 p.m. EST
BY FRANK PETEANI (@FrankPeteani), PWTORCH CONTRIBUTOR
Announcers: Michael Cole, Corey Graves
Arena, Top 10 Moments of Last Week's Show, and Items Advertised by WWE
WWE Smackdown makes its first appearance in the Fiserv Forum in Milwaukee, WI. The building opened just last year in August and hosted Raw just a few months later. It is home to the NBA's Milwaukee Bucks.
Here is the YouTube clip of the top 10 moments of last week's show:
Tonight's show will be the go-home show from the Smackdown side of things for this Sunday's TLC. I am writing this before WWE comes out with their official preview. They have one item advertised for the show, which is "Big Dog Roman Reigns will be unchained." I'll take a look at that as well as the other developments from last week as they relate to TLC and set possible expectations for what we could see tonight. Of course, as the day goes on, expect WWE to announce matches and segments for tonight.
Matches & Segments
Roman Reigns Unchained
This coming Sunday, Roman Reigns will take on King Corbin in a TLC match. It will be the second straight TLC event where Corbin will have such a match. Last year, he lost to Braun Strowman and lost his Raw G.M. duties as a result. This year he enters as the WWE's "King."
Last week in the min event, Reigns defeated Dolph Ziggler despite King Corbin coming to ringside mid-match. Afterwards, Reigns was handcuffed to the ring post and Corbin & Ziggler poured canned dog food on him. This was Corbin's way of humiliating Reigns as he vowed to do all week.
WWE says Reigns will be "unchained" tonight, which means he likely responds to Corbin as they head towards TLC. Robert Roode was involved in this situation a few weeks ago but was just handed a 30-day wellness policy suspension. Corbin was on Backstage this past Tuesday. Reigns did a little trash talk on Twitter:
"Now I owe him a beating." – @BaronCorbinWWE on @TheRock #WWEBackstage pic.twitter.com/0BhhNbv8pR

— WWE on FOX (@WWEonFOX) December 11, 2019
Got knocked down. Not knocked out. Corbin's got a whole world of pain coming to him in a week. #WWETLC pic.twitter.com/mBRW5hsy4Q

— Roman Reigns (@WWERomanReigns) December 9, 2019
Frank's Analysis: It's segments like these that will turn people off. It's one thing to pour dog food on a wrestler on TV. It's another thing when it involves someone that draws go-away heat (Corbin) and a babyface that the crowd still may be rejecting or feel apathetic at best. Where were Mustafa Ali & Shorty G by the way? Haven't they been hanging around Reigns lately? I suppose that alliance is swept under the carpet for now. Your mileage may vary on whether or not you care about this and my money is on a lot of people not caring.
Renee Young interviews The Miz
WWE.com hypes this segment: "It's fair to say that Miz will have quite a bit to say as he prepares for one of the more unusual matches, and unpredictable opponents, of his career."
Expectations for Storyline Follow-Up
Universal Champion Bray Wyatt and the Miz
Two weeks ago, on Smackdown, we closed out the show with Bray Wyatt dragging Daniel Bryan underneath the ring. He pulled out a few clumps of his hair. This was after Wyatt offered to "play" with Bryan again while on the Firefly Funhouse. Bryan finally accepted and revived the Yes movement as he did the familiar chant with the crowd.
Last week the announcers played up questioning Bryan's location. Nobody had heard from him (even though we're certain he left the building somehow…oh forget about it, what's the use). The Miz came out and acknowledged he didn't like Bryan, given their history, but acknowledged his significance to Smackdown and the fans. Bray intervened and after a back-and-forth where he challenged Miz to a match, he showed a picture of Miz & his wife Maryse with their children. Later on, the camera was fortunate to catch Miz on his phone (I have to throw in the wise-ass comments, sorry) calling Maryse and telling her to lock up the house and secure the kids. After that, he was seen going into a room with a red light and looking at the same picture Bray showed him earlier only with Bray photoshopped onto Miz's head. Bray surprised Miz, because he knew he would be there at that point and gave him a Sister Abigail.
Miz is scheduled to face Bray at TLC. WWE.com does not say whether or not the Universal Championship is on the line, but the expectation is that the match is a non-title match. We can expect something putting heat on that heading into Sunday. It's been quiet on social media except for this on Twitter by the Miz:
A lot happened on #Smackdown…and I have plenty to say about it. But for right now, I'm focused on spending time with my family until #WWETLC.

— The Miz (@mikethemiz) December 10, 2019
Frank's Analysis: It's weird as this reminds me of Roddy Piper feuding with whomever Hulk Hogan may have been feuding with after Piper turned babyface in late 1986 or '87, whenever he appeared on Saturday Night's Main Event and beat the Iron Sheik. Piper and Hogan were mortal enemies and even resented teaming together when that first started happening. I like that Miz is acknowledging that they don't get along and are not just going to like each other even though their both babyfaces at the moment. As for the match with Bray, it's a nice bridge between the next match between Bray and Bryan. The part that is still weird is that Bray beat Bryan decisively, and thus there's no reason to have a rematch other than Bray just challenging him. It's fine, but I'm still calling it for what it is.
Smackdown Tag Team Champions New Day and the Revival
At TLC, New Day (Kofi Kingston & Big E) will defend their titles against the team from whom they won them for the seventh time in the Revival (Scott Dawson & Dash Wilder). Last week, the Revival won a fatal four-way elimination match to earn the right to face New Day. After the match they cut a promo, emphasizing that they are an old school tag team and plan to send New Day back to doing their podcast. New Day spoke in a WWE.com exclusive:
Frank's Analysis: It's interesting to see Big E talk about the state of tag team wrestling in WWE, and even more interesting to see him talk about how they were at their best standing across the ring from the Usos with whom they had a long feud back in 2017. The Revival and New Day has a chance to rival that feud if they spread the matches out. That may be hard to do since there's a big drop off from the top. With Robert Roode suspended that takes out he & Dolph Ziggler. Mustafa Ali and Shorty G could see time as a team. With Sheamus returning, you wonder if he and Cesaro will revive the Bar, although it looks like he will be a singles act for now. As far as tonight, anything is possible from a singles match to an eight-man tag involving New Day and any babyface team (Ali & Shorty G maybe?) vs. the Revival and Lucha House Party, whom have acted oddly heelish recently. You can also feed the B-Team in there if you want. It doesn't really matter, but something will heat up the championship match for Sunday.
Lacey Evans and Sasha Banks
Last week, Lacey Evans won a squash match. Afterwards, Sasha Banks came out to address what had happened two weeks ago where Evans gave her a Woman's Right. Sasha started talking about Lacey not being a role model for her six-year old daughter. Lacey wasn't having it and said don't ever talk about her kid again, and that also she was a United States Marine. She eventually teased giving another Woman's Right, but left Sasha in the ring. As Lacey made her way back, she was attacked by Smackdown Women's Champion Bayley.
Nothing is on the docket for any of these women at TLC. WWE India's Twitter account put up a tweet asking if there should be a match between Lacey and Bayley. Sasha also talked a little trash.
https://twitter.com/LaceyEvansWWE/status/1204748878207172608?s=20
I love it when a plan comes together. @itsBayleyWWE #Leaders #RoleModel pic.twitter.com/xdC66BRedW

— $asha Banks (@SashaBanksWWE) December 7, 2019
Frank's Analysis: I wouldn't be surprised if Sasha and Lacey had a match at TLC. Lacey to me would have to go over if you want to establish her babyface character. I suppose they could have Bayley interfere and cost her the match to protect her, or just have a double DQ or something.
WWE.com Exclusives:
Here's Jessika Carr talking about her first night as a Smackdown referee after coming over from NXT, and also her getting a visit from her parents:
Here's Lance Storm talking about his new role with WWE:
Finally, here's Bliss Cross Applesauce (isn't that what Alexa Bliss & Nikki Cross are called these days?). Anyway, here they are talking after Alexa defeated Mandy Rose despite Mandy pulling her eyelash off during the match (didn't anybody question those eyelashes before the match? She clearly needs better makeup people):
Other Match Results and Segments from Last Week
Elias sang a song about Drake Maverick using Kleenex after he was hitting on Dana Brooke again. Elias then spanked Drake in the middle of the ring.
Sheamus was in another vignette talking about him taking over Smackdown when he comes back.
Closing Thoughts
The dog food segment, Elias spanking Drake Maverick, and the divorce angle on Raw are really making it difficult to watch these shows. You want to shut your brain off and be entertained, but in the context of what the entity is supposed to provide. A wrestling show should show great athletic competition, wrestlers' journeys, and the quest for all to be the best in what they do. There's none of that right now on these shows. They all serve Vince McMahon's sense of humor. That contradicts what the McMahon family told us last year around this time. Remember the fresh start everyone? That went stale really quickly.
---
Follow Frank on Twitter @FrankPeteani. Questions and discussion are welcome. Thank you for reading!