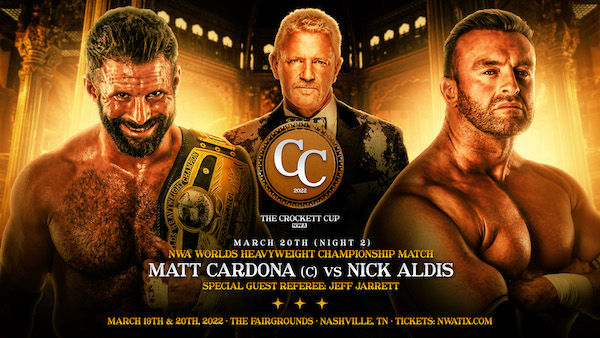 ---
SPOTLIGHTED PODCAST ALERT (YOUR ARTICLE BEGINS A FEW INCHES DOWN)...
---
NWA CROCKETT CUP 2022 NIGHT ONE PPV REPORT
MARCH 19, 2022
AIRED ON FITE TV
REPORT BY CHRISTOPHER MAITLAND, PWTORCH CONTRIBUTOR
Announcers: Tim Storm, Velvet Sky, and Joe Galli
(1) NWA CROCKET CUP FIRST ROUND: THE END (ODINSON AND PARROW) VS HAWX AERIE (LUKE AND PJ HAWX)
Hawx Arie won when PJ Hawx pinned Odinson with a small package in 9:10.
(Maitland's Thoughts: The End showed dissension throughout the match and attacked Hawx Arie at the end. They didn't appear to be on the same page but they ended up knocking Luke Hawx out of the tournament. Solid opener.)
May Valentine interviews William Patrick Corgan who goes over the importance of the Crockett Cup. They also discuss Jeff Jarrett as the special referee for the main event of night two of the Crockett Cup: Matt Cardona defending the NWA World Title vs Nick Aldis
(2) CROCKETT CUP FIRST ROUND: POPE & MIMS VS THE CARDONAS (VSK & MIKE KNOX)
The Cardonas won when VSK pinned Mims with a frog splash in 10:04
(Maitland's Thoughts: Pope had a feud with the Cardonas which played into this match. I enjoyed this match and would like to see more of Mims.)
Kyle Davis interviews Kamille, the NWA Women's Champion about her match on night 2 against Kylie Rae and Chelsea Green. Kamille said she could lose the title without being pinned. She said people talk about being a two time champion but she plans to be a one time champion because no one is going to beat her.
(3) CROCKETT CUP FIRST ROUND: ARON STEVENS & THE BLUE MEANIE vs DIRTY SEXY BOYS (DIRTY DANGO & JTG)
Dirty Sexy Boys won when JTG pinned The Blue Meanie with a splash at 6:40.
(Maitland's Thoughts: Blue Meanie replaced JR Kratos. This was a comedy match that did not take up a lot of time. )
(4) STRICTLY BUSINESS (CHRIS ADONIS & THOM LATIMER) vs GOLD RUSHHH (JORDAN CLEARWATER & MARSHE ROCKETT)
Gold Rushhh won when Rockett pinned Latimer after hitting him with Tyrus' World TV Title in 4:18.
(Maitland's Thoughts: Before the match started, Adonis put Clearwater in the Master Lock. This match was strange because it was so short and had so much interference. Strictly Business attacked Gold Rushhh before the match and still lost which buried them.)
May Valentine interviews The Fixers who already defeated OGK at NWA Power Trip and are already in the quarterfinals.
(5) CROCKETT CUP FIRST ROUND: COMMONWEALTH CONNECTION (HARRY SMITH & DOUG WILLIAMS) vs THE ILL BEGOTTEN (RUSS FREEMAN & ALEX TAYLOR)
Commenwealth Connection wins when Williams pins Taylor with a diving headbutt at 6:38
(Maitland's Thoughts: The Ill Begotten used Freebird rules but it did not matter here. A decisive win for Smith and Williams.)
(6) CROCKETT CUP FIRST ROUND: LA REBELLION (BESTIA 666 & MECHA .WOLF) vs THE BAD NEWS BOYZ (BRANDON & BRENT TATE)
La Rebellion won when Bestia 666 pinned Brent Tate with the Mark of the Beast in 9:00.
(Maitland's Thoughts: The Tate Brothers were the Boys in ROH. This was the best match of the night. The Tate Brothers are very talented and hopefully will continue to get a look in the NWA. La Rebellion was impressive as well.)
May Valentne interviewed The Cardonas. Mike Knox told Pope had a concussion and he should consider getting out of the ring. VSK said Matt Cardona can't save the NWA by himself and they are going to help him by winning the Crockett Cup.
(7) CROCKETT CUP QUARTERFINAL: THE CARDONAS vs THE FIXERS (JAY BRADLEY & LEGURSKY)
The Cardonas won when VSK pinned Legursky with a frog splash in 7:01.
(Maitland's Thoughts: The Fixers were somewhat protected because VSK took a lot of punishment. Losing their first match against a team that wrestled before did not make them look good.)
(8) CROCKETT CUP QUARTERFINAL: DIRTY SEXY BOYS vs THE BRISCOES (MARK & JAY BRISCOE)
The Briscoes won when Mark pinned JTG with the Froggy Bow in 8:17
(Maitland's Thoughts: My second favorite match on the show. Both teams did well and I am not sure why the first Briscoes match was on the pre-show.)
Tyrus and BLK Jeez are interviewed by May Valentine. Jeez says they are going to drink Hennessey after they win the Crockett Cup. Tyrus says they need to do the right thing. Tyrus says he is respectively aggressive of Rodney Mack, who Tyrus will be wrestling on Sunday but he is going to prove something.
(9) CROCKETT CUP QUARTERFINAL: THE HAWX vs LA REBELION
La Rebellion won when Mecha Wolf pinned PJ Hawx after two Mark of the Beasts in 7:23.
(Maitland's Thoughts: Good effort by PJ Hawx but the La Rebelion, the NWA Tag Team champions, looked ridiculous in taking so long to win a two on one match. Hawk even kicked out of La Rebelion's finisher which made them look weak. The result was not in doubt but how we got there left a lot to be desired.)
(10) CROCKETT CUP QUARTERFINAL: COMMONWEALTH CONNECTION vs GOLD RUSHHH
Commonwealth Connection win when Williams submits Clearwater with an armbar at 12:49
(Maitland's Thoughts: Good match though there was too much unnecessary dissension between Gold Rushhh that didn't lead to the finish. It is possible that the payoff for this will be down the line.)
Tomorrow the semi finals will be La Rebellion vs the Commonwealth Connection and The Cardonas vs The Briscoes.
Overall Thoughts: Night one was mostly a prelude to night two. Good action for the most part but the emphasis was on setting up Sunday. There were too many teams that threatened dissension and too many teams that were labeled as new for the tournament. If the NWA does this tournament again, they should reach out to more teams from the independents and put them in the tournament instead of a play-in match.
---
CATCH-UP: NWA World Championship match announced for Crockett Cup