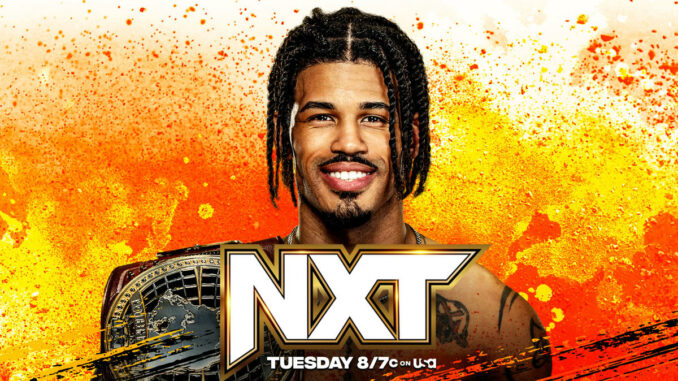 ---
SPOTLIGHTED PODCAST ALERT (YOUR ARTICLE BEGINS A FEW INCHES DOWN)...
---
BATTLE ROYAL – WINNER TAKES 5TH SPOT IN NORTH AMERICAN CHAMPIONSHIP MATCH
Chaotic, hard to follow and clearly scripted. That's how I'd briefly describe any battle royal and this one is no different.
From the get go, it was very hard to follow any wrestler for more than a moment or two. Between the sheer number of bodies in the ring and the frenetic camera cuts, the opening minutes of this show kind of just looked like a mosh pit. Bodies and limbs all over the place.
After a commerical break before the 10 minute mark, the picture was much clearer. Dabba Kato, Jinder Mahal, Drew Gulak, Charlie Dempsey, Hank Walker, Axiom, Nathan Frazer and Apollo Crews were left in the ring. Where Apollo Crews was the only one with a televised entrance, chances seemed like he'd win until he was thrown out by Dabba Kato. Now it was anybody's game.
It came down to Axiom and Frazier to revisit their friendly rivalry from months prior. Crazy chemistry together, and frankly both men deserved to win solely based off of their performance as the final two.
Axiom got the win, but by the skin of his teeth. Both men looked fantastic in their attempt to go to Stand & Deliver.
Dragon Lee, Ilja Dragunov and JD Mc Donagh all made their way to the ring as the final shot to the segment to hype us up for their match.
Verdict: HIT
TYLER BATE vs. VON WAGNER
Tyler Bate has seemingly aligned with Chase U who were in his corner for this match. They seem to be rallying behind him to become the "winner", if you will, of their University. Von Wagner has been on a bit of a journey as of late, with Mr. Stone goading him to be better and find out who "Von Wagner really is". So, it I could make a case for either man to take the W here. That said, only one of them has a match coming up at Stand & Deliver.
Bate came through for Chase U as they get prepared to take on Schism this coming Saturday for control over their university.
Verdict: HIT
VALENTINA FEROZ vs. ELEKTRA LOPEZ
Last month, we finally saw Feroz snap on Elektra Lopez after weeks of trying to get Feroz to break bad. Tonight, Feroz looked to harness that aggression and get a much needed win over her rival Lopez.
Where it has been an entire month until we got to the blow off to this feud, any heat that somehow picked up along the way was lost. Lopez picked up the win in an extremely lackluster affair.
Verdict: MISS
EDDY THORPE VS. MILES BORNE
Thorpe made his much anticipated debut tonight against enhancement talent Miles Borne. The former Karl Fredericks has cut his mark throughout Japan and the indies and now looks to make waves in NXT as Eddy Thorpe.
This was what I like to call the NXT Squash match. The enhancement talent actually gets more offense in compared to a traditional squash, but you still know they have no chance at beating the better talent.
Thorpe picked up a quick win and I was very impressed with the presentation of the character and what I saw in the ring as he shifts to the WWE style. Sky's the limit for Eddy Thorpe.
Verdict: HIT
SOL RUCA vs. IVY NILE vs. INDI HARTWELL – LAST CHANCE MATCH
Three competitors with a second chance to secure a spot in the Women's Title match at Stand & Deliver.
I could make a case for all three women to get a shot in the match. Indi has been on a bit of a journey as of late with more of an edge to her character, this could potentially be a push forward for her. Sol Ruca is still new to the roster, but virally popular and talented. A chance to shine on a big stage could be a launching point for her career as well. Ivy Nile has been the glue that's held Diamond Mine together all year, and she's improved so much in the ring in that timeframe. Any of these women could be a great addition to an already stacked match.
Sol Ruca got the visual win after getting her finisher on Ivy Nile, but Indi capitalized and attacked Ruca before she could cover Nile. Then, Hartwell covered Nile for the win.
Personally, this was the outcome I wanted to see. As an unabashed Indi Hartwell fan, I'm glad to see her get another shot in the spotlight.
Verdict: HIT
HANK WALKER vs. DREW GULAK
Walker looked to get some retribution against his former mentor, Gulak, after Gulak turned his back on him months ago. I'm surprised at how invested I am in Walker, frankly. He's nothing special and looks like a wish.com version of Seth Rogen. But something to do with his charisma and his story of security guard to competitor has me wanting to see Walker succeed.
Which is a success for the character in my book. I have no idea what his ceiling is right now, I'd say solid midcarder if I had to guess. But there's something there with this guy…
The match itself was nothing to write home about either, but for how new Walker still is to the business the match did go better than I expected. Walker's in-ring improvement since his debut has been nothing short of fantastic, frankly.
Gulak only got the win because Charlie Dempsey helped him out when the ref wasn't looking. Otherwise, it looked like Walker could have gotten the win.
Verdict: HIT
JOSH BRIGGS & BROOKS JENSEN vs. TONY D'ANGELO & STACKS
Mafioso versus a couple good ol' boys, winners punch a ticket to LA into the Tag Team Title match at Stand & Deliver. The match itself was really overshadowed by the ongoing storyline between Brooks and Kiana James and a cheating situation.
With Stacks and D'Angelo have seemed to have a bit of a fire lit under them lately, I had a feeling they might take the win here tonight. The story going on with the country boys gives them more of a spotlight with this angle more than a spot in a match they won't win.
Verdict: 50/50