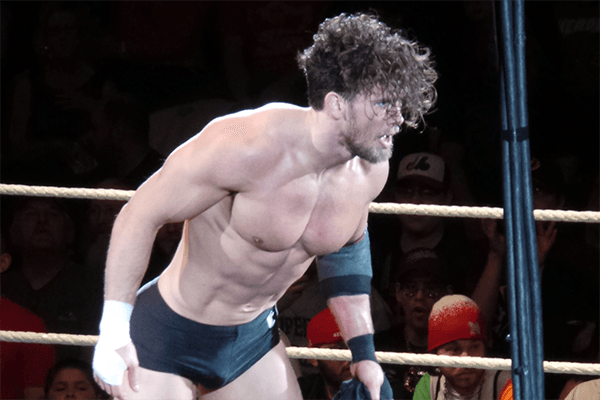 ---
SPOTLIGHTED PODCAST ALERT (YOUR ARTICLE BEGINS A FEW INCHES DOWN)...
---
Brad Maddox, who was cut from WWE last week after using harsh language in a dark match segment, opened up his world to Rolling Stone as part of a post-WWE media tour trying to use the firing to advance his career.
"I'm not done wrestling. I also need to make a little money while I'm still relevant. So I'll be taking advantage of that over the next couple months. I'm going by Mad Braddox right now. It's easy to remember that one. No doors are ever closed for me. There's no telling what will open up. I'm not opposed to anything, so we'll see," Maddox said.
Maddox also walked reporter Aaron Oster through the final hours of his WWE run after calling the Indianapolis crowd at a Smackdown taping "pricks."
"Vince [McMahon] was watching and did not like it. That was pretty much the reason," Maddox claimed. "No, I didn't get a chance to talk to him before I left. I wanted to, but I didn't get a chance to. When I came to the back, people seemed split on it. Half the locker room didn't think I could say that, the other half didn't see a problem with it."
Maddox said the key to the situation – and perhaps the lesson he learned – is that his promo and the use of the word "pricks" was not cleared head of time.
"You could call this 'going into business for myself.' Which I really didn't do. I didn't think that I'd go out there and call them pricks and get noticed more. That's not what I was doing at all. My words weren't cleared ahead of time, though. That's the real difference," Maddox said.
Maddox also walked through the ups-and-downs of the past three years with WWE, where he played Raw General Manager, consulted with the Creative Team, sat at home for months, tried to come up with YouTube videos about losing his mind, worked dark matches, and tried different gimmicks on house shows to see if something would stick to get back on main TV. All of this while an undersized wrestler not really fitting in anywhere on the main roster.
Maddox also joked about having to adjust to not being on the WWE schedule where he "flew into work on Sunday, did not work for two days, and flew home on a Wednesday" when WWE was not using him.
"Now I have opportunities ahead of me. It's a little nerve-racking, because there's such a change in routine," Maddox said. "I had a lot of time to raise my three-year-old. So the change in routine is a little nerve-racking, and the unknown is a little nerve-racking, but other than that I'm really excited about it."