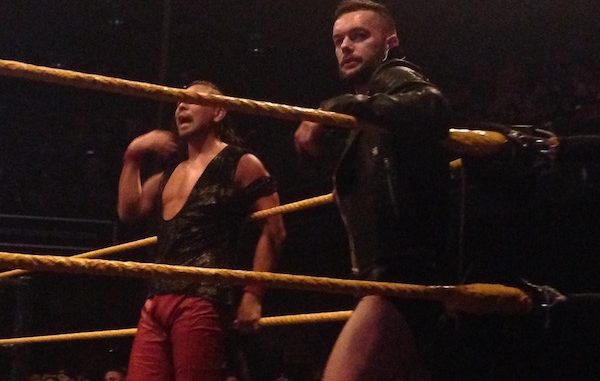 ---
SPOTLIGHTED PODCAST ALERT (YOUR ARTICLE BEGINS A FEW INCHES DOWN)...
---
By James Caldwell, PWTorch assistant editor
After officially saying good-bye to NXT Saturday night in Houston, former NXT champion Finn Balor is looking ahead to his first-ever match against Seth Rollins at Summerslam.
Balor (Prince Devitt) and Rollins (Tyler Black) never crossed paths on the independents before heading to Japan and WWE, respectively. Now their "mutual respect" leads to a high-stakes match for the first-ever Universal Title at Summerslam.
"We both take a lot of pride in our work and are very competitive, and of course we both want to prove to each other that I'm better than him or he's better than me. But he's someone I've looked up to for a long time in WWE. He's definitely the number one person I'm looking forward to wrestling, and it just so happens to be at Summerslam," Balor told WWE's website in an interview on his transition from NXT to the main WWE roster.
"Even me saying that sentence is still kind of hard to believe. The fact that I'm facing Seth Rollins at Summerslam for the WWE Universal Title, I'm still trying to get my head around the whole thing."
Balor also addressed being labeled the face of the New Era for WWE, similar to becoming the face of a New Era for NXT, which included selling out last year's sold-out "Takeover" special in Brooklyn, New York.
"You know, people are always going to label you as something. People can label me as the face of the future, but I've been doing this for 16 years," Balor said. "For me, this is nothing new. I'm very assured of my ability when I'm in the ring.
"Sure, I'm new to Raw and I'm new to WWE, but I'm not new to being in the ring. In the ring, I consider myself quite capable. I can handle myself. That's a very flattering moniker, to be called the face of the future, and hopefully I can live up to that. But for me, you know, it's my past, present, and hopefully my future. Wrestling is my life. So for me, it's not just the future. It's literally everything I do."
As for who will replace him as the face of NXT, Balor said the same question was asked when the likes of Sami Zayn, Kevin Owens, and Neville "graduated" to the main roster. He said there are plenty of candidates.
"Wrestling has a funny way of regenerating itself," Balor said. "There's a lot of hungry up-and-coming talent in NXT that I'm sure will be more than willing to step in and fill my boots. Shinsuke Nakamura, obviously. Oney Lorcan, who I think has enormous potential to be not only an in-ring talent, but he's a natural leader of the locker room. In the next couple of months, I think he's going to be a real breakout star for NXT. Rich Swann is there as well; he's a real good up-and-comer.
"Guys like Riddick Moss; he's someone who started the same day as me at the Performance Center, but he was a transfer from football with no wrestling background. He has made incredible leaps and bounds, and he's really a team player and will be a real locker room leader in the future. So, Finn will move on, but NXT is in good hands, you can rest assured."