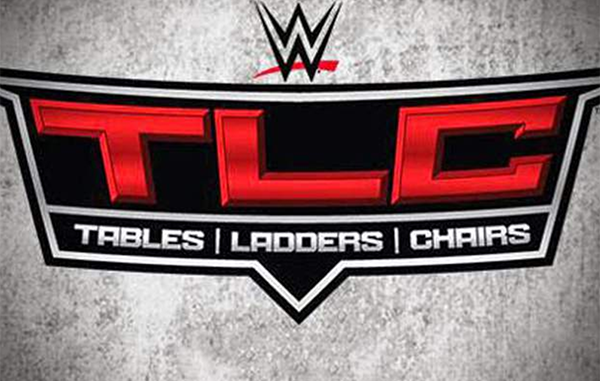 ---
SPOTLIGHTED PODCAST ALERT (YOUR ARTICLE BEGINS A FEW INCHES DOWN)...
---
Smackdown, the blue and disembodied fist flying through space and time, crashes down in Dallas, Tex. for TLC this Sunday. Just eight months ago, almost to the day, Dallas hosted WrestleMania 32 and who could have guessed then where the WWE Universe would be now? Brand split, Kevin Owens, and A.J. Styles both holding World Championships, super-over Heath Slater, new Cruiserweight Division, Goldberg, and a certified WWE HOFer preparing to take up residence in the White House. WTF would be an understatement.
A.J. Styles (c) vs. Dean Ambrose
TABLES, LADDERS AND CHAIRS MATCH FOR THE WWE WORLD CHAMPIONSHIP
This feud has been the cornerstone of Smackdown since the brand split, and congratulations are in order to both guys for keeping it fresh. Adding in James Ellsworth has been a stroke of genius, a testament to adapting on the fly if something works. This match should be solid if not great, as both men can bring the best out of each other. With newly contracted James Ellsworth bumbling about, expect some shenanigans.
There's the threat of The Undertaker coming back to redefine his legacy, and what better place than the Main Event to insert himself. With all the talk of Undertaker vs. Styles at Royal Rumble, an appearance would make sense. However, I think the more likely outcome rules out an appearance by the Deadman.
James Ellsworth is getting a little too big for his britches, and I see him flying too close to the sun. He might actually believe that his 3-0 record against A.J. Styles means he has a chance at beating him for the WWE Championship. He's going to cost Dean Ambrose, his one and only friend, the match to ensure that his opponent for his guaranteed title shot is against Styles. I see James Ellsworth holding the ladder steady for Ambrose, only to tip it over as he is about to grab the belt.
Dean Ambrose has been relatively chill lately, and he is nothing if not loyal. Everyone knows when you betray Dean Ambrose's trust you unleash the Lunatic Fringe. With Ellsworth costing him the match, Ambrose now has license to run roughshod over the entire Smackdown locker room. Look forward to a future Ellsworth having his ass handed to him by both Styles and Ambrose.
Becky Lynch (c) vs. Alexa Bliss
TABLES MATCH FOR THE SMACKDOWN WOMEN'S TITLE
On Smackdown this past Tuesday, Bliss managed to put Becky through the table. By wrestling logic, that would mean that Bliss is going through the table at TLC. I don't think Lynch is done with her title run yet, so I expect her to pull out a victory. Unless… they want to move Nikki Bella into the title picture, at which point Bliss would be a perfect foil to the Bella Brand. She's got the sass to stand up to the face of the dark corner of the WWE Universe, the E Network.
With Raw's Women's Division getting hot with Hell in a Cell and Falls Count Anywhere title matches, look for Bliss and Lynch to step it up. High spots and more explicit violence that have been heretofore banned in the WWE now seems to be the order of the day as WWE Women's Wrestling continues its march into the future. This one's a toss-up.
Rhyno & Heath Slater (c) vs. Randy Orton & Bray Wyatt
WWE SMACKDOWN TAG TEAM CHAMPIONSHIP
Everyone seems to think they know exactly where this feud is going. Randy is infiltrating the Wyatts in order to split Harper off so he can take down Bray alone. That would be the obvious path. But that doesn't explain the time when Orton's eyes glowed with fire, or when he was hallucinating while looking in the mirror. Bray Wyatt should be a major player in all of WWE's future plans, and giving him power over Randy Orton is enough to solidify him as a main event player for good.
I think Wyatt's got Orton's number, and I expect them to decimate, in no uncertain terms, the master of the above ground pool, Heath Slater, and his would-be politician sidekick, Rhyno. Wyatt is long overdue for any title, and a tag run with Orton is the right thing to do and the right way to do it.
The Miz (c) vs. Dolph Ziggler
LADDER MATCH FOR THE WWE INTERCONTINENTAL TITLE
Ziggler and Miz managed to do the impossible at No Mercy. They stole the show. Everything about the match and the build-up was perfect. People cared.
It should have ended there. It was a perfect finish. And now they're out of juice. A ladder match for the IC Title conjures visions of Razor Ramon vs. Shawn Michaels or the past two Wrestlemanias with Zack Ryder's Cinderella story, and Daniel Bryan kicking off his final title run before retirement. This will certainly be an entertaining match, despite its redundancy. Look for Miz to walk away with the title and move into a new feud where he can shine again. Miz is going through a career renaissance and he needs fresh blood. Dolph Ziggler is only dragging him down.
Carmella vs. Nikki Bella
NO DQ MATCH
Nikki Bella is one half of the Mickey and Minnie of WWE. With Total Divas back in swing, look for Nikki Bella to win the match and move into a title feud. With two Women's Division matches on the card, I'm looking forward to this match and expecting a spectacle. These two just might have something they want to prove, and in a No DQ Match, there's a chance of them doing something that's talked about at least until the next day.
CHAIRS MATCH
Kalisto vs. Baron Corbin
Tom and Jerry over here have been chasing each other around, hitting each other with chairs. My bad for not checking the PPV calendar, or else I would have known a gimmick match was coming around the bend. These two don't like one another, maybe because one is tall and the other is not very tall. McMahon sees big dollars in Corbin, so he's apt to come out of this one looking strong. Expect a very physical, if not brutal, showing from these two, with Big and Greasy getting a very decisive victory.
---
(Kevin LaRose is now contributing in-depth WWE PPV previews. Look for more from him in coming days, also.)