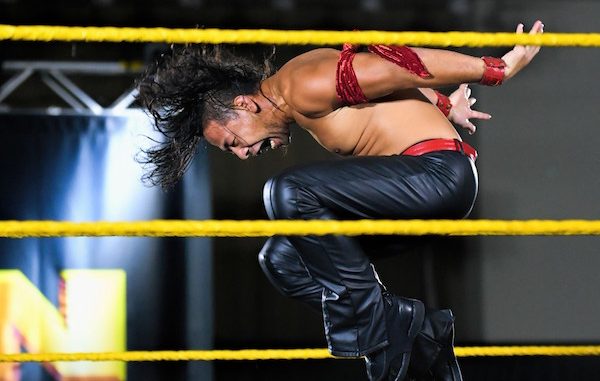 ---
SPOTLIGHTED PODCAST ALERT (YOUR ARTICLE BEGINS A FEW INCHES DOWN)...
---
Hello gang, and welcome to the NXT TRACKER, where I'll pick an NXT wrestler, assess their progression to this point, and make bold (sure-to-look-hilarious-in-retrospect) predictions about their future prospects. Typically I expect to focus on young talent, but I wanted to start with a bang, so we're going to open with Shinsuke Nakamura.
The Man
Nakamura was hugely successful in New Japan, where he was a three-time IWGP Champion. The version of Nakamura that we know in the States was largely forged during a heel turn in 2009, where he started to adopt strong style.
While it looks like he has all the potential in the world, there isn't a lot of time. To give you an idea of how long he's been around, in the same month as his New Japan debut, Maven battled Goldust at WrestleMania.
Signature Wins in NXT
While Nakamura's biggest wins didn't come in the States, he's had plenty of chances to shine here since his debut (televised) victory over Tye Dillinger in April. His 30-minute match with Sami Zayn at Takeover: Dallas was a great sendoff for Zayn that also set the stage for Nakamura to be placed at the top of the card, and his victory over Samoa Joe at Takeover: Brooklyn II was his first title victory. He won the title a second time in a just-aired match with Joe in Osaka, Japan.
Live Reactions
Nakamura didn't need work in this area. It wasn't a given that American audiences would take to him as much as Japanese audiences had, but all doubt was silenced with his debut. I saw Nakamura live with my daughters in a tag team match, and when he was announced, my elder daughter was so overwhelmed by him that she had tears in her eyes. She's young, yes, but that's a pretty clear indicator of the guy's ability.
The Booking
Normally I'll include an in-ring progression as well, but with Nakamura being a long-established talent, that part seems superfluous. The booking of Nakamura has allowed him to be quiet but meaningful on the mic, which has worked, though it could be difficult to stay on top of Raw or Smackdown with limited ability to talk up a major match. I'm not a fan of the hotshot title switch to Samoa Joe and back to Nakamura. Although this gave him the chance to win the NXT title in front of Japanese fans, it did take his undefeated mystique away from him as a sacrifice. Granted, Nakamura is charismatic enough to be somewhat bulletproof. In general throughout, the booking of his character has been very strong.
The Future
Honestly, the future has to be now. Shinsuke Nakamura is 36 years old, and there's no telling how long he'll be willing and able to do this. His title loss to Joe could either have meant the win in Osaka that occurred or that Nakamura was destined to move to the main roster; I would have preferred the latter, though I can see the business side, as NXT doesn't have another top-level babyface unless they pull a big trigger on Tye Dillinger or No Way Jose. Despite this, If Nakamura is going to impact the WWE in a meaningful way, he only has a few years to do it.
Predictions
I think Bobby Roode will be the next NXT Champion. I want to see this match, and I don't see anyone else down there having the strength of character to pull off a win over Nakamura, unless Joe takes it back and never heads up to the main roster. Once Roode wins the title, Nakamura gives a requisite rematch where he's screwed out of another title by Roode's chicanery and he heads up to Raw directly into the main event picture to be yet another stopgap to give Roman Reigns more time in his neverending quest for fan acceptance.
I think Nakamura will be a main roster World Champion, though his reigns may be short as he lacks the interview skills in English to do the long talking segments that the main roster loves. My hope is that at some point, we get to see him face Brock Lesnar so they can play it up as the blowoff from their feud ten years ago in New Japan.
---
(Kelly Wells will present the NXT TRACKER every week with a categorical look at a particular wrestler or other talent on the NXT roster and predict their main roster prospects.)