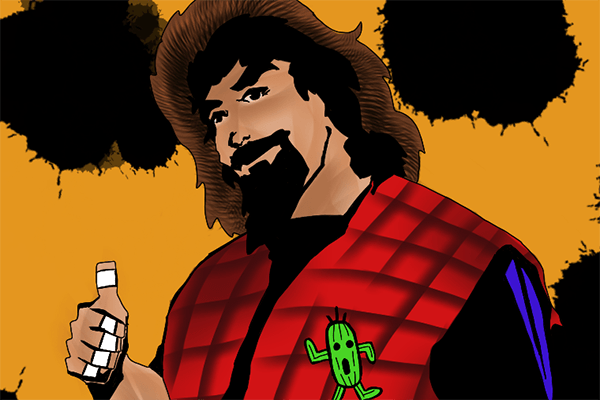 ---
SPOTLIGHTED PODCAST ALERT (YOUR ARTICLE BEGINS A FEW INCHES DOWN)...
---
RISING STAR OF THE WEEK: Mick Foley
Mick Foley's time as a full-time character on Raw may be coming to a close, but what an excellent way to go. That final Raw segment with him, Triple H, and Stephanie felt "big time." Trips and Steph usually go the Icarus route when it comes to being "genuine" heels, and this past Monday they were particularly walking that all-too-familiar tight rope, calling Mick "broken down" and implying potential memory problems, but it was really a huge weight off my pessimistic shoulders to see Mick reveal Mr. Socko and Triple H get a mouthful of humility (rare to see with anyone associated with the name McMahon). A legend like Mick needed to be treated as such, and it was damn good to see "The Hardcore Legend" look just that.
HONORABLE MENTIONS
Seth Rollins: The simple fact that Seth came out to save aforementioned legend from a further beatdown was probably the most babyface move he has done since his ill-faded turn like, what, six months ago? (Yeesh.) The slow reveal of a (somewhat) healthy bum knee was just icing on the cake. This is the first time Rollins looked legit main event, here's hoping they keep that Rollins train rolling.
Dana Brooke: I don't mean to brag, but maybe we have a WWE creative member who reads "RSFS," because just last week I said Dana Brooke should be no lackey to Charlotte. Well guess what? No lackey no more. Dana's ring work is nowhere near the levels of a Charlotte, Bayley, or Sasha, but the babyface side of that coin has been so mishandled that Raw needs something to get things moving. This also might hint toward a Sasha heel turn. Either way, I'm so bummed about the destruction of Bayley that it's going to take a lot for me to get rejuvenated again about the women's division.
FADING STAR OF THE WEEK: Bray Wyatt
I could pretty much sum this up by saying we only saw the WWE Champion rub dirt all over himself and that's all you'd pretty much need to get the gist of why Bray gets this week's nod of negativity, but let's throw in the fact that there was no mention of him being said champion, like, at all. Instead, he kills Randy's whole six month master plan by claiming he's now more powerful because of Orton's arson, proceeds to scream via satellite and go The Peanuts' Pig Pen route for all of Pittburgh to doze off at (I'm so glad I didn't go). And nothing sells a match more than an awkward Satan name-drop. The dark prince always puts butts in the seats.
DISHONORABLE MENTIONS
Alexa Bliss: Nothing says a champion more than a clean loss. I mean, isn't that the going trend nowadays among both women divisions? I know I'm totally swept up in the excitement and I shouldn't just give credit to that, no. Mickie James, the newest babyface to the Smackdown roster, had just weeks upon weeks of time to state her case as to why she turned on that bratty Bliss. The build-up was so good it felt like it didn't even exist. At least we'll get a straight-up six-way match to determine who the true champion is.
American Alpha: Your Smackdown tag team champions are the perfect backdrop to show Shane McMahon's badass grit and determination. A McMahon overshadows any title belt at any time, always remember that, sports entertainment fans. As a matter of fact, A.J. Styles is practically fighting a title belt at WrestleMania 33. A living, breathing title belt that refuses medical attention and throws one bad punch.
---
NOW CHECK OUT LAST WEEK'S ARTICLE: RISING STARS & FADING STARS: Austin Aries, JBL, Mickie James, Braun Strowman, Sami Zayn, Bayley