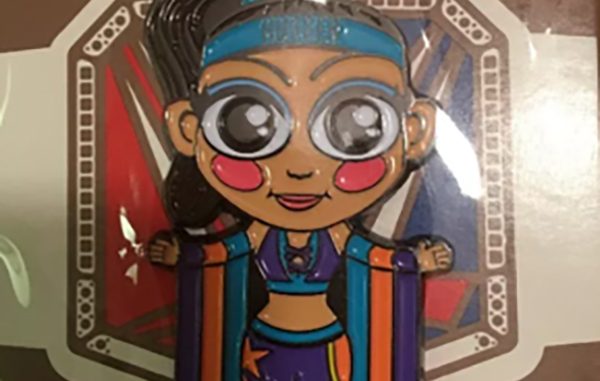 ---
SPOTLIGHTED PODCAST ALERT (YOUR ARTICLE BEGINS A FEW INCHES DOWN)...
---
Every year there are a few new items exclusive to WrestleMania or another big event that grab the attention of wrestling fans and collectors. A couple years ago, the Randy Orton California state flag shirt from WrestleMania 31
was a big hit. Six years ago, collectors went nuts for the initial CM Punk "Best in the World" shirts from Money in the Bank in Chicago.
WrestleMania gets bigger every year, and this year fans who hit Axxess and the WrestleMania superstore found more than just T-shirts and hats. WWE offered fans an exclusive action figure, collectible pins and autographs. In addition, some independent wrestlers who attended other shows in Orlando over the weekend also debuted some new merchandise.
AJ Styles Mattel Figure
Mattel offered fans a WrestleMania 33 exclusive action figure. The basic figure has Styles in red tights and gloves, along with white, black and red boots. The back of the package has a picture of Styles, a facsimile of his signature and the Smackdown Live logo.
Collectors have been buying this figure up from eBay, Facebook groups and action figure websites. The typical sale price for one of these figures mint in package is $40-$50, with some signed figures being offered for around $70.
Exclusive WWE Pins and Autographs
One of the better looking and more unique items offered by WWE during WrestleMania weekend was a set of nine collectible pins, each of which came with a signed trading card. The wrestlers included in the set are Roman Reigns, Seth Rollins, Dean Ambrose, Sasha Banks, AJ Styles, Shinsuke Nakamura, John Cena, Finn Balor and Becky Lynch, with only 33 of each produced.
Each mall metal pin is a wrestler's logo, and comes with a mostly blank trading card that gave each wrestler plenty of room to sign. Most of the autograph/pin combos are listed on eBay for $90-$100; full sets are being sold for around $650.
Unfortunately, as cool as the pins are, what the set really shows is just how awful many of WWE's current tops stars are when it comes to signing. With the exception of Styles, every wrestler featured in the set signed a lazy set of initials (DA, RR, SR) or some sort of illegible slop (Cena, Balor). Collectors familiar with Nakamura's signature from New Japan Pro Wrestling may be disgusted by his WWE version, which has morphed into a tiny "S" with a circle around it.
WWE also offered some cheaper pins that were sold without autographs. The Women's Division Collection pins feature big-eyed caricatures of some of WWE's top women's stars like Bayley, Nikki Bella and Sasha Banks. Most of those are selling for $35-$45 each. The WWE Legends pins feature logos of past stars like Sting, Randy Savage, Ultimate Warrior, Roddy Piper and Steve Austin, with most selling for around $25-$35 each. There are also basic logo pins for stars like Nakamura and Ambrose, selling for about $25 each.
Mandy Leon Cards
Signed kiss cards have been popular since debuting in Fleer WWE products in the early 2000s. TRISTAR made plenty of them from 2009 to 2013 in its TNA products, and Topps produces more kiss cards now than ever.
Ring of Honor's Mandy Leon is selling her own signed kiss cards. Each card features a color photo of the "Exotic Goddess," along with a red, pink or black lip print. Basic kiss cards are $20 each, and signed kiss cards are $30. For more information, email MandyLeonBookings@gmail.com.
Blue Meanie Signed Action Figures
"Da Blue Guy" finally got his first action figure in late 2016 as part of Figures Toy Company's Legends of
Professional Wrestling Line. Meanie signed a limited number of figures at WrestleCon on April 1, and Figures Toy Company now has them for sale.
Each figure is signed by Meanie on the packaging, and includes a certificate of authenticity from Figures Toy Company with a pic of Meanie holding one of the figures. Figures Toy Company provided a nice touch with the COAs, explicitly stating that the figures were signed at WrestleCon.
Signed Blue Meanie Figures can be ordered from FiguresToyCompany.com for $50 each.
---
If you picked up any unique items during WrestleMania weekend that you'd like to share with other PWTorch.com readers, contact PWTorch Collectibles Specialist Michael Moore at michaelmoorewriter@gmail.com or @MMooreWriter on Twitter.
NOW READ OUR PREVIOUS COLLECTIBLES COLUMN: COLLECTIBLES COLUMN: Trading Card News on Undertaker Autographs, Jimmy Havoc, Edge, More