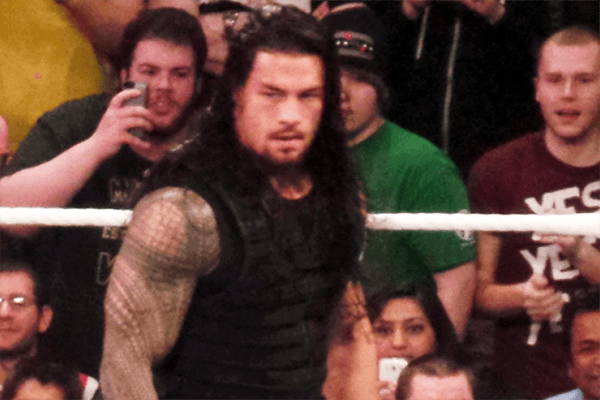 ---
SPOTLIGHTED PODCAST ALERT (YOUR ARTICLE BEGINS A FEW INCHES DOWN)...
---
---
Roman Reigns is one of the most divisive and talked about WWE performers in history. The company makes desperate play after desperate play to make him their number one star – thus far to no avail. How do they do it? What do they do?
I'm Tom Colohue and this is the Monday Night Reigns-o-Meter.
---
Monday Night Reigns-o-meter – Extreme Rules Omnibus Edition
Now, on Tuesdays, I have me a habit. I come home after a long day of work, settle in with a tall glass of something sugary, and turn on Monday Night Raw. I live in the UK, you see, and thus can't always be bothered to stay up until 4am to watch Tons of Funk.
I get home at about 4 p.m. and watch all of Raw, making sure that I don't miss anything that might possibly have featured Roman Reigns, while also reading PWTorch's recap of the show so that I know how much Roman is featured.
Thankfully, Roman did me a solid today and only appeared in one segment; the first. I was able to play some GTA before I even started watching.
Thus far, there's been no mention as to whether the ambulance match at Great Balls of Fire is for the number one contendership yet. That was the expected route, with Braun pulling off a shock clean win over Reigns and thus stepping up to Brock Lesnar at Summerslam. The fans seem to prefer this too because, after Roman emerges from the back, they chant "We want Strowman!"
Today Roman is wearing his face face, with his Dance Dance Revolution t-shirt and his hairy as hell face. Thing is, he cuts a promo that I can't put on either side. Firstly, he drops the "Just Joe" business from last week completely. He tells the fans he's going to talk straight. Then he quite literally incites the crowd to cheer his pain instead of booing anything else.
Give him a minute and you'll like this, he says. Does he mean when he talks about getting beat up or does he mean if you give him the full minute and watch Strowman actually beat him up? You know they were both great. I've never seen a big guy so talented at getting his ass handed to him.
His promo game has really come on strong since he turned heel at the Rumble. It used to be by far his biggest weakness. Now his biggest weakness is his range in the ring, I guess. He should brawl through the crowd more. I used to like that.
Roman hits his "my yard" line, ensuring a nice healthy boo for the finale of his promo. Then, there is Braun.
It's a testament to Roman's heel persona that he has been used to create one of the fastest babyface pushes in history. Strowman has literally risen to the top of the card in less than a year, mostly down to his unceasing willingness to beat the crap out of the most hated man on the roster.
Roman shows off his ambulance opening skills, followed by his holding his head in a small space so he can't see what's behind him skills, then gets beat up. For a moment, his wonderful t-shirt is exposed in comparison to the sleek style and general good idea that is the Great Balls of Fire flying flaming nutsack logo, but then it's all Roman.
Seriously, that guy sells like Shawn Michaels sometimes. He hit the side of that ambulance with a sickening thud, and could genuinely have smashed his skull open on any of those lights right below it. Has there ever been such a compelling combination of one man willing to hurt and one man willing to be hurt?
Roman Reigns appeared for less than 10 minutes this time and basically just got brutalised by someone who has been brutalising him on Raw since January. Seriously, this feud started when Strowman cost Roman the title at the Rumble. While ago, that. There's been a double turn since then.
You know, I'm starting to think it's not that accidental any more.
Odds Counter
– Braun Strowman
Did Roman Reigns beat the odds?
No
Sold that Great Balls of Fire logo well though, didn't he?
---
Like what you're reading? Looking for more? Help me hit 500 followers by hitting that follow, retweet, or like button. Thanks!
Like what you're reading? Looking for more? Help me hit 500 followers by #summerslam by hitting that follow, retweet or like button. Thanks!

— Tom Colohue (@Colohue) June 27, 2017