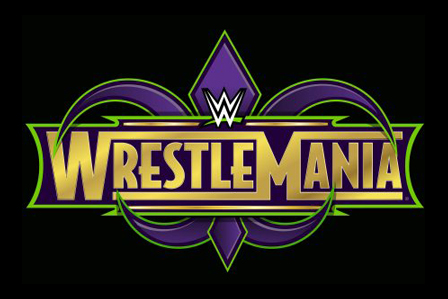 ---
SPOTLIGHTED PODCAST ALERT (YOUR ARTICLE BEGINS A FEW INCHES DOWN)...
---
Today at 8am sharp, the doors to the WWE Superstore and Axxess opened on the riverfront in New Orleans. To make the opening, fans burst out of their hotel rooms and walked toward the Ernest N. Morial Convention Center likes moths to a flame. Just like upon arrival at the airport, fans were sporting wrestling gear from Bullet Club to Roman Reigns and everything in between.
Sidebar regarding the Roman Reigns merchandise – it's everywhere. Not only is it everywhere, it's the most aesthetic looking of all merch available. He's got stuff available for adults and children alike and both sides of the coin were represented well. It's definitely a concerted effort on WWE's part to showcase Roman in this way. Where AJ and Nakamura have the WWE logo plastered all over their shirts, it's nowhere to be found on some of Roman's gear.
Along the parade route of humming WWE fans marching to the convention center, spot shops were setup to entice early buyers ahead of their time inside the enormous superstore.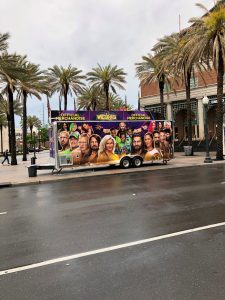 Descending on WWE Axxess and the Superstore felt like watching a family of bumble bees return to the hive. Groups of all ages snapped pictures with life size WWE stars that were on posters near the arena and chanted "yes" with excitement as they walked through the doors of the building.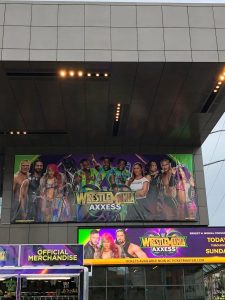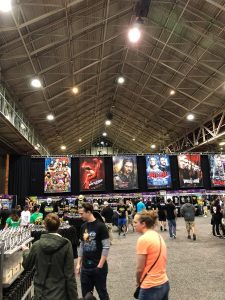 The sheer magnitude of Axxess is a bit overwhelming, especially for children. As tickets were being collected to walk through the doors, superstar entrance music blared over the loudspeakers to truly make it feel like you were in an arena full of screaming fans. Once again, this played well with the younger demographic of fans. Having a place to walk around freely with WWE paraphernalia at every turn has to be memorable in a lot of ways. Then, the Superstore hits you. Like Disney World gift shops, it's conveniently placed directly outside of the Axxess events and was across from the makeshift Elimination Chamber exhibit. The store was a real life version of WWEShop.com. It had every shirt, belt, toy, and piece of WrestleMania memorabilia that one could possibly want. The store was really well stocked and had something for everyone. The two major players in terms of volume of available merchandise was Roman Reigns (obviously) and AJ Styles.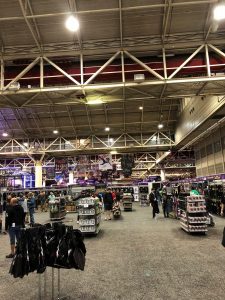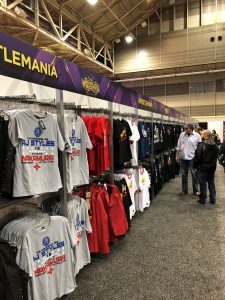 The day concluded with an NXT Takeover: New Orleans viewing party at a local establishment. The bar was full of rabid wrestling fans and like most Takeover shows, there was a buzz for it prior to its start. While waiting for the first bell to ring, you could hear fans all around debating various pro wrestling current events like "Which Saturday show will be better, NXT or Ring Of Honor?" "Which match should go on last at WrestleMania?" "Who will be called up from NXT on the Raw after Mania?" And my personal favorite, "Do the wrestlers wet their hair before they walk out to the ring or us some kind of conditioning lotion instead?"
Obviously, fans watching the show at the bar were similar in nature. All were relatively smart fans, but also ready, willing, and able to be taken on a ride due to the stories being told on the show. For this audience, Takeover was a massive success. Grown men yelled "don't do it!" at TV's around me as Johnny Gargano appeared to have forgiven Tomasso Ciampa in the main event. They were invested to the tenth degree. When the show concluded and the crowds went their separate ways there was one common sentiment in everyone's goodbye messages; Good luck WrestleMania.
---
NOW CHECK OUT THE PREVIOUS COLUMN: WRESTLEMANIA WEEKEND ROVING REPORTER DIARY THURSDAY 4/5: WWE goes big in New Orleans