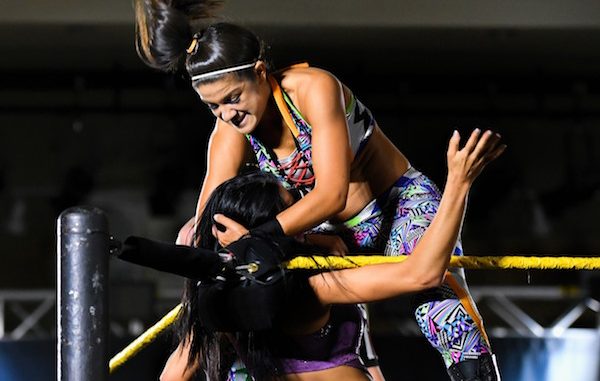 ---
SPOTLIGHTED PODCAST ALERT (YOUR ARTICLE BEGINS A FEW INCHES DOWN)...
---
The following was originally published five year ago on PWTorch.com…
---
WWE NXT Results
April 17, 2013
Taped at Full Sail University
By Justin James, PWTorch contributor
[Q1] The pre-credits video looked at The Shield's involvement in NXT over the last few months, and Corey Graves calling them out. Nice package creating excitement to see what would happen next.
Tony Dawson welcomes William Regal back to the announcing booth, with minimal attention to last week's brutal match against Kassius Ohno. Justin Gabriel is out for the first match. He's facing Leo Kruger, who is more "mercenary" and less "safari" tonight.
1 – JUSTIN GABRIEL vs. LEO KRUGER
They trade big chops early on until the pace picks up. Gabriel starts to work an arm. Kruger with a spinebuster from nowhere to turn it around. Gabriel goes on offense, but Kruger knocks the ropes out from under him on a springboard move. Kruger gets the crazy eyes and unleashes a big forearm to the head for a nearfall.
Gabriel with an armbar, but Kruger gets to the ropes. Gabriel wants the 450 splash, but Kruger springs to life and knocks him down. They battle on and around the turnbuckle. Kruger blocks a sunset flip powerbomb, then slaps on an armbar of his own for a submission victory.
WINNER: Leo Kruger via submission in 8:00. Both men added a few new moves, and the story was Gabriel trying to add more submissions to his arsenal. But we've seen these two face each other a lot lately with no story behind it, and the match is stale.
[Q2] Video package showing NXT roster members at WrestleMania week. Nice alternative to the main roster versions we've already seen too many times.
Backstage, Renee Young asks Paige about Summer Rae. Paige says that Paige is good at running her mouth and running away. She demands a one-on-one match. As she builds to her point, Rae ambushes her and gets in her face.
[ J.J.'s Reax: If this were a pair of men on the main roster, this would obviously be leading to a "falls count anywhere" match, cage match, or No DQ match. I doubt there would ever be a cage match on NXT, but I would sure love to see this feud get that level of attention. Stipulation matches are rare in NXT, so whatever they do will feel special. ]
2 – BAYLEY vs. EMMA
Emma quickly decides she wants no part of Bayley, but Bayley keeps her in the match. Emma sits on a Sunset Flip and does her dance moves, letting Bayley roll through with a double leg nelson cover for a nearfall. Bayley tries to rip Emma's head off with a lengthy hold during a round of dueling chants from the crowd. Emma dodges a corner charge and cinches in a tarantula through the ropes. Emma with more dancing, then a submission victory.
WINNER: Emma via submission in 3:00. Lots of clunky sequences, but the raw material is here for some good matches down the road. Interesting to see the crowd slowly embracing Emma's goofy character.
[Q3] 3 – YOSHI TATSU vs. BRAY WYATT (w/Luke Harper and Eric Rowan)
Wyatt out of the gate like a tank with a Ferrari engine. Kiss to the forehead and the Sister Abigail for the win.
WINNER: Bray Wyatt in 0:45. Quick squash to help re-establish Wyatt as a threat in the ring.
Post-match, Wyatt re-delivers the Sister Abigail, then cuts a promo to send a message to the locker room. One final kiss to Tatsu's head.
In a moment of poor planning, they ran an ad for Adrian Neville to face (former U.S. champ) Antonio Cesaro for the U.S. Title.
Corey Graves gets the Justin Bieber reaction as women go nuts for his entrance. Rollins still gets a bit of a face reaction.
4 – COREY GRAVES vs. SETH ROLLINS – Lumberjack match
Rollins with early offense. Graves yanks Rollins into the ring over the rope as Rollins is desperate to stay in the ring and avoid the lumberjacks. Graves starts to attack the knee as he mocks Rollins. Rollins with a palm thrust to the neck and he tries to fix his knee. Enziguri knocks Graves off the turnbuckle to the outside.
[Commercial Break]
Rollins is still in control out of the break. Nasty gutbuster and a seated abdominal stretch. Body scissors keeps up the attack on Graves's midsection. Graves digs an elbow in the the knee to escape, but Graves doesn't tap to a Camel Clutch. Graves can't get a break as Rollins slowly picks him apart. Graves dodges a top-rope move and a high-knee gains him some momentum.
Graves with a legwhip off the top turnbuckle and Rollins gets sent out of the ring to meet the jacks. Graves follows with a front suplex as Roman Reigns and Dean Ambrose take on all 12 lumberjacks by themselves, allowing Ambrose to level Graves in the melee. Reigns and Ambrose managed to destroy all 12 of the lumberjacks, then Rollins with the Skywalker for the win.
winner: Seth Rollins in 9:00. Match didn't quite live up to expectations, which were admittedly high, because of the booking. They just weren't working to a conclusion.
Final Reax: I feel like NXT is building to a night of cage matches, with both Corey Graves and Paige having a legitimate reason to want one. Outside of that, this episode was just filler. Next week's will be too, as the main roster invades.
---
NOW CHECK OUT THE PREVIOUS NXT FLASHBACK: 5 YRS AGO – NXT TV Report (3/27/13): Main Roster takes over Developmental show – Orton vs. Sandow main event, Cena promo, Divas Title match; Overall Reax