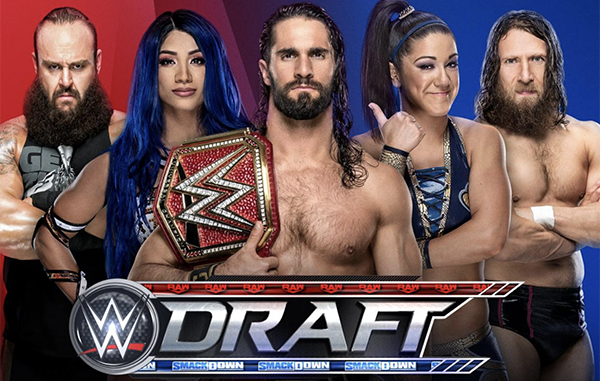 ---
SPOTLIGHTED PODCAST ALERT (YOUR ARTICLE BEGINS A FEW INCHES DOWN)...
---
WWE SMACKDOWN PRIMER
OCTOBER 11, 2019
LAS VEGAS, NV. AT THE T-MOBILE ARENA
AIRS ON FOX NETWORK, 8:00 p.m. EDT
BY FRANK PETEANI (@FrankPeteani), PWTORCH CONTRIBUTOR
Announcers: Michael Cole, Corey Graves
Arena and Items Advertised by WWE
Tonight, week two of Smackdown being on Fox unfolds as WWE returns to the T-Mobile Arena in Las Vegas, NV. The arena opened in April of 2016 and has played host to WWE a number of times including the 2018 Elimination Chamber and Smackdown in December of last year. Night one of the two-night draft takes place tonight as WWE returns to the hard-split format which they abandoned following this year's superstar shakeup.
Here is what's advertised for the show thus far:
• Seth Rollins and Roman Reigns to face off on Smackdown for number one pick
• Charlotte Flair to collide tonight for Smackdown Women's Title in WWE Hell in a Cell rematch
• WWE Draft begins with Friday Night Smackdown on FOX (Fox 🙄)
• What's next for Kevin Owens after his Ladder Match win?
• What Raw Superstar (Wrestler) is destined for Smackdown glory?
Matches & Segments:
Which Show Gets the Number One Pick: Universal Champion Seth Rollins (Raw) vs. Roman Reigns (Smackdown)
As they have done in the past, WWE is having a match with draft implications.
Like Shawn Michaels and Diesel before them, Universal Champion Seth Rollins and Roman Reigns have a long history. They came up as members of The Shield in late 2012. They wrestled each other numerous times after Rollins turned on the Shield in 2014. One might argue WWE went the wrong way when Rollins returned from a knee injury in 2016 to attack Reigns when he was WWE World Heavyweight Champion. The crowd popped huge for Rollins and had been rejecting Reigns for some time. They continued with Rollins as a heel and Reigns as a babyface.
Rollins is coming off a Hell in a Cell match where he retained the Universal Championship over Bray Wyatt, although the match was stopped and largely rejected by the crowd (to say the least). Reigns defeated Erick Rowan in a lumberjack match last week. He teamed with Daniel Bryan to defeat Rowan and Luke Harper in a Tornado Tag Team match at Hell in a Cell. Tonight, Rollins and Reigns go one-on-one in a non-title match. If Rollins wins, Raw gets the number one pick. If Reigns wins, Smackdown gets the first pick.
#UniversalChampion @WWERollins and #TheBigDog @WWERomanReigns will kickstart Friday Night #SmackDown in a matchup with MAJOR #WWEDraft implications. #WWENow pic.twitter.com/fyLFJD24ZE

— WWE (@WWE) October 10, 2019
Frank's Analysis: What happens if they go to a double-DQ or count out, or if they have a no-contest? What's the motivation for either man to win as they're both eligible for the draft? Rollins could win and he could be drafted to Raw, where Bray Wyatt may end up. He wouldn't want that, now would he. Truthfully, it's just a reason to have this match on Fox, which is fine, just call it what it is. Rollins vs. Reigns is a big match just by their history and they're smart to put in on in the early going of the Fox era.
Smackdown Women's Championship: Charlotte Flair (champ) vs. Bayley (challenger)
This past Sunday at Hell in a Cell, Charlotte Flair began her tenth reign as a woman's champion as she defeated Bayley via submission to win the Smackdown title. It was the third time for her winning it this year. She defeated Asuka on Smackdown just prior to WrestleMania, and then Becky Lynch at Money in the Bank. Ironically it was Bayley who cashed in her just-won Money in the Bank contract that night to beat Charlotte.
In a "championship showcase" this past Monday on Raw, Charlotte teamed with Raw Women's Champion Becky Lynch and lost to new WWE Women's Tag Team Champions the Kabuki Warriors (Asuka & Kairi Sane) when Asuka spit green mist into Becky Lynch's face and pinned her. We didn't hear from Bayley nor her best friend Sasha Banks, who lost to Becky in a Hell in a Cell match on Sunday. Both were visibly upset following their losses.
Tonight, Bayley gets a rematch for the Smackdown title against Charlotte. Here's Charlotte in a WWE exclusive following her win at Hell in a Cell:
Frank's Analysis: I don't see Charlotte dropping the title right away, as she has the last two times this year. My guess is she was given the Smackdown title to be a centerpiece on the show as the Fox era unfolds. The draft is really the overall bigger story, and where Charlotte and Becky end up for that matter is the most newsworthy. The x-factor in all of this is Ronda Rousey. She's not listed in either pool, but you wonder if her return is imminent and part of where they place Charlotte and/or Becky. Charlotte and Bayley's fate get decided on Raw while we'll find out Becky's tonight.
Night One of the Draft: Pools & Rules Announced, Celebrities to Appear
As anticipated, night one of the draft takes place tonight. This will be the first time since the original roster split ended in 2011 that we get this format as opposed to the superstar shakeup we've had in the current roster split era. They are drafting the rosters from scratch, so anything goes. WWE has told us that the network executives from both USA (Raw) and Fox (Smackdown) will be involved in the draft process. One their website, WWE announced the pools of wrestlers eligible for the draft each night. They have divvied up the talent including wrestlers assigned to both Raw and Smackdown at the moment, as well as 205Live. Basically, they will draft certain wrestlers tonight and the rest on Raw. The notable wrestlers whose fate will be decided tonight are Raw Women's Champion Becky Lynch, Roman Reigns, The O.C. (Luke Gallows & Karl Anderson and U.S. Champion A.J. Styles), and "The Fiend" Bray Wyatt. Here's a tweet from WWE which includes a link to those "pools" for your review:
#SmackDown and #Raw are officially on the clock.

The preliminary #WWEDraft Pools have been determined and designate which WWE Superstars are available for selection on each night.https://t.co/U3j2qDeoIM

— WWE (@WWE) October 10, 2019
On today's Wade Keller hotline for VIP members Wade discussed the pools, celebrities appearing, and the rules for the draft. If you're not a VIP member I encourage you to become one not only for the must-listen hotline, but for all the stellar content especially during this time where there's a variety of great wrestling programming from which to choose. Nonetheless those celebrities will be on hand throughout the process and they come from MLB, the NFL, and Hollywood. Here is the list according to WWE.com:
• Kevin Burkhardt and Frank Thomas — FOX MLB analysts
• Terry Bradshaw, Howie Long, Jimmy Johnson and Tony Gonzalez — FOX NFL Sunday
• Ronde Barber, Charles Davis, Chris Spielman and Daryl Johnston — FOX NFL analysts
• Charissa Thompson, Michael Vick and Peter Schrager — FOX NFL Kickoff
• Rob Stone, Brady Quinn, Reggie Bush, Matt Leinart and Urban Meyer — Big Noon Kickoff
• Joel Klatt — FOX College Football analyst
• Dulé Hill of USA's "Psych" and "Suits"
• James Roday of "Psych"
• Marcus Lemonis of "The Profit"
• Margaret Josephs and Melissa Gorga of "Real Housewives of New Jersey"
• Rodney Harrison and Chris Simms — Football Night in America
• Rebecca Lowe, Robbie Mustoe and Kyle Martino — Premier League Live
They also published the rules for the draft:
• Over 70 Superstars, as well as tag teams, are eligible for selection in this year's WWE Draft.
• SmackDown will draft 30 Superstars, and Raw will select another 41 Superstars.
• Since SmackDown is a two-hour show and Raw is a three-hour show, for every two picks SmackDown makes, Raw will receive three.
• Tag teams will count as one pick unless FOX or USA Network specifically wants to pick only one Superstar from the team.
• Any undrafted Superstars will immediately be declared free agents and able to sign with the brand of their choosing.
Night one unfolds tonight.
Frank's Analysis: It's fascinating how this has been built and presented. It's good that they've at least given us the rules as opposed to the superstar shakeup where there's no explanation as to who goes where. The network executives being involved is interesting, as now with two different companies you would think they'd have a say in whom they'd want on their shows. As far as the wrestlers I'm particularly curious about the placement of WWE Champion Brock Lesnar. I would think he remains on Smackdown which would keep Universal Champion Seth Rollins on Raw, in theory. It's also interesting to see if a Raw Champion is drafted to Smackdown (i.e. Becky Lynch or Robert Roode & Dolph Ziggler) and vice versa. They can flip flop the Intercontinental Champion (Shinuske Nakamura) and the U.S. Champ (A.J. Styles) easily, even though Styles spent a number of years on Smackdown. I wouldn't mind Nakamura on Raw. Do the 205Live guys end up bunched up on one show? I don't really have predictions as to who goes where. I think it's better to just watch it all unfold and we'll have a better idea as to what everyone involved is thinking.
Storyline Follow-Up
What's Next for Kevin Owens
Last week on Smackdown, Kevin Owens defeated Shane McMahon in a Ladder Match to retain his job in WWE and the right to fire Shane, which he did on the microphone following the match. He also gave him a Stunner for his troubles. Here's Kevin in a WWE exclusive after the match:
More importantly, Kevin Owens' fate will be decided tonight in the draft pool announced for the show. They haven't focused on his friendship with Sami Zayn, who's eligible to be drafted Monday night as he's listed with Intercontinental Champion Shinsuke Nakamura.
Frank's Analysis: Thank the lord this story is over. I still find it comical that Shane is "fired," even though he's a McMahon and minority owner in the company. His firing would have to be disclosed publicly to the shareholders seeing as WWE is a publicly traded company. Only in WWE do they try to get you to buy nonsense like this.
Raw Wrestlers Destined for Smackdown
This is really tied into the draft covered earlier in this report. WWE made it a point to emphasize that Sasha Banks, Bray Wyatt, A.J. Styles, and Braun Strowman from Raw are all eligible tonight to be drafted to Smackdown. It doesn't mean they'll move, but Strowman has been on Raw since the rosters split in July of 2016 as has Sasha Banks. Wyatt was initially on Smackdown but moved to Raw in 2017. Obviously he's undergone a major character overhaul this year with the Fiend. A.J. spent most of his time on Smackdown, but that doesn't mean he can't move back.
What's Next for Kofi Kingston
This is not an advertised item, but I wanted to expand on it.
In the main event of last week's debut on Fox, Kofi Kingston lost the WWE Championship he had held since WrestleMania to Brock Lesnar, who began his eighth overall reign as a world champion in WWE. The match lasted all of five seconds, as Brock immediately hit Kofi with his signature F-5. Following these proceedings Rey Mysterio, who had been attacked by Brock on the preceding Raw, came out with Cain Velasquez from UFC. For those not familiar, Velasquez took the UFC Championship from Brock back in 2010. You could tell Brock felt like he'd seen a ghost. Velasquez took down Brock who eventually retreated.
WWE is having a press conference today involving Velasquez and Brock, as well as British boxer Tyson Fury and Braun Strowman. They ran an angle on Raw where Fury and Strowman went at each other and the locker room got involved. Nonetheless, Triple H will be at the helm. It's expected Brock vs. Cain Velasquez will be announced as well as Strowman vs. Fury for the upcoming "global" Crown Jewel event on the WWE Network (here we go with the not talking about Saudi Arabia nonsense again).
Here's a WWE exclusive with Kofi as well as a tweet from him:
— KOFI (@TrueKofi) October 5, 2019
Xavier Woods, Rusev, Dolph Ziggler, and NXT's Johnny Gargano tweeted out support for Kofi.
Frank's Analysis: I was not a fan of the quick match. I can understand the theory behind it, and I also understand Kofi wasn't necessarily over as a champ. You can come up with some obvious theories to that but that's for another day. You wonder now if Kofi fades back into just doing the New Day stuff, or does he get a chance at redemption depending on which show he's drafted. My guess is he fades back but occasionally sneaks into a title match on TV or a B-type PPV.
Other Match Results and Segments from Last Week
• The Rock was on hand for the Fox debut. He and Becky Lynch were in an in-ring segment with "King" Baron Corbin. They ended up attacking him and Corbin ate the Rock's People's Elbow as well as the Rock Bottom.
• Ahead of Hell in a Cell, Charlotte Flair teamed with Becky Lynch to defeat Sasha Banks & Bayley.
• Seth Rollins and Shinsuke Nakamura, in a battle of champions, fought to a no-contest when the lights went out and Bray Wyatt attacked Rollins. Ironically, Rollins and Nakamura fought in the mid-card champion vs. champion match at Survivor Series in 2018 which was in the Staples Center. At least the Fiend wasn't around then to scare Rollins.
• Braun Strowman, Miz, and Heavy Machinery (Otis & Tucker) def. Raw Tag Team Champions Robert Roode & Dolph Ziggler, Randy Orton, and U.S. Champion A.J. Styles. During this match they ran the angle with Strowman and Tyson Fury which lead to their brawl on Raw.
---
Follow Frank on Twitter @FrankPeteani. Questions and discussion are welcome. Thank you for reading!