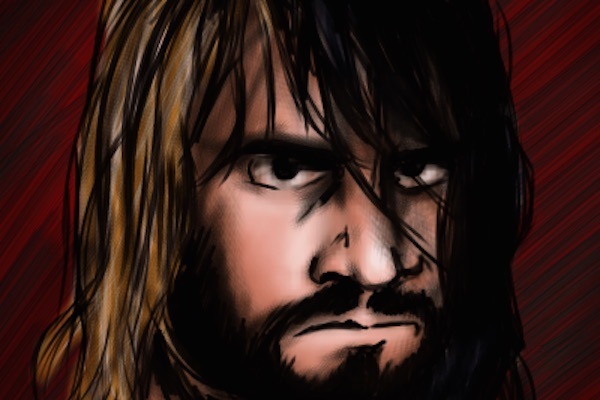 ---
SPOTLIGHTED PODCAST ALERT (YOUR ARTICLE BEGINS A FEW INCHES DOWN)...
---
WWE's website served up a softball question to Seth Rollins, whose WWE Title run ended in a split-second when he tore his knee on the first night of the European Tour.
"Hey, Seth, it was a freak accident, right?" 
Rollins's answer was much more revealing than WWE likely wanted it to be, as Rollins opened the door for questions about the full-time WWE schedule that has affected wrestler's health for decades.
"You know, it's one of those things, that yeah, it's a bit of a freak accident," Seth said, "but, I was just talking to a friend of mine, who is a physical therapist and may be doing the work on my knee moving forward, and he kind of summed it up as a 'complex accident.'"
What's a "complex accident?" The injury might not be as simple as just Seth's foot slipping executing a basic sequence in the match against Kane.
"As in, there are a lot of factors that led up to it and not just a freak thing, you know?" Seth continued. "And that's just part of me going as hard as I have for as long as I have."
Rollins is not the type of wrestler to blame the schedule or blame WWE management, but the more time spent in the ring means more chances for an injury to happen.
"For whatever reason, I just landed on the inside of my right foot, instead of flat with my feet and my knee gave," Seth told WWE's website.
Was Rollins simply fatigued, leading to a minor thing like foot placement leading to a serious knee injury?
Rollins's injury occurred seven months into his WWE Title reign. He's been asked to wrestle on Raw (sometimes two matches per show), occasionally on Smackdown because of the lack of top-line stars, and weekly on house shows. Not just wrestle a five-minute TV match, but carry shows. He took a weekend off in the middle of his title run, which was good for him.
Rollins, like 30-40 other full-time wrestlers on the roster, was beginning a grueling two-week European Tour. Add it all up and Rollins was susceptible to injury.
Rollins put it himself on that the injury was "just part of me going as hard as I have for as long as I have," but there have been countless other wrestlers who have suffered significant injuries because they were susceptible to something happening in WWE's system where there is no off-season.
Rollins's situation opened the door to more calls for a Talent Rotation System or other structured off-season to where wrestlers can simply get out of the ring for a period of time and protect themselves from "complex accidents." Perhaps because this time it affected the WWE champion right in the middle of a major storyline that WWE will take notice.