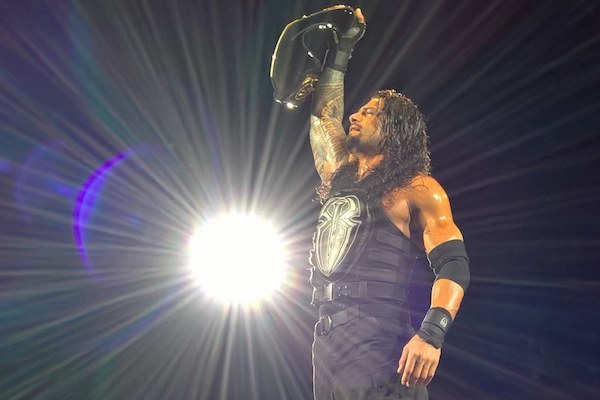 ---
SPOTLIGHTED PODCAST ALERT (YOUR ARTICLE BEGINS A FEW INCHES DOWN)...
---
WWE's Holiday Tour rolled into Chicago on Sunday night for a main event of Roman Reigns vs. Sheamus in a Street Fight for the WWE World Title…
WWE Live show results
December 27, 2015
Chicago, Ill.
Report by Dylon Wells, PWTorch correspondent
The Allstate Arena was nearly full for this event.
Tyler Breeze came out first to start the show. Before Breeze could even speak upon grabbing a microphone, Dolph Ziggler's music interrupted!
(1) Dolph Ziggler beat Tyler Breeze (w/Summer Rae) at 11:40. A pretty good opener with good shenanigans between all three followed by back and forth action towards the end. Summer caused pretty good heat throughout by distracting and attacking Dolph several times during the match. The final distraction caused Summer to be ejected from ringside after she smacked Dolph with a long black sock. After a series of two counts via roll-ups for both men, Dolph caught Breeze with a superkick almost out of nowhere for the three count! (**1/4)
Bo Dallas came out next and congratulated Chicago by saying that the most inspirational, influential, motivational Superstar of all-time is here. Bo then says it should be an honor for him to come out in a "piece of garbage city" and we should all just "Bo-lieve!" Jack Swagger then came out seconds after.
(2) Jack Swagger beatBo Dallas at 3:00. A Raw quality match that was not too bad. It was a little too short to go anywhere with some usual antics by Bo. The ending felt a little abrupt when Swagger caught Bo with his signature Spinebuster followed by a Swagger Bomb for a three count! (3/4*)
Bo then angrily demanded another match and would not leave until another opponent comes out. Bo dared anyone to come out and he guaranteed to be victorious. Goldust then came out seconds later to accept!
(3) Goldust beat Bo Dallas at 0:16. Bo got a few cheap shots on Goldust and Irish-whipped him from the ropes, only to get the whip reversed. He ran into a Snap Powerslam for a three count! Bo looked defeated as he walked to the back selling anger.
A Bray Wyatt promo then aired on the tron. Bray called out Kane for their match later tonight.
(4)  Fandango & Curtis Axel & Zack Ryder & Damien Sandow & Darren Young beat The Ascension & Los Matadores & Heath Slater at 10:40 in a 10-man tag match. Darren Young was the only one who did not tag in. (D-Young hit his finisher on Fernando towards the end for his only involvement.) Otherwise, this was a good, chaotic tag match. The ending came after a series of finishers from almost every competitor. Ryder then hit a running Diving Senton to Los Matadores and Heath Slater on the outside. Fandango finished it off by hitting the top-rope Leg Drop on Viktor of The Ascension for the three count! (**)
A Connor's cure ad aired.
(5) Kane beat Bray Wyatt at 11:27. It was mostly methodical from these men, but decent action throughout. Bray avoided Kane a few times until he got momentum for a bit. Kane attempted a Diving Clothesline, but Bray stopped him a few times and Kane eventually landed on the mat. Then, Kane fought out of Sister Abigail and reversed into a chokeslam for the three count! (*1/2)
A WWE Network ad aired.
[Intermission]
(6) Brie Bella & Alicia Fox beat Naomi and Sasha Banks (w/Tamina) at 7:08. A typical formula tag match that was all right to warm up the crowd again. For most of this match, Alicia got worked on by the heel team until Brie got the hot tag. Tamina almost cost Team Bella the match after a distraction in which Naomi hit The Rear View for a nearfall on Brie. Tamina attempted another distraction, but Brie rammed Naomi into her and hit a dazed Naomi for the Bella Buster for the win! (*)
(7) WWE tag champions The New Day (Big E. & Xavier Woods w/Kofi Kingston) beat The Lucha Dragons and The Usos in a three-team match at 10:05 to retain the WWE Tag Team Championships. A shorter match than I expected, but these teams did manage to pack in a good amount of action. New Day's antics during the first-half of the match included a fake t-shirt toss, trombone playing, and dancing. They also took a long rest on the outside and The Usos and Lucha Dragons fought it out. The ending came when Sin Cara hit a Frogsplash on Xavier Woods, then Kofi Kingston distracted the referee long enough to get attacked by Cara off the apron, and Woods immediately schoolboyed Cara with a hook of the tights for the win! (**)
Post-match, The Usos and Lucha Dragons cut New Day's infamous celebration short when Kalisto hit a Springboard Missile Dropkick on Big E. and all four challengers hit their finishers on New Day to celebrate.
(8) WWE World Hvt. champion Roman Reigns beat Sheamus at 27:07 in a Chicago Street Fight to retain the WWE World Heavyweight Championship. A methodical, physical main event to close the shoh with good nearfalls and false finishes in the last ten minutes or so. Kendo Sticks, chairs, and two tables were in the mix. Sheamus put Roman through the first table halfway through with a Powerbomb for a two count. Then, the ending came when Sheamus attempted a Diving Shoulder Block, but got caught with a mid-air Superman Punch! Roman then attempted a Spear, but as he ran for it Sheamus lured him head first in mid-run into the wrenched chair in the corner! Sheamus followed up mocking Roman's fist to the ground mannerisms and attempted a Brogue Kick near the second table, but Roman moved out of the way and speared Sheamus through the table for the three count!
After the match, Roman celebrated the win and grabbed the mic. He asked the fans, "Did y'all have a good time?" (Crowd popped) "I'm going to drink a cold beer and celebrate tonight! See you Chicago!"
Overall, a pretty good show in Chicago once again!
Biggest Pops
(1) Roman Reigns
(2) The Usos
(3) Kane
(4) Dolph Ziggler
(5) Lucha Dragons
Biggest Heat
(1) Sheamus
(2) New Day
(3) Bo Dallas
(4) Summer Rae
(5) Bray Wyatt