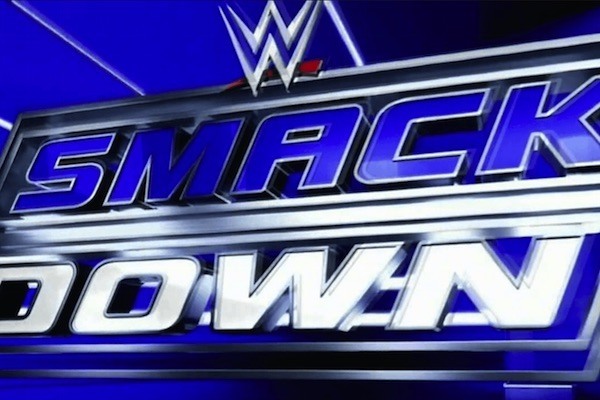 ---
SPOTLIGHTED PODCAST ALERT (YOUR ARTICLE BEGINS A FEW INCHES DOWN)...
---
On the penultimate Smackdown before Wrestlemania, Brock Lesnar is scheduled for an appearance, perhaps even going face-to-face with Dean Ambrose. In addition, Sasha Banks takes on Charlotte, and Kevin Owens is in tag-team action.
WWE Smackdown review
March 24, 2016
Taped 3/22/16 in Boston, Mass.
Aired on USA Network
By Greg Parks, PWTorch Columnist (Twitter: @gregmparks)
– WWE Open.
– Smackdown Open.
– The show opened with Becky Lynch at ringside having joined the commentary team, and Ric Flair holding the ropes for his daughter Charlotte to enter the squared circle. That's a rarity – the first person out for a match in the first segment doesn't get a full entrance. Charlotte got a mic and said she can't wait to put her Wrestlemania Divas Title opponents down in front of a record crowd in Dallas. She and Ric shared in a few "Woo!" shouts until the music of Sasha Banks interrupted. As she came to the ring, they showed the fall-out from the three's face-to-face-to-face from last week on Smackdown.
1 – CHARLOTTE vs. SASHA BANKS
Charlotte fled to ringside before the initial lock-up. After some taunting by Charlotte, Banks chased after her. Back in the ring, Banks took Charlotte down with a double-leg. She mocked the Flair Strut and slapped Charlotte. Ric caused a distraction and Sasha walked into a boot from Charlotte. Charlotte slammed the back of Sasha's head into the mat again and again. Charlotte worked the neck of Banks. Reversal into a roll-up by Banks for two. Jackknife cover, but Charlotte bridged out. Overhead throw by Charlotte followed. Charlotte put down Banks with a chop. Banks and Charlotte traded blows. Hard knee strike to the head by Banks. Banks with a baseball slide that sent Charlotte out in front of Lynch. Charlotte begged off and ended up shoving Banks into Lynch. Lynch didn't take kindly to that. Back in the ring, Charlotte gave Banks a spinebuster. Charlotte went for the Figure Eight, but Banks rolled her up for the win.
WINNER: Banks, at 4:54. Match was good enough. Charlotte has really come into her own as a heel, balancing being her own person with relying on her father for help in her matches. That's not easy to do.
Immediately after the match, Lynch delivered a Bex-Plex to both Charlotte and Banks. She then walked, with a purpose, to the back. Banks hit Charlotte with a Back-Stabber, much to the delight of the crowd.
– Coming up tonight, Boston becomes Suplex City when Brock Lesnar and Paul Heyman are in the house.
– Kofi Kingston and Big E. were backstage when they came upon some nerd. They danced with him and he didn't dance well enough so Xavier Woods came out of nowhere with a mini hoop so Big E. could dunk on the dude.
[Commercial Break]
– Mauro Ranallo thanked Flo Rida for providing one of the official themes to Wrestlemania, "My House."
– New Day came out. They showed off their Booty O's, the official cereal of Wrestlemania. Kofi said with the WWE Network, you can see New Day put a whooping on the League of Nations. Sign in the crowd: "Make America Booty Again." Big E. said if League of Nations were a Star Wars character, they'd be Jar Jar Binks. He said when they win at Mania, they'll lead the largest hip swivel in WWE history. Yeah, Val Venis and Rick Rude never encouraged their fans to do it along with them, I guess.
2 – KOFI KINGSTON vs. SHEAMUS
Ranallo said Kingston recently set the WWE record for most cumulative days as tag team champion. See, now I believe Mauro saying it; if Michael Cole or JBL had championed that fact, I would've doubted it. Kingston had the advantage early on, but Sheamus took over just before break, with Kingston selling at ringside. They cut out at 1:52 of the match.
[Commercial Break]
Back at 5:39, Sheamus still working over Kingston as his League brethren cheered him on from ringside. Powerslam by Sheamus following work wearing Kingston down. Knee-drop from the top missed the mark. Kingston fired back with a dropkick and Boom Drop. He landed a somersault plancha onto Sheamus outside the ring. Cross-body from the top for a two-count. SOS was avoided by Sheamus, who hit a suplex for a near-fall. Sheamus tried to expose one of the turnbuckles. He failed to do so and Kingston hit him with a back kick. Rusev put the leg of Sheamus on the ropes to break up the pin. New Day chased him off. King Barrett distracted Kofi while Sheamus hit him with a Brogue Kick for the win.
WINNER: Sheamus, at 10:40. Hey, League of Nations finally get a win! Basic booking heading into their Wrestlemania tag match. It appeared Kingston hand extra pep in his step being in Boston.
A replay of the finish was shown,t hen again in super slow-mo. It was a pretty nice kick. Sheamus had a mic on the ramp and he, Barrett, and Rusev (no Alberto Del Rio) chanted "New Day sucks!"
– The announcers ran down Wrestlemania Week on the WWE Network coming up.
– Tonight: Dolph Ziggler & Sami Zayn vs. Kevin Owens & The Miz in tag team action.
[Commercial Break]
3 – THE ASCENSION vs. THE USOS
No entrance for Ascension. The heels did some double-teaming on Jey early on. Jimmy quickly tagged in within the first minute and had success against Viktor. Running corner butt splash on Viktor. Double superkick on Konnor, then one to Viktor. That picked up the win.
WINNERS: The Usos, at 1:23. The Usos have faded to the background a bit as of late, so this is a convincing win they needed.
The Usos got tables after the match, while the Dudleys were shown watching on a monitor backstage. Each Ascension member was set up on a table, and each Uso came off the top and splashed one. Renee Young came upon the Dudleys backstage. D-Von stopped her mid-question and said at Wrestlemania, the Usos will find out they're not defined by tables, but rather, their incomparable careers. Bubba said the Usos are good, they've won the tag titles "like, twice," but they want to steal the show at Wrestlemania again. Bubba stopped in mid-sentence and stared off camera where Roman Reigns walked up. He wasn't happy Bubba was insulting the Uso family tree. Reigns said he wanted a match with Bubba. "It's Boston, dawg…and I want a fight."
– Next, a Hell in a Cell preview in which WWE Legends and Hall-of-Famers weigh in on Shane McMahon vs. Undertaker.
[Commercial Break]
– It's official: Roman Reigns vs. Bubba Ray Dudley, tonight.
– The announcers threw it to the Undertaker vs. Shane McMahon video package.
– Dolph Ziggler and Sami Zayn made separate entrances. They compete against The Miz and Kevin Owens, next.
[Commercial Break]
4 – DOLPH ZIGGLER & SAMI ZAYN vs. THE MIZ & KEVIN OWENS
Miz worked a wrist-lock on Zayn to start, but Zayn countered into a take-down and an arm-bar. Ziggler came in and wrestled Miz to the mat. Knee-lift by Miz felled his foe. Owens tagged in for the first time at 2:21. He clobbered Ziggler with kicks. Ziggler created enough separation to land a dropkick on Owens. Owens bailed after Zayn tagged in. Jerry Lawler called Zayn a "well-known backstabber." Miz did not fare well against Zayn, so Miz tagged Owens. Owens dropped to ringside rather than fight his former friend. He took his title and was prepared to walk off, but Miz stopped him and the two argued. Zayn dove onto both of them, throwing Owens into the ring. Zayn knocked Miz off the apron, allowing Owens to get his shots in on Zayn. Tag to Ziggler, who leveled Owens with clotheslines. Miz brought Ziggler down throat-first across the top rope, leading to a clothesline and back senton from Owens. Ziggler was stuck in the heel corner at this point. Miz catapulted Ziggler over the top and to the floor. They went to break at 6:41 of the match.
[Commercial Break]
Back just shy of the ten-minute mark. Zayn ended up making the hot tag and took it to Miz. Cross-body off the top by Zayn for two. Blue Thunder Bomb, but the pin was broken up by Owens. Miz tried a Skull Crushing Finale, but Zayn hooked a victory roll for two. They both hit the ropes and tried a cross-body. Both ended up in pain on the mat. They both tried to make tags, but again, Owens abandoned Miz. A blockaded formed at the top of the ramp, with Zack Ryder, Stardust, and Sin Cara making sure Owens didn't get through. Miz chased Owens down and brought him back in. Superkick by Ziggler, then the Skull Crushing Finale by Miz to his own partner. Superkick to Miz, then the Helluva Kick by Zayn to end it.
WINNERS: Zayn and Ziggler, at 13:10. Fine match, but it cemented who the REAL contenders in the Intercontinental Title match are versus those who are not.
Stardust went on the attack after the match. Ryder took him out, then Cara did the same to Ryder. Ziggler knocked Cara out of the ring and Owens gave the pop-up powerbomb to Ziggler. Rough Ryder leg lariat by Ryder to Owens. The segment ended, somehow, with Ryder standing tall and his music playing. See, who says wins on WWE Superstars don't mean anything?
– The announcers threw it to a video package showing the actions of Roman Reigns on Monday night.
– Roman Reigns came out to face Bubba Ray Dudley. The match is next.
[Commercial Break]
5 – ROMAN REIGNS vs. BUBBA RAY DUDLEY
No D-Von with Bubba. When the bell rang, Bubba jumped out of the ring to jaw with fans around ringside. Reigns came out to meet him and the two slugged away at each other near the announcers. upon re-entering the ring, Bubba nailed Reigns with a boot. Superman punch by Reigns. Bubba rolled out of the ring, but was still on his feet. Reigns went outside and slammed him into the barricade, then the ring apron. Bubba pushed Reigns into the ring post. Reigns, though, avoided going face-first into the announce table and instead, it was Bubba who was slammed over, and over, and over again into the desk. The referee called for the bell at that point.
WINNER: No contest (no announcement), at 1:49. I'd assume double count-out, but Lawler mentioned that Reigns was disqualified. The transformation of Reigns into the quiet bad-ass continues, but it may be too late.
Reigns tossed Bubba into the ring steps after the match. D-Von ran out to help Bubba, but Reigns took care of him with a Superman punch and hit him with the steel steps. Spear for Bubba in the ring. A handful of the big moves by Reigns were replayed.
– Still to come tonight, Brock Lesnar and Paul Heyman.
[Commercial Break]
– Wrestlemania is just 10 days away.
– Backstage, Goldust was in the bathroom applying his makeup when R-Truth walked in. Truth pointed out that he missed a spot. Goldust reminded Truth that they are not partners. Truth asked if that's the case, then why did Goldust run out to help him Monday night? Goldust said he had a pair of pajamas under the ring he had to get. Goldust said he helped Truth because he felt bad, not because he wants to team with Truth. On Truth's forehead, Goldust pained the word "No" in gold. He walked away and Truth looked in the mirror seeing it was spelled "on, "and assumed their partnership was "on." That was kind of funny I guess.
– Kalisto and Sin Cara were walking backstage, discussing their individual title matches at Wrestlemania. Kalisto said both of them could be champions at Wrestlemania. Cara said Kalisto needs to focus on the biggest challenge of his life that is around the corner. They shook hands and walked off. Kalisto walked right into Ryback. Ryback said he's a foot taller than Kalisto and outweighs him by 160 pounds. He said it's not big vs. small, but seismic vs. microscopic. He said Kalisto isn't even tall enough to ride all the rides at an amusement park. He said he deserves the spotlight. Kalisto said he's fought the odds his whole life and at Wrestlemania, the little guy will beat the big guy.
– A.J. Styles was walking backstage. He's in singles competition, next.
[Commercial Break]
– WWE's Instagram account has more followers than the NFL, MLB, NHL, and the Olympics.
6 – TYLER BREEZE vs. A.J. STYLES
No entrance for Breeze. The match went to the outside not long into the match. Styles came over the top rope and gave Breeze a forearm. In the ring, Styles ran into a high knee from Breeze for two. Byron Saxton noted that Breeze is officially in the Andre the Giant Battle Royal at Wrestlemania. Breeze stomped on Styles in the corner. Breeze tried a suplex off the top rope, to no avail. Styles brought Breeze down throat-first across the top rope. Phenomenal phorearm phollowed.
WINNER: Styles, at 2:03.
The finish was replayed.
– Brock Lesnar will be out next.
[Commercial Break]
– Sure enough, Brock Lesnar and Paul Heyman entered the arena after the break. Heyman took the mic and said THIS is our main event of the evening. He said Lesnar can guarantee, every year, THE Wrestlemania moment. He talked about Lesnar conquering the Streak, and how he'll face a "certified lunatic" in Dean Ambrose. Heyman opined about the No Holds Barred match, and what kinds of weapons Ambrose may use against Lesnar. Heyman talked about Mick Foley and Terry Funk appearing to give Ambrose weapons to use against Lesnar. "The only reason why Terry Funk and Mick Foley are still alive today is because God refuses to answer my prayers on a daily basis." Heyman said they should really be praying for Ambrose's well-being, because whatever Ambrose can get his hands on, Lesnar can get his hands on, too. At the moment Lesnar ends Ambrose with a suplex and an F5 at Wrestlemania, fans will learn the most dangerous weapon implemented in a WWE match is Brock Lesnar himself. Heyman said he finished early tonight, and called out Ambrose because Lesnar wants to fight him now.
It wasn't Ambrose who answered Heyman's call though…the lights were extinguished and The Wyatt Family came out. It was Bray Wyatt, Erick Rowan, and Braun Strowman. They surrounded the ring. Just as Dean Ambrose's music hit, the Wyatt Family entered the ring. Lesnar fought them off while Ambrose nailed Wyatt with a kendo stick. He did the same to Lesnar until Lesnar regained his bearings and took Ambrose down. He pelted him with kendo stick shots, then broke it in two over his knee. F5 to Ambrose. That ended Lesnar's onslaught as he stared at the Wrestlemania sign. The attack by Ambrose, then Lesnar, was replayed. Lesnar and Heyman headed up the ramp to his theme as the show closed.
Did you watch Thursday's Smackdown episode? Send your 0-10 score & Reax to pwtorch@gmail.com for our TV Reax feature.
Greg Parks has been covering WWE Smackdown for PWTorch.com since January of 2007. He is the host of "Moonlighting with Greg Parks," a PWTorch VIP-exclusive audio show posted each weekend. Follow him on Twitter @gregmparks for live Tweeting during Raw, Impact, and PPVs, as well as other bits of wisdom. Comments, questions and feedback are welcome, and can be sent to g_man9784@yahoo.com.