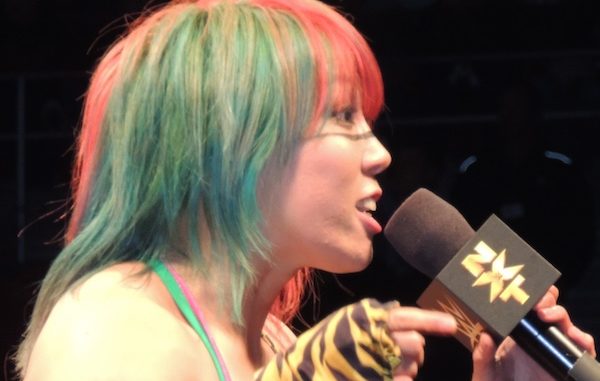 ---
SPOTLIGHTED PODCAST ALERT (YOUR ARTICLE BEGINS A FEW INCHES DOWN)...
---
WWE NXT Live Report
April 23, 2016
Poughkeepsie, N.Y.
Report by Kyle Litke, PWTorch reader
WWE announced this as a sell-out Saturday night at the Mid-Hudson Civic Center.
(1) Chris Girard (f/k/a Biff Busick) beat Mojo Rawley. Mojo came out acting like a face, but he jumped Girard while he was interacting with the fans. Short, perfectly fine match to get the crowd going. Girard won with a Blockbuster.
(2) Bayley & Carmella beat Dana Brooke & Peyton Royce. Big pop for Carmella, even bigger pop for Bayley. Dana Brooke was great here on the outside during the entrances, shouting at the fans and really playing it up. Standard, solid tag match with Bayley getting the win with a Bayley to Belly suplex.
(3) Manny Andrade beat Tommaso Ciampa. The crowd initially had little reaction for Manny, as only a few people knew who he was. That changed pretty quickly, though. This was a really good match with some great nearfalls. The crowd got way into it and was chanting for Manny by the end. Manny got the pin with double knees to the corner.
(4) Shinsuke Nakamura beat "The Drifter" Elias Samson. Samson came out first and tried to sing a song, but it was impossible to hear over the booing from the crowd. Nakamura's music hit to an enormous pop. He's everything I expected him to be in person, just a ton of charisma. Samson kept bailing to the corner to kiss his guitar, which drew an exasperated reaction from Nakamura. Nakamura followed it up by playing air guitar, then tossing the air guitar to the ref. The ref tossed it back to him and he broke it over his knee, which angered Samson. A great example of Nakamura doing things to connect with the crowd regardless of what his first language is. Nakamura got the win with the Kinshasa.
[Intermission]
(5) NXT tag champions American Alpha (Jason Jordan & Chad Gable) beat The Revival in a 2/3 Falls match for the NXT Tag Team Titles. Another really good match. American Alpha took the first fall with Grand Amplitude. The Revival managed to take the second fall by hitting a Shatter Machine while the ref was distracted keeping Jordan out of the ring. The third fall started with Dash and Dawson destroying Gable for an extended period of time, including a great spot with the ref distracted and not seeing Gable tagging in Jordan. Huge heat for that. Jordan finally got the hot tag. Jordan and Gable ended up winning with dual anklelocks, with both Dash and Dawson tapping.
(6) NXT Women's champion Asuka beat Alexa Bliss for the NXT Women's Championship. Asuka got a big pop. Alexa got a surprising amount of offense on Asuka. Strange crowd reactions as a big "Let's Go Asuka / Let's Go Bliss" chant started, with a lot of people chanting for Bliss. Asuka won with the Asuka Lock.
The main event was a triple threat match between new NXT champion Samoa Joe, former champion Finn Balor, and Austin Aries, who was really over. I may have missed it, but I don't believe this was announced as a title match (it also was not announced as a non-title match).
(7) NXT champion Samoa Joe beat Finn Balor and Austin Aries in a three-way main event. Joe bailed to the outside immediately and spent a few minutes tripping Balor every time he came near the ropes. Really good ending, with Balor going up top for the Coup de Grace on Joe. Aries intercepted him, then hit a 450 splash on Joe. He went for the pin, but Joe turned it into a Coquina Clutch. Balor then came off the top with the Coup de Grace on both guys. He hit 1916 on Aries, but Joe threw Balor out of the ring and stole the pin.
Post-match, Balor teased coming to Raw (the crowd chanted "See you Monday" and he held up a finger to shush them while winking). He then said he had bad news for Joe, he wasn't going anywhere and was staying in NXT. He then ended the show with finger guns and "Too Sweet" hand gestures, so take that for what it's worth.
Overall, an excellent show. Adding Aries to the main event was fine,as  he was very over. Not sure why the main event wasn't a title match (or why it wasn't made clear, if it was), since Joe won anyway and after the title change two nights before, another title change wouldn't have been impossible, but that's really a very minor complaint. I'll definitely be back next time NXT is in the area.