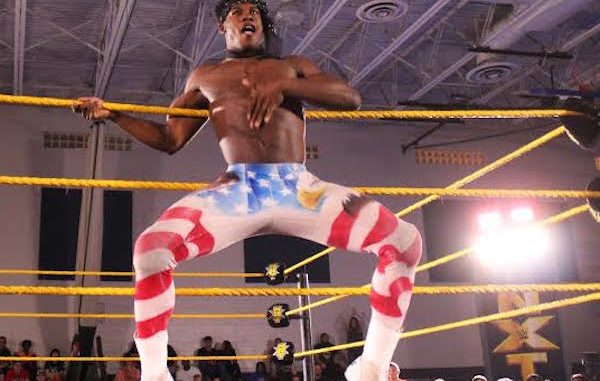 ---
SPOTLIGHTED PODCAST ALERT (YOUR ARTICLE BEGINS A FEW INCHES DOWN)...
---
NXT LIVE EVENT REPORT
DECEMBER 7, 2016
CANBERRA, AUSTRALIA
REPORT BY ANTONIO, PWTORCH CORRESPONDENT
WWE hosted NXT at the AIS Arena in Canberra. The arena holds approximately 5,000 people and the show was around 50 percent full. The show started at 7:15 p.m. and finished by 10 p.m., which I think was a perfect length as the crowd was slowly getting quieter as it went on but were still very enthusiastic by the end. I loved my seat which was three rows from the ring and next to the ramp.
There was a variety of merchandise at the small stand, but nothing special.
(1) TM-61 beat The Revival. This was an enjoyable match to open the show. TM61 got a good reaction and The Revival got heat. The Revival have really good mannerisms in the ring and know how to pick on the crowd and garner heel heat. I love watching them perform.
(2) Patrick Clark beat Wesley Blake. This was a short comedy match. Blake has go away heat, but he knows how to be annoying which I think fits his new character. Clark's exotic personality made this a fun match filled with shanigeans and I think he plays his character really well, but I don't see him as main event potential with it. Clark won with a cool Fameasser.
(3) Ember Moon beat Aliyah. Aliyah has an awesome theme song and I think it suits her. This was a solid match and Aliyah carried the beat down portion well and Moon won with a quick comeback in a short match.
(4) Buddy Murphy beat Akira Tozawa. This was a very good and hard-hitting match. Murphy got a large favourable reaction from the crowd. The match had a lot of counter-wrestling with reversals and was also hard hitting, particularly Tozawa and his hard hits. It had some comedy at the beginning with whether both men should handshake the other, which they did during and after the match. This was my second best match of the show.
(5) DIY beat Riddick Moss & Tino Sabotelli to retain the NXT Tag Team Championships. DIY were very interactive with the crowd, taking photos and talking to members of the audience. Moss and Sabotelli got easy heel heat, probably because of their physiques because they were being booed out of the place. Their theme song fits their arrogant personalities as well. So, I think Moss and Tino have great potential in the tag team division and I would like to see them more on NXT TV. I thought the match was good. It was basic with some back and forth action and then Sabotelli and Moss controlled the match leading into DIY making a comeback and winning. This was probably my best match of the show.
Intermission. William Regal surprisingly came out and thanked the crowd for attending in a short promo. Nice touch. Regal is a gentlemen.
(6) Asuka & Liv Morgan beat Peyton Royce & Billie Kay. This was okay. Kay and Royce are both from Australia but still crapped on the audience because we're not Sydney. They are good cocky heels. Asuka's entrance is awesome and she carries herself with such confidence which you can see in her movement.
(7) Oney Lorcan beat Elias Samson. The match was nothing special. The highlight of this was Samson singing Wonderwall with the crowd before the match. He sung the first verse with us, but then turned it into an anti-Canberra song in the second verse, which was funny. I don't know how I feel about Samson, he has a decent character but generally the audience wants him to leave for some reason.
(8) Shinsuke Nakamura & Tye Dillinger beat Bobby Roode & Samoa Joe. Roode and Nakamura's entrances are excellent live. I sung along to both songs and to summarise, both entrances are just glorious. I enjoyed the match itself, it featured some good back and forth between both teams. Roode and Joe beat down Dillinger, but we also saw some back and forth between Nakamura and Roode, which I think could be an excellent match in the future. Joe was arguing with an audience member because the member was booing him, so that was cool to see that exchange. Nakamura wins with Kinshasa in a fun main event.
FINAL THOUGHTS: Overall, the show was great. NXT has never visited Canberra so it was awesome to watch them live and nearly ringside. DIY vs. Sabotelli and Moss and Murphy vs. Tozawa were my favourite matches of the show and the main event was fun to witness. The crowd was excellent in reacting to the match and booing the heels and cheering the faces. There were some minor disrespectful chants to the audience, notably someone yelling at Joe to not hurt Dillinger like he hurt Tyson Kidd. But, other than small rare ones like those, the crowd was very much into the action.
NOW CHECK OUT THIS RECENT NXT LIVE EVENT REPORT: 12/10 NXT in Venice, FL: PARKS'S in-person report of Sanity, cruiserweights
---
Please send any news tips and results to: pwtorch@gmail.com. For instance, let us know if you hear a pro wrestling reference on a popular talk show, see a pro wrestling related Tweet or Instagram from celebrity, hear an ad for matches advertised for an upcoming WWE event, or anything else pro wrestling related that'd be of interest to our readers. If you attend a live event, please send results. We don't set up correspondents ahead of time and count on readers like you to send an email with a report on live events you attend – not just WWE, but also ROH, NXT, international groups. and anything else.