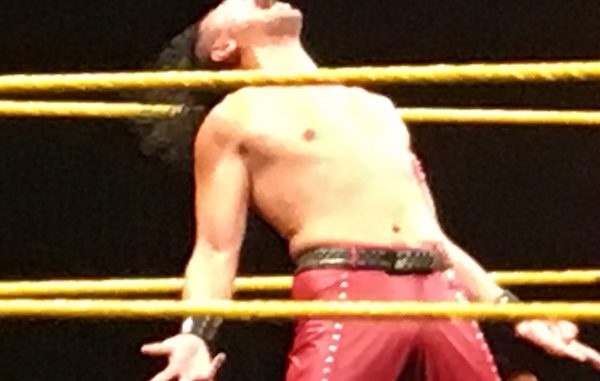 ---
SPOTLIGHTED PODCAST ALERT (YOUR ARTICLE BEGINS A FEW INCHES DOWN)...
---
HITS
Ruby Riott-Charlotte exchange: While I still feel that Ruby and the Riott Squad need to continue working on their promo skills, this was a good segment overall. I like how this feud has slowly built up, with the necessary layers added over time to keep the fans invested. Bobby Roode's sudden interruption was intriguing, though I would have preferred some sort of closure to this segment, instead of it just ending.
Rusev/English/Nakamura: This was a nice backstage segment for the three, and gave them something to do in the meantime before WrestleMania. I liked how last week's match wasn't just thrown away, and that it actually led to something. It's nice to see Rusev facing off against the number one contender for the WWE Championship; however, I hope that this will also lead to more than him just losing to Shinsuke this Sunday.
A.J. Styles vs. Dolph Ziggler: This segment started out well with A.J. appearing and continuing to put over his (hopefully) match with Shinsuke Nakamura at WrestleMania. This match should be looked at as a big deal, and I don't want it to get lost in the shuffle of the other upcoming Mania main events. Ziggler interrupting was well done, and I appreciated his passion with regards to his feelings about WrestleMania. This is now the second week in a row where someone's poor WrestleMania past has been brought up (The Uso's last week), and I like it. It seems the WWE is really putting forward an effort to make WrestleMania feel as important as it is, which is a good thing.
Main Event: While I was unhappy with the decision to book this match, (more later), it was still a good contest, with the right person going over. For Sami Zayn to remain strong, instead of just being Kevin Owens' sidekick, he needed to win. It also adds more drama to not only the match at Fastlane, but interest into where they are going with Sami and Kevin. A.J. losing was also no surprise, as it plants some doubt into his potential victory on Sunday, which is appropriate.
MISSES
Booking decision of both main events: What began as a main event match between Dolph Ziggler and A.J. Styles was then abruptly cut short in favor of a Fatal Five Way match between Ziggler, Styles, Baron Corbin, Kevin Owens, and Sami Zayn. Firstly, with the inclusion of the commercial break, there wasn't much time given to the Ziggler/Styles match, which was disappointing. To cut that, and then go to what is pretty much this Sunday's main event was unnecessary, and takes away from that show. This included Sami "turning on" Kevin, which would've worked nicely in the championship match instead of this show. Now there's no added intrigue of Sami and Kevin working together, as we now know where each one stands. Finally, can we take a break from Shane interrupting a match or segment to add something to the mix? It seems like at least every other week he's adding or changing something to make Smackdown "more exciting." I feel like we're getting dangerously close to Teddy Long territory where he's just going to start making tag team main events every week.
Animated Texts: My worst fear is that these are never going to go away…..
---
Jeff Indelicato has been a fan of professional wrestling since he was knee high to a grasshopper (little kid) after coming across the Wrestling Challenge episode after WrestleMania 7. He has not looked back. His passion has led him to winning wrestling trivia contests in his city, and even won him his Senior Talent Show by dancing to Shawn Michaels' theme song. When not annoying others with wrestling talk, he loves spending time with his family and friends, and focuses on his other passion: movies. Follow him on Twitter @the_Indel or send him an email at indelpw@gmail.com.
---
NOW CHECK OUT LAST WEEK'S COLUMN: WWE SMACKDOWN HITS & MISSES 2/27: New Day and Usos, Cena. Breezango, Animated Words, Corbin vs. Sami, Rusev