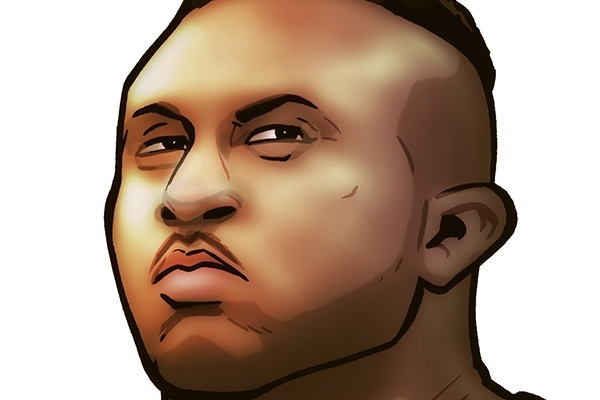 ---
SPOTLIGHTED PODCAST ALERT (YOUR ARTICLE BEGINS A FEW INCHES DOWN)...
---
HITS
John Cena: While there are many contributing factors as to why Smackdown has dropped in quality over the last several months, one thing that cannot be argued is the absence of Big Match John. Since becoming a free agent, there was never a sense of urgency to fill the void of such a big star, and his return showed evidence of that. I appreciated his presence, along with the reason for his appearance. While it may seem highly unlikely that someone of his stature would be without a WrestleMania match, John has played his part very well, and I'm invested in the story. I also appreciated his intentions to still earn a spot in the main event of Fastline, instead of receiving a handout.
Breezango: I can see why some fans may disagree with the "hit" status for this segment, as I generally dislike when the WWE has a celebrity show up backstage to promote a show; however, Breezango bring a comedic and entertaining feel to this show that doesn't take itself too seriously and is meant to be fun.
Usos/New Day: Just like usual, the Usos brought forth another passionate and strong promo. There truly is a difference between the wrestlers who just recite lines and the ones who believe in what they're saying. Jimmy & Jey had every right to feel how they did with regards to their WrestleMania booking, and the fans believed in every word that they were saying. Kudos also go to the New Day for finally getting serious, and proving what got them to the dance in the first place.
Main Event: Over the past year and a half, John Cena and A.J. Styles have proven that they can have a great match, and this week was no exception. I liked the fact that Cena had to earn his way into the Fastlane main event by defeating the WWE Champion. While some may disagree with the champ taking a clean loss, the match wasn't one sided, and it ended shortly after Styles went through the table. Overall, it was a good contest that broke away from the normal repetitive matches that can regularly occur.
MISSES
Sami Zayn vs. Baron Corbin: While the match quality was average, this is a miss for two distinct reasons. Firstly, assuming both men are heels (since consistency and logic have been questionable lately) it gave the fans nothing to really root for, other than a match between two competitors in an upcoming main event match. Secondly, the multiple cuts back to Daniel Bryan and Shane McMahon backstage were unnecessary, and could have been pushed to either after the match or preferably, not at all.
Animated Texts: Another WEEK and ANOTHER miss.
Rusev: This miss has absolutely nothing to do with the wrestler, but with the current decision regarding his booking. Rusev has gotten himself over with the crowd organically, and as weeks go by, the fans continue to cheer for him and chant his name. In fact, Rusev Day is chanted in segments that don't even feature the Bulgarian Brute. Therefore, the current line of thinking with regards to not only keeping him heel, but also not featuring him more prominently, is head scratching. My only hope is that the WWE has something in mind, and that they will act soon so that the crowd doesn't begin to hijack other segments (ex: Daniel Bryan) or lose interest.
---
Jeff Indelicato has been a fan of professional wrestling since he was knee high to a grasshopper (little kid) after coming across the Wrestling Challenge episode after WrestleMania 7. He has not looked back. His passion has led him to winning wrestling trivia contests in his city, and even won him his Senior Talent Show by dancing to Shawn Michaels' theme song. When not annoying others with wrestling talk, he loves spending time with his family and friends, and focuses on his other passion: movies. Follow him on Twitter @the_Indel or send him an email at indelpw@gmail.com.
---
NOW CHECK OUT LAST WEEK'S COLUMN: WWE SMACKDOWN HITS & MISSES 2/20: Ziggler's lack of defined character, Bludgeon squash, Animated Promos, Jinder Mahal-Bobby Roode