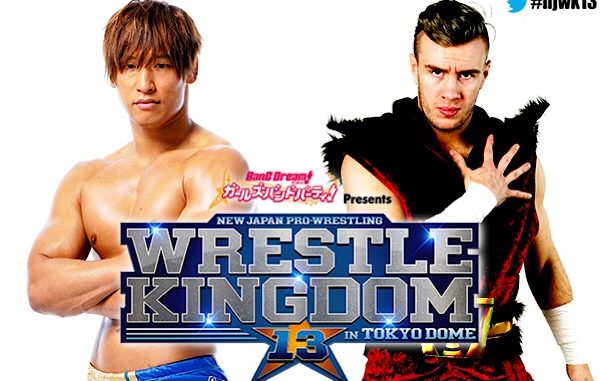 ---
SPOTLIGHTED PODCAST ALERT (YOUR ARTICLE BEGINS A FEW INCHES DOWN)...
---
RADICAN'S BIG MATCH SPOTLIGHT
NJPW WK 13: NEVER OPENWEIGHT CHAMPION KOTA IBUSHI vs. WILL OSPREAY
JAN. 4, 2019
THE TOKYO DOME
TOKYO, JAPAN
AIRED LIVE ON NJPWWORLD.COM & FITE.TV
Commentators: Kevin Kelly, Don Callis, Chris Charlton
NEVER OPENWEIGHT CHAMPION KOTA IBUSHI vs. WILL OSPREAY
MATCH ANALYSIS
They went at it hot and heavy during the early going. Ospreay flipped Ibushi to the floor with his legs and then teased a dive, but ended up springing off the ropes. Ibushi ran into the ring and went for the Kamigoye, but Ospreay blocked it. Ospreay went for the Os-cutter, but Ibushi blocked it. Ibushi set up for The Golden Triangle, but Ospreay popped up on the apron and nailed him with a kick mid-flight. WOW! Ospreay got a running start and hit the Space Flying Tiger Driver to the floor. That was nuts! The announcers talked about how Ospreay grew up idolizing Ibushi. Ospreay had the upper hand, but he woke Ibushi by taunting him and hitting some light forearms. Ibushi fired back and hit a springboard corkscrew twisting moonsault to the floor to wipe out Ospreay at the five minute mark. They went back and forth in the corner and Ibushi rolled Ospreay up before turning it into a high angle German with a bridge for a two count.
Ospreay fired back with a springboard rolling kick, but Ibushi fired back. He went to springboard off the ropes, but Ospreay hit Cheeky Nandos for a two count. Both men began exchanging forearms in the middle of the ring. They yelled at each other and continued to exchange blows. Ospreay fired back with a kick, but Ibushi decked him with a big kick to the chest. They exchange some crazy counters. Ospreay went for a one man Spanish Fly. Then they tried to trade powerbomb attempts. Finally Ospreay hit the one man Spanish Fly and both men were down. What an exchange! Ospreay got up and nailed Ibushi against the ropes with a big kick to the head. He went for the Stormbreaker, but Ibushi turned it into a dragoncanrana for a near fall! They went back and forth. Ospreay hit a German, but Ibushi shook it off and Ospreay turned around right into a running knee aka the Boma Ye of Nakamura. Ibushi followed up with The Last Ride, but Ospreay kicked out. Ibushi went up top, but Ospreay clotheslined his leg out from under him and Ibushi ended up hung upside down. Ospreay sat down and stared at Ibushi. He slapped Ibushi and Ibushi slapped him back while hanging upside down. Ospreay then nailed him with several kicks to the head. That was stiff! Ospreay lifted up Ibushi and shoved him into the seated position up top. Ibushi was bleeding from his mouth, but he managed to fight out of the Razor's Edge position. Ibushi then hit a double stop and Ospreay ended up upside down before spilling to the apron. Ibushi was really bleeding heavily from his nose after hitting the post. Ibushi set up for his German over the ropes back into the ring. He hit it, but Ospreay landed on his feet.
That was crazy. Ibush turned around with a look of shock only to take the Robinson Special. Ibushi blocked the Os-cutter and hit a Straight Jacket German with a bridge for a two count. Ibushi held onto his wrists for the Kamigoye, but Ospreay stepped out of the way. Ibushi went for his rapid fire strikes, but Ospreay decked him with a HUGE clothesline out of nowhere. Ibushi slipped out of the Stormbreaker twice and folded Ospreay up into the package tombstone for a near fall. WOW! Ospreay ducked the Kamigoye and hit a crescent kick. Ospreay then hit a running elbow to Ibushi's head that appeared to knock Ibushi out. The ref really checked Ibushi out to make sure he was alright. Ospreay then hit the Stormbreaker for the win.
WINNER: Will Ospreay in 18 minutes to become the new NEVER Openweight Champion. (***¾)
After the match, Ibushi was put on a stretcher and taken out of the ring with his neck stabilized.
RADICAN'S ANALYSIS
This was intense and at times it felt like they went too far with the high risk maneuvers and physicality. The counter exchanges were insane at one point with Ibushi going for The Last Ride and Ospreay going for the Stormbreaker. Ibushi managed to avoid the Stormbreaker most of the match.
The beginning sequence set the pace and they went all out from there. The spot where Ospreay countered Ibushi's German over the ropes into the ring by landing on his feet calling back to their tag match a couple weeks back at Road To Tokyo Dome was tremendous. The finish took the match down a notch for me, as I was worried about Ibushi being concussed. I wish NJPW would have just stopped the match or have had Ospreay just make the cover instead of hitting the Stormbreaker.
Contact Sean at radicansean@pwtorch.com. Follow him on Twitter @SR_Torch