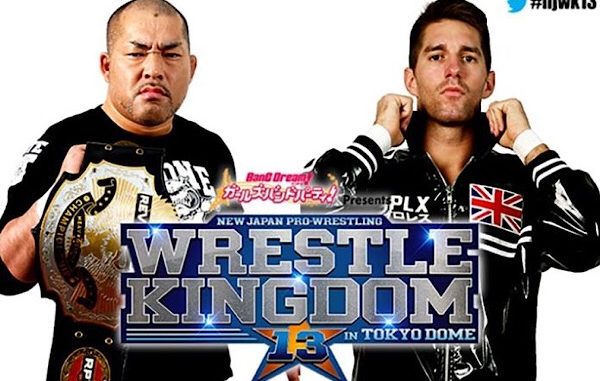 ---
SPOTLIGHTED PODCAST ALERT (YOUR ARTICLE BEGINS A FEW INCHES DOWN)...
---
RADICAN'S BIG MATCH SPOTLIGHT
NJPW WK 13: RPW UNDISPUTED BRITISH CHAMPION HVT. CHAMPION TOMOHIRO ISHII vs. ZACK SABRE JR.
JAN. 4, 2019
THE TOKYO DOME
TOKYO, JAPAN
AIRED LIVE ON NJPWWORLD.COM & FITE.TV
Commentators: Kevin Kelly, Don Callis, Chris Charlton
BRITISH UNDISPUTED HVT. CHAMPION TOMOHIRO ISHII vs. ZACK SABRE JR. (w/TAKA MICHINOKU)
MATCH ANALYSIS
Sabre charged right at Ishii, but he got out of the way. Sabre eventually took control and went after Ishii's arm. Sabre continued to work arm submissions on the mat and he began taunting Ishii. Ishii fired back and grabbed an ankle lock and Sabre screamed in pain, but managed to escape with an enzuguri. Ishii fired right back with a big running shoulder tackle. Ishii hit a superplex off the top, but Sabre got right up and held onto Ishii's arm and twisted his arm with his legs. WOW! Sabre absorbed the punishment just to set up the move. They went back and forth off the ropes trading counters until Sabre got the Octopus Hold. Ishii tried to escape, but Sabre held on and hit a code red style powerbomb out of the Octopus Hold for a two count. WOW! Sabre got up and nailed Ishii with a big PK. Sabre went for the Zack Driver, but Ishii fought him off. Sabre kicked Ishii over and over in the chest, but Ishii just glared at him and obliterated Sabre with a chop. Ishii then hit the stacked powerbomb for a near fall.
Sabre kicked Ishii's leg when he was going for a lariat. They went back and forth. Ishii headbutted a lariat and then hit another headbutt to Sabre's chest a short time later. Ishii then hit a big lariat on Sabre with his injured arm, but only got a two count. Ishii set up for the Vertical Drop Brainbuster at the 10 minute mark, but Sabre got out of it and kicked his arm. Sabre got a choke, but Ishii flipped through. He went for the sliding lariat, but Sabre countered it and got the European Clutch for a near fall! SAbre duked a kick from Ishii. They went back and forth and Ishii hit the sliding lariat. Ishii went for the Vertical Drop Brainbuster, but Sabre hit a knee strike to Ishii's head. They went back and forth and Sabre got the Octopus hold. Sabre then got a nasty double arm submission on Ishii and he went to the mat. He kicked at Ishii's head and then wrenched back on the hold for the win. That was impressive.
Andy Quildan, the RPW president, presented Sabre with the new belt after the match. This is Sabre's third reign with the title.
WINNER: Zack Sabre Jr. in 11 minutes to become the new RPW Undisputed British Hvt. Champion. (***¾)
RADICAN'S ANALYSIS
This was a statement win for Sabre on NJPW's biggest stage. He took the fight to Ishii right from the start and worked over Ishii's arm. Ishii countered Sabre's attacks and they had some great back and forth exchanged, but ultimately Sabre began working his arm over from the start and never really let up.
Ishii went for the Vertical Drop Brainbuster several times down the stretch late, but he couldn't land it and Sabre ended up submitting with a nasty double arm submission that he transitioned into from the Octopus Hold. Sabre won in decisive fashion and beating someone like Ishii, who is just so tough and rarely submits, is a feather in Sabre's cap to kick off 2019.
Contact Sean at radicansean@pwtorch.com. Follow him on Twitter @SR_Torch