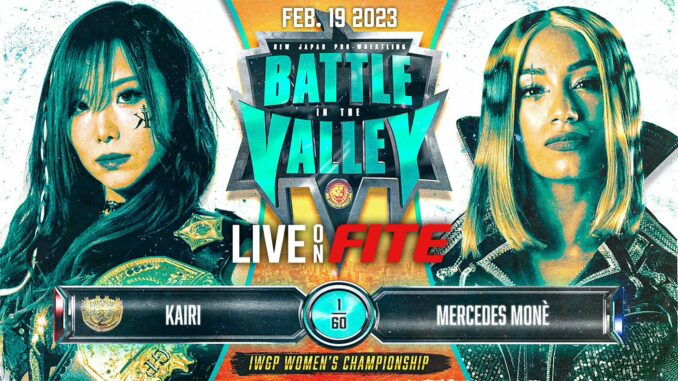 ---
SPOTLIGHTED PODCAST ALERT (YOUR ARTICLE BEGINS A FEW INCHES DOWN)...
---
NJPW BATTLE IN THE VALLEY PPV REPORT
FEB. 18, 2023
SAN JOSE, CA
AIRED LIVE ON FITE TV
Commentators: Ian Riccaboni, Matthew Rehwoldt,
(1) JR KRATOS vs ALEX COUGHLIN
Alex Coughlin won with a German Suplex in 10:15.
(Maitland's Thoughts: There was no commentary on the FITE TV broadcast so I switched to YouTube mid match. You could hear the wrestlers call spots and the referee give instructions. I have enjoyed Kratos' work in New Japan and the NWA and Coughlin has grown from Young Lion status. It was a good opener.)
(2) BOBBY FISH vs DAVID FINLAY
David Finlay won with the Last Shot in 10:10.
(Maitland's Thoughts: This match also had no commentary. There were dueling chants in the beginning which was surprising. Fish worked over Finlay's knee but Finlay was able to recover and hit his finisher. There was no mention of how to order the show and the pre-show cut off before 10 Eastern. This may be the most useless pre-show of all time in wrestling history and that is saying a lot.)
(3) VOLADOR JR., KEVIN KNIGHT, KUSHIDA, & THE DKC vs ROCKEY ROMERO, JOSH ALEXANDER, ADRIAN QUEST, & MASCARA DORADA
Kevin Knight wins for his team by pinning Adrian Quest with the Pendulum DDT in 11:30.
(Maitland's Thoughts: This show started about 45 minutes late. Scott D'Amore joined in on commentary. It was your typical New Japan tag match with good action used to further certain feuds. In this case, Volador Jr vs Rocky Romero and Josh Alexander vs Kushida. Kushida had Alexander in the Hover Lock during the finish. After the match, Volador Jr challenged Rocky Romero to a hair vs title match but that was speculation based on Ian Riccaboni's translation.)
A highlight video was shown for Fred Rosser vs Kenta for the NJPW Strong Openweight Championship featuring Rosser's title defenses and Kenta winning the Strong Survivor match.
(4) NJPW STRONG OPENWEIGHT CHAMPIONSHIP: FRED ROSSER (c) vs KENTA
Kenta wins to become the new NJPW Strong Openweight Championship with the Go to Sleep in 16:32.
(Maitland's Thoughts: Kenta began the match disrespecting Rosser. This lead to Rosser challenging Kenta to a brawl outside of the ring. Rosser had Kenta in the chicken wing, shout out Bob Backlund, but Kenta pulled the ref in to break up the hold. There were two other contrived ref bumps after that. Good to see the New Japan refs in the United States are as inept as the ones in Japan. Rosser had Kenta in a chicken wing/STF but Juice Robinson ran out and hit Rosser with the Left Hand of God plus a roll of quarters. I would have enjoyed this match more without the contrived ref bumps)
(5) NJPW STRONG OPENWEIGHT TAG TEAM CHAMPIONSHIP: MOTOR CITY MACHINE GUNS (ALEX SHELLEY & CHRIS SABIN) (c) vs WEST COAST WRECKING CREW (JOREL NELSON & ROYCE ISAACS)
Motor City Machine Guns retained the NJPW Strong Openweight Tag Team Championship when Chris Sabin pinned Jorel Nelson with the Dirt Bomb in 9:12
(Maitland's Thoughts: Good back and forth match. World Class Wrecking Crew were able to show their power but the experience of the Motor City Machine Guns was too much.)
A video previewing Eddie Kingston vs Jay White aired mentioning that the match was now a Loser Leaves New Japan match. It was announced that Bullet Club was banned from ringside during this match after what happened in the Kenta versus Fred Rosser match.
(6) EDDIE KINGSTON vs JAY WHITE
Eddie Kingston wins with a Northern Lights Driver in 19:18
(Maitland's Thoughts: This match was very physical. Poor referring marred this again but did not take away too much from the match. Kingston pulled the referee who turned around allowing White to hit a Blade Runner. Kingston rolled out of the ring. Another ref bump led to a Kingston back fist for a two count. White kicked out of one Northern Lights Driver so Kingston had to hit it a second time. Great way to end their feud.)
After the match, the crowd cheered for Jay White. He grabbed the microphone and before he could speak he was attacked by David Finlay. Finlay said that Jay White let New Japan slip through his fingers. Finlay said he didn't care where it was, California or Japan, that the people in the back had to deal with him.
(Maitland's Thoughts: Jay White leaves New Japan in a similar way that AJ Styles left in 2016 by being used to set up another person. Finlay had a lot of heat but his promo was meandering. He said his family had been here for four generations and asked how long people in the crowd had been there. I don't know what road he thought he was traveling but it is not a good road to go down.)
A highlight video is shown to preview Tom Lawlor vs Homicide.
(7) FILTHY RULES MATCH: TOM LAWLOR vs HOMICIDE
Tom Lawlor won with a referee stoppage in 16:24.
(Maitland's Thoughts: This is a no ropes no disqualification match. Homicide refused to tap while in a chokehold, gave Lawlor both middle fingers, and the referee stopped the match. This match was an entertaining brawl that was a good ending to the feud but the lack of ropes were not necessary. Kenny King and Mike Bailey had a pit fight match that I enjoyed more than this one. This was just a hardcore match.)
(8) NJPW WORLD TV CHAMPIONSHIP: ZACH SABRE JR. (c) vs CLARK CONNORS
Zach Sabre Jr. retained the NJPW World TV championship when he submitted Clack Conners with an armbar in 14:09.
(Maitland's Thoughts: This was an excellent match that started slowly but had a lot of counters and reversals towards the end. Connors was able to keep with Sabre for a lot of the match but got caught at the end. This was my favorite match of the night thus far. After the match, Kevin Knight appeared to challenge Zach Sabre Jr. for the NJPW World TV championship. Sabre said he would think about it.)
A highlight package aired of Kairi winning the IWGP Women's Championship and being challenged by Mercedes Mone.
(9) IWGP WOMEN'S CHAMPIONSHIP: KAIRI (c) vs MERCEDES MONE
Mercedes Mone wins to become the new IWGP Women's Championship with the Money Maker in 26:48.
(Maitland's Thoughts: The crowd was very interested in this match, giving a This is Awesome chant before it started. Mone wrestled more heelish as the match went on which didn't make sense because she was so popular in the beginning. This match had another referee bump when Mone pulled the referee in front of a back fist from Kairi. This allowed Mone and Kairi to wrestle for an extended time on the outside of the ring. This was an excellent match though I question Mone wrestling like a heel because she is so popular. Kairi and Mone hugged after the match and Kairi put the IWGP Women's Championship around Mone's waist.)
A highlight video is shown to preview Kazuchika Okada vs Hiroshi Tanahashi for the IWGP World Heavyweight Championship.
(10) IWGP WORLD HEAVYWEIGHT CHAMPIONSHIP: KAZUCHIKA OKADA (c) vs HIROSHI TANAHASHI
Kazuchika Okada retained the IWGP World Heavyweight Championship with the Rainmaker in 21:10.
(Maitland's Thoughts: They have wrestled many times and have had the standard bearing feud for New Japan over the last 10 years. Why this was not one of their classic matches, it was a good representation of that feud for the American audience.)
After the match Kazuchika Okada addresses the crowd to thank them for their support. He thanked Hiroshi Tanahashi for helping him show what New Japan is all about. Okada said that he wanted to bring back their dream tag team and go after the IWGP Tag Team Championships. The current IWGP Tag Team Champions are Bishimon (Hirooki Goto & Yoshi-Hashi. Okada is about to do his close the show when Mercedes Mone comes out. Mone thanks San Jose and New Japan and Stardom. Mone says that her and Okada could be a dream team. She said is it time to make that money. Okada and Mone shook hands and celebrated with their respective titles.
OVERALL THOUGHTS: From a wrestling standpoint, this was an excellent show though I had two issues. The sound issues at the beginning were very bad. There would not be a person who stumbled on this on YouTube who would have ordered this pay per view because there was no indication of what they were watching. I don't know if this is Fite TV's fault or New Japan's but it was a really bad start. New Japan already leaves a bad taste in the fan's mouths by making loyal New Japan World subscribers pay extra for these shows. If someone is paying extra, they should see value in that and the production start did not have that. Once the show started, the issues seem fixed including New Japan providing highlight packages for most of the matches. My second issue was no mention of New Japan's next shows in the United States. I know there are shows booked for April in Washington DC and Philadelphia but usually New Japan will draw this audience to that. This show had a lot of endings mainly Jay White's New Japan career so there needs to be more of a hook for the future. Those issues aside, I enjoyed this show from bell to bell and look forward to the next New Japan show in the United States. If they bring over Bishimon, I will get on the plane.
---
CATCH-UP: 2/11 NJPW The New Beginning in Osaka PPV report: Radican's results & analysis of Tanahashi vs. Kenta, White vs. Hikuleo, Okada vs. Takagi main event