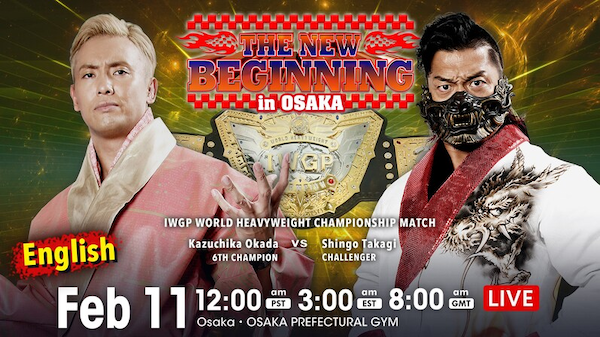 ---
SPOTLIGHTED PODCAST ALERT (YOUR ARTICLE BEGINS A FEW INCHES DOWN)...
---
NJPW THE NEW BEGINNING IN OSAKA PPV REPORT
FEB. 11, 2023
OSAKA, JAPAN
AIRED LIVE ON NJPW WORLD
(1) TORU YANO & OSKAR LEUBE vs. THE UNITED EMPIRE (Great-O-Khan & Aaron Henare).
Leube got a Boston crab on Henare at one point and the fans fired up, but Henare got to the ropes. Henare fired back with Rampage and it was good for the win.
WINNERS: Aaron Henare & Great-O-Khan at 4:38. (**)
(2) RYUSKUE TAGUCHI & SHOTA UMINO & TAMAOKI HONMA & TIGER MASK vs. LIJ (Tetsuya Naito & Bushi & Sanada & Hiromu Takahashi)
Sanada put Honma in the Paradise Lock, but he had greased himself up and managed to wiggle free quickly. Naito tagged in and knocked Umino off the apron before wiping out Honma in the corner and the fans fired up. Honma eventually surprised Naito with a flying Kokeshi. Taguchi took a quadruple superkick for a nearfall. Takahashi eventually pinned him with Time Bomb 2.
WINNERS: LIJ at 8:43. (**1/2)
(Radican's Analysis: This was fun, but nothing special.)
Lio Rush appeared on the screen after the match. He said he'd had his eye on Hiromu Takahashi for a long time. He said times have changed and he's different. He said he would do what Yoh couldn't do and beat him for the IWGP Jr. Hvt. championship.
They went back to the arena and the fans appraised. Takahashi took the mic asked if Rush wants to challenge for the title. He said it looks like Rush is next. He said he's been waiting for Rush for a long time. Takahashi yelled "Let's do it." He said a video message seemed a little suspicious. He asked if Rush was in the building. He then dropped the mic and ran to the back.
Naito pointed at one of the announcers and asked him to take his mask down to see if he was Rush. Takahashi came back down to ringside yelling and ran to the back again to look for Rush.
(3) MASTER WATO vs. TAIJII ISHIMORI
Ishimori lawn darted Wato into the ring post after a fast exchange during the early stages of the match. The storyline is that Ishimori blames Wato for his loss of the jr. title at Wrestle Kingdom last month. Ishimori went after Wato's shoulder. Wato mounted a comeback and hit a big flip dive to the floor and the fans fired up. Ishimori continued to work over Wato's arm and shoulder. Wato hit a big German for a nearfall after a big exchange and the fans fired up.
Wato no-sold a jumping knee to the head, but Ishimori decked him with a clothesline. Ishimori then hit the Bloody Cross for the win.
WINNER: Taiji Ishimori at 11:18. (***1/2)
(Radican's Analysis: This was really good at times. Wato has improved a lot, but Ishimori was a step ahead of him for most of the match.)
(4) HIROSHI TANAHASHI vs. KENTA
The announcers noted that Tanahashi had lost three false teeth to a protein bar recently and hadn't been able to get them fixed yet. Both men played to the crowd until Kenta jumped Tanahashi from behind as he posed on the ropes. Kenta stretched Tanahashi and showed his broken teeth.
Kenta tried to shove Tanahashi into the ref several times. Kenta got a pinning combination and appeared to purposefully land on the ref when Tanahashi kicked out. Kenta got a chair and used it on Tanahashi witn the ref down. Kenta went for a double stomp off the top onto a chair, but Tanahashi got out of the way and tripped him head-frost onto the chair. Kenta returned the favor a short time later.
They went to a stroke exchange and Kenta hit the Green Killer. He then hit a stalling drop kick in the corner and a double stomp off the top Tanahashi managed to kick out at the last second. Kenta went for a GTS, but Tanahashi turned it into a Twist and Shout.
The fans fired up, but Kenta surprised Tanahashi with a Busaiku Knee. He hit another Busaiku Knee a short time later for a near fall. Kenta went for GtD, but Tanahashi escaped again. Kenta rocked Tanahashi with a combination of strikes, but Tanahashi countered the GTS into a Slingblade. He hit another Slingblade and then Aces High. The fans fired up and Tanahashi hit the High Fly Flow.
WINNER: Hiroshi Tanahashi at 13:57. (***3/4)
(Radican's Analysis: These two have had better matches in the past, but this one was still very good. They've had quite the rivalry in NJPW. The announcers pushed that Tanahashi wanted one more run at the top this year, but he is looking rough from a movement standpoint.)
Tanahashi offered Kenta an ice pack after the match, but Kenta rolled to the floor.
It was announced that if House of Torture didn't defend their titles here, they would be stripped.
A video package aired on Ren Narita's alliance with Minoru Suzuki and El Desperado. They then focused on their feud with House of Torture.
(5) HOUSE OF TORTURE (Evil & Sho & Yujiro Takahashi w/Dick Togo) vs. REN NARITA & MINORU SUZUKI & EL DESPERADO – NEVER Openweight Six Man Tag Team Championship match.
House of Torture jumped Narita as he made his entrance from behind. Dick Togo choked Narita with the garret and Sho wiped him out witt the belt. The bell rang and it was 3 on 2 inside the ring with Narita wiped out on the ramp. Desperado took a sustained beating as House of Torture used their cheating tactics and the numbers advantage to keep the under hand. Desperado finally mounted a comeback and tagged in Suzuki. Suzuki ran wild much to the delight of the crowd.
Togo tripped Suzuki with the ref distracted and Evil worked over Suzuki on the outside. Evil choked Suzuki with the house mic chord and he yelled that he was going to murder Evil and the fans cheered. Narita began to slowly make his way to the ring. Narita wiped out Togo on the floor, but Evil knocked him off the apron. Suzuki wiped out Evil and tagged in Narita to a big pop.
Narita got cut off and isolated, but his partners recovered and helped turn the tide. They hit a sword of moves on Takahashi, but the pin was broken up. Narita got the cobra twist on Takahashi and he tapped, but the ref had his hands full with Togo. Suzuki and Desperado got Evil and Sho on submissions. Narita then got Takahashi to tap out to the cobra twist.
WINNERS: Ren Narita & Minoru Suzuki & El Desperado at 12:51 to become the new NEVER Openweight Six Man Tag Team Champions. (***1/4)
(Radican's Analysis: This was the usual House of Torture match, but with a happy ending and a nice focus on Narita getting the win.)
Minoru Suzuki cut a promo after the match and the fans applauded. He said given their lineage they are strong style. The fans applauded.
Suzuki's music played and he joined Narita and Desperado in raising their titles and the fans fired up.
A video package aired for the Jay White vs. Hikuleo loser leaves Japan match. They focused on White blaming Hikuleo for his downward spiral.
(6) HIKULEO (w/Jason)vs. JAY WHITE (w/Gedo) – Loser Leaves Japan match
The announcers said White had never lost in this venue. They went to the floor and Hikuleo dominated the action for several minutes until Gedo got in his face, which allowed Whitr to drive him into the ring post. White got a running and speared Hikuleo over the barricade! WOW!! Hikuleo mounted a comeback inside the ring and hit the Oklahoma Stampede for a two count.
White mounted a comeback and went after Hikukeo's leg. Both men wrestled with a real edge to their offense, as several exchanges were just so sudden and high impact. White hit several chair shots to Hikukeo's back as Gedo distracted the ref. White connected with the Kiwi Crusher for a nearfall. White ripped off Hikukeo's top and nailed him with a series of big chops. Hikuleo fired back with some chops from his knees. He eventually connected with a big chop that put White down on the mat.
Hikuleo eventually sent White to the mat with a big chop and both men were down. Hikeleo set White up for a slam, but he turned it into a Blade Runner and both men were down as the fans fired up. Hikuleo lifted White and he tried to hit his knee and then punch him out while he was up by his head, but he managed to connect with a big powerbomb for a nearfall on White.
Hikeleo grabbed White by throat. White tried to too sweet him. Hikuleo hit the too sweet and then hit a choke slam on White for the win.
WINNER: Hikuleo at 25:08 – Jay White must leave Japan. (****)
(Radican's Analysis: Great match. Both men wrested with physicality and their exchanges looked brutal. Hikuleo went over strong in the end and the final moments of the match were well done.
It will be interesting to see what Hikuleo does to follow up on this big win.)
Gedo helped White out of the ring and he bumped fists with Tanahashi. Gedo lead White up the main ramp to the back. White turned around and got a big ovation from the crowd.
A video package for Tama Tonga vs. ELP was shown.
(7) TAMA TONGA (w/Jado) vs. EL PHANTASMO – NEVER Openweight Championship match
They had a fast exchange early and came to a a stalemate. They ended up on the floor and ELP jumped the guardrail. Tonga tried to surprise him with a splash over the guardrail, but ELP got out of the way and Tonga took a nasty spill. Tonga favored his wrist and ELP went right after it on the floor. He continued to work over Tonga inside the ring a short time later.
Tonga fired back with a clothesline out of the corner and tore his shirt off. ELP fired back and went for Sudden Death, but Tonga got out of the way. They had another fast exchange and Tonga rolled to the floor, but ELP was too fast for him and he caught him with a suicide dive. He followed up with a moonsault off the middle rope to the floor and the fans fired up. ELP favored his knee on the floor after connecting with the moonsault.
They went to get back into the ring and Tonga surprised ELP with several dragon screws around the rope. Tonga got a sharpshooter, but ELP got to the ropes. The fans fired up ELP countered Tonga and hit a Canadian Twist. Both men were down and they got to their knees and exchanged forearms. They eventually got to their feet and continued to exchange forearms. They traded blows at a rapid pace and ended up in the ropes. The ref backed Tonga away. He eventually took ELP down and went up top. He connected with Supreme Flow for a two count.
The fans fired up and Tonga set up for the Gun Stun. ELP countered it, but Tonga eventually got him up on his shoulders. ELP shit several elbows, but Tonga fired up and hit a TKO for a nearfall. The fans fired up. Tonga set up for a Jay-driller, but ELP countered it into a Styles Clash for a nearfall.
ELP sold his knee after hitting the Styles Clash. ELP went for Bloody Sunday and Tonga countered it. They went back and forth and Tonga hit Bloody Sunday! He went for. Gun Stun, but ran right into Sudden Death for a nearfall. Tonga went and grabbed the title on the outside and brought it into the ring. The ref tried to stop him from using it and he eventually gave him the title. ELP countered a Gun Stun into CR2, but Tonga kicked out! The fans fired up big time.
ELP set up for Sudden Death, but Tonga blocked it and hit a Gun Stun for a nearfall and the fans gasped. They had another exchange and Tonga hit the Jay Driller for the win.
WINNER: Tama Tonga at 27:07 to retain the NEVER Openweight Chalpionship. (****1/4)
(Radican's Analysis: They told a really good story at times in this match. Both men knew each other extremely well and ELP did a nice job of staying a step ahead of Tonga most of the time.
 Both men did a really good job of laying down foundation that Tonga was going to have a weakened arm and ELP was going to have a weakened leg. ELP continued to sell his leg until the end but Tonga didn't favor his arm much at all.
The crowd really got into their counter exchanges late and this match was much better than I anticipated. I wasn't expecting a bad match, but both men delivered here in terms of their performance and the story they told in a way I wasn't expecting.)
(8) KAZUCHIKA OKADA vs. SHINGO TAKAGI – IWGP World Hvt. Championship match
They started at a slow pace. Okada ended up hitting the first big move of the match when he drop kicked Shingo off the top to the floor. Okada methodically worked over Takagi until he mounted a comeback and connected with a clothesline. The announcers said Okada isn't afraid to be the bad guy tonight. Okada was dressed in all black ring attire. This time it was Takagi's turn to send Okada to the floor where he worked him over. They went up top and the fans gasped when Takagi connected with a superplex.
Okada eventually cut Shingo off with a neck breaker and both men were down as the fans chanted Okada's name loudly. Shingo got the upper hand and Okada rolled to the floor. Takagi went after Okada, but ended up taking a tombstone on the floor. Okada tossed Takagi back into the ring and applied the Money Clip. The fans began chanting for Takagi as Okada worked the hold. Takagi finally got to the ropes to break the hold.
Shingo ducked a Rainkaker, but ate a drop kick. Okada went for another Rainmaker, but Takagi turned it on not a Rainkaker of his own and the fans fired up again. They went to a strike exchange and Okada had the upper hand, but Takagi caught him by surprise with a head hurt and then a jumping knee to the head much to Okada's surprise. Takagi hit Made in Japan a short time later for a good nearfall and the fans fired up.
The 25 minute mark passed with the fans chanting for Takagi with both men down on the mat. Takagi set up and then connects with a Pumping Bomber. He went for Last Dragon, but Okada blocked it. He ducked a clothesline and hit a Rainmaker and both men were down. The fans were split and chanted for both men. Both men popped up from big moves. Takagi blocked a Rainmaker attempt, but eventually ran right into a Landslide Tombstone. Takagi ducked a Rainmaker and hit Last of the Dragon. He rolled away from Okada after hitting it. He quickly crawled over and made the cover, but Okada kicked out at the LAST second and the fans went nuts.
The 30 minute mark passed. They traded counters again and Okada blocked a Last of the Dragon attempt and hit a jumping kick to the head. They went back and forth and Okada went for a spinning Rainmaker, but Shingo cut him off with a clothesline. Takagi went for a Pumping Bomber, but cut him off with a clothesline. Okada hit a Cobra Flosion and then the Rainmaker for the win.
WINNER: Kazuchika Okada at 32:07 to retain the IWGP World Hvt. Championship. (****1/2)
(Radican's Analysis: This match started off a little slow, but once they got down to business, the action was incredible and both men delivered big time here. The crowd was read hot down the stretch and they had some incredible nearfalls before closing out the match.)
Okada cut a promo after the match. He said that was professional wrestling. He said that is NJPW. Okada said in San Jose he will put the title on the line. He said in America, he will show how great NJPW is. He promised to come back as champion.
Okada said he needs an appropriate opponent. He said he has some memories of wrestling someone in Osaka. He then turned his attention to Tanahashi at ringside. The fans went nuts. Okada said if Tanahashi isn't too tired, he can challenge him to a match in San Jose. Tanahashi got on the mic. He said let's do it. Okada said this would be Tanahashi's last shot. Both men hit their poses face-to-face.
Tanahashi left and Okada said San Jose would see an unbelievable event and match. He said for the people that might not like it, he will be back to Osaka as champion. He said they will keep selling out crowds and as long as the fans still love NJPW, the rain will fall on Osaka.
Okada hit his Rainmaker pose and gold confetti exploded from the rafters to end the show.
Email Sean at pwtorchsean@gmail.com. Follow him on Twitter @SR_Torch.