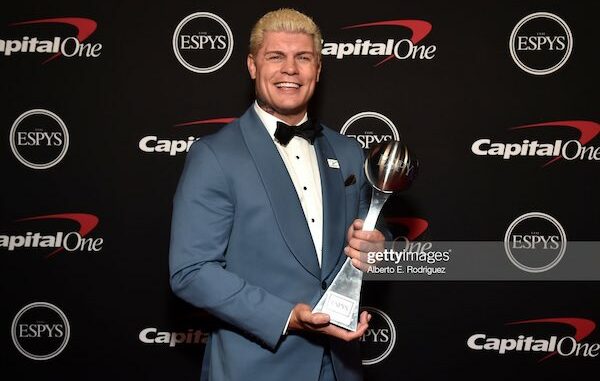 ---
SPOTLIGHTED PODCAST ALERT (YOUR ARTICLE BEGINS A FEW INCHES DOWN)...
---
This week's episode of WWE Raw has wrapped. Let's take a stroll down memory lane and relive some of the madness.
-Glad to see WWE understand that this episode of WWE Raw had to start off with Sami Zayn and Kevin Owens after they reunited on Smackdown Friday night.
-The segment itself was excellent. Zayn and Owens were both genuine in not only their journey back to one another, but the mission ahead for WrestleMania. The Usos were equally as genuine, showing off both uncertainty pertaining to their treatment at the hands of Roman Reigns, but also their loyalty to family. Both teams lining things up as brothers vs. brothers at WrestleMania was a nice hook. Really good stuff.
-I liked Austin Theory vs. Montez Ford. Ford didn't go over and absolutely was out there playing a role that made Theory look good, but that's only going to help him in the future. Theory needed to remain strong ahead of his match at WrestleMania against John Cena and Ford gave him that here. Don't be surprised if Montez Ford is Theory's first title challenger coming out of a WrestleMania win against Cena.
-Holy Roman Reigns, huh? His performance in the locker room vignette with The Bloodline was off the charts good. It was nuanced and conveyed a desperate grab for psychological power over Jey Uso in particular. It kind of worked, but not really, and Reigns sold it that way. He'd come back to this performance later in the show. Wonderful.
-I'm getting a kick out of the backstage stuff between Chelsea Green and Adam Pearce. They have some chemistry, it's certainly silly, but not grating. This works on a three hour show at the bottom of the card.
-An "A" for effort for WWE on the Omos and Brock Lesnar video package. Admittedly, it's the only way for them to build this match up. Highlighting the size of each guy is the only hook out there and this piece leaned into it. It doesn't add a ton of hype, but puts a spotlight on what WWE thinks is intriguing about the match.
-See what happens when you lean into a guy's full heel tendencies? See Logan Paul?! This segment worked for me. Paul got heat and Rollins extinguished some of it, but not all of it. That was the goal. Week to week we are seeing what the story of the Paul/Rollins match at WrestleMania will be. It's about that punch from Paul. He's knocked Seth out twice with it already and they are making that Paul's "thing." Not sure I buy it fully, but Rollins is doing all he can to get it over. The KO bumps he's taking are glorious.
-Oh, the Johnny Gargano fans aren't going to like seeing him job out to Dominik, but such is life. Dominik is in a more favorable position than Gargano right now and that victory helps Dominik gain some credibility. Dominik is on track to really do some damage to Rey in front of their family on Friday night. Probably will be the catalyst to the WrestleMania match finally being made.
-Floating head Edge = not my favorite Edge. It seems like Edge enjoys these kinds of performances, but it's just too out there for me. Keep it in the ring, Edge. He's certainly good enough to sell this match and promo in front of a live crowd. He's better that way too.
-Ok, so the Rhea Ripley promo worked. She's not cutting that promo eight months ago and it's astounding just how far she's come since then. Now, that said, Ripley is the heel opposite Charlotte Flair. Pairing her against another heel in Bayley is criminal at this point in time. Charlotte is going to have a problem getting cheered as it is, so why on earth do you give the audience permission to cheer Rhea in a three on one situation against another group of heels. Not to mention, you have a team of the most over woman in WWE and two Hall of Fame legends come down and even out the odds for the heel Rhea Ripley? This made no sense and tossed more cold water on the women's WrestleMania matches.
-Otis and Maxine? Pretty solid stuff. Gable around it elevates it up and makes it more comedic too. Well done.
-WWE just doesn't have anything at the ready to make this Asuka vs. Belair feud worthy of a WrestleMania spot. It's ice cold and has somehow made both Belair and Asuka ice cold too. Not what you want heading into WrestleMania.
-Bravo Roman Reigns and Cody Rhodes. That confrontation delivered. I'd have stayed away from "getting over" and the meta references to AEW. No question. However, Cody needed to show he was on the level of Reigns here and he did. Presenting Reigns with a world in which he's not the champion and that world visibly making Reigns uncomfortable was the magic touch. Really well done.
---
CATCH-UP: 3/20 WWE MONDAY NIGHT RAW RESULTS: Keller's report on Roman confronting Cody, Impaulsive TV with Logan Paul, Theory vs. Montez