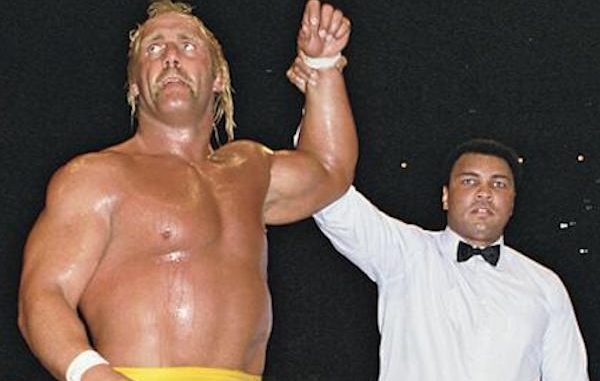 ---
SPOTLIGHTED PODCAST ALERT (YOUR ARTICLE BEGINS A FEW INCHES DOWN)...
---
Muhammad Ali, the all-time great boxer with a deep connection to pro wrestling, has died at the age of 74.
Ali's family released a statement Friday night (June 3) announcing his death after Ali was deemed terminally ill earlier on Friday.
WWE followed with a statement on their website acknowledging Ali's death and historically-significant involvement in pro wrestling.
Ali's trademark style of boxing, winning, and trash-talk was heavily influenced by the early days of TV wrestling, especially "Gorgeous" George.
The timing of Ali's death coincides with a major anniversary of his involvement in pro wrestling. (The New York Times published an article on Sunday reviewing the event.)
On June 26, 1976, Ali faced Japanese legend Antonio Inoki in their infamous boxer vs. wrestler "match" in Tokyo, Japan. Back in the U.S., the bout was promoted on closed-circuit TV by Vince McMahon, Sr.'s WWWF in New York City.
Earlier in June 1976, Vince McMahon, Jr. was part of the TV broadcast team for a famous angle involving Ali and Gorilla Monsoon. This was to promote Ali's match against Inoki a few weeks later.
"Muhammad Ali was one of the nicest gentleman I ever had the pleasure to meet," said Freddie Blassie in May 2003 to interviewer Chris Yandek of CYInterview.com re-released this week.
"He never disputed anything I told him. When he went over to wrestle, fight Antonio Inoki, Inoki kept staying on the mat all the time and kept kicking, and they'd come back in after the end of the round, and Muhammad Ali would tell Angelo Dundee, who was his manager that, 'I am gonna go out and get on the mat with him.' And I told him, I said, 'Don't you dare do that. It will be the biggest mistake of your life. What he'll do is break your leg and he'll break your arm because a boxer has no chance whatsoever with a wrestler.' Whenever you have a mixed match with wrestler versus boxer, boxer versus wrestler, you can always bet your bottom dollar that the boxer's going to lose."
Nine years later, Ali was part of McMahon, Jr.'s first WrestleMania. Ali was the special referee for Hulk Hogan & Mr. T. vs. Roddy Piper & Paul Orndorff at WrestleMania 1 in New York City.
Flashing forward to 2016, Antonio Inoki's IGF promotion was already planning to host an "anniversary celebration" commemorating the 40-year anniversary of Inoki-Ali on May 29 in Osaka, Japan.
The show, which is headlined by Kota Ibushi, will now take on deeper meaning following Ali's death nearing the 40-year anniversary of the fight.
WWE is saddened to learn of the death of former world heavyweight boxing champ Muhammad Ali. https://t.co/lt34HVZvDU pic.twitter.com/v9GbPjJCuE

— WWE (@WWE) June 4, 2016
Muhammad Ali & pro wrestling. https://t.co/JwjYoQsago 11:30a E/8:30a P @PWTorch @thewadekeller @MrTVClassics pic.twitter.com/72YYSujckP

— Jim Valley (@JimValley) June 4, 2016
Muhammad Ali vs. Gorilla Monsoonhttps://t.co/GLrQ41RNhj @wwe played this clip countless times on TV in the 70s. @thewadekeller @PWTorch

— Jim Valley (@JimValley) June 4, 2016
Muhammad Ali vs wrestler Kenny Jayhttps://t.co/jmUJnMAhOI build up to Ali's match against Antonio Inoki in Japan. @thewadekeller @PWTorch

— Jim Valley (@JimValley) June 4, 2016