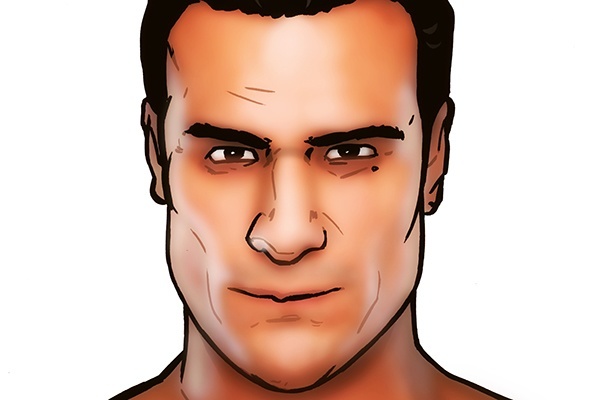 ---
SPOTLIGHTED PODCAST ALERT (YOUR ARTICLE BEGINS A FEW INCHES DOWN)...
---
The following report was originally published on PWTorch.com five years ago this week…
---
WWE Raw TV Results
August 5, 2013 – Episode #1,053
Live in Green Basy, Wis.
Aired on USA Network
Report by James Caldwell (@JCTorch), PWTorch assistant editor
[HOUR ONE]
WWE returned to live television with the standard Raw opening video package (with The Rock included) before going to basic pyro inside the arena. Michael Cole noted they are two weeks away from Summerslam before identifying the location tonight.
Daniel Bryan Corporate Make-Over
Already in the ring was Stephanie McMahon to introduce the show. A graphic on the screen labeled Stephanie the "Executive VP of Creative," immediately breaking kayfabe. Stephanie said it's no secret that her father, Vince McMahon, does not think Bryan is championship material.
Stephanie then introduced a video package of Bryan going through various spa treatments before hitting the gym and doing various leg and arm work-outs. Bryan, looking like Bruiser Brody, then visited a steakhouse and forced himself to eat a steak. The video concluded with Bryan looking concerned over his new look.
Back live in the arena, the crowd "No!'ed" before Stephanie welcomed out Bryan. Bryan came out on-stage dressed in a suit with his hair pulled back in a Brody ponytail and his beard straight. The announcers talked about refining a farm animal before JBL described Bryan as "dignified." In the ring, Stephanie smiled at her new creation, then gave the mic to Bryan.
Bryan asked the crowd if they really like his new look, which drew boos and No!'s. Bryan said that's strange. He said he would like to thank Stephanie for all of the time and effort that went into all of this (boos). Bryan said it's funny because he doesn't think "this" is what WWE wants. Rather, the company wants someone who is jacked up; someone who wears cargo shorts and a bright yellow t-shirt (boos for the John Cena reference). Bryan said they need someone who will sell a bunch of merchandise that people don't actually need. "It seems to me they want someone like John Cena," Bryan said to a mix of boos and cheers.
Bryan said he respects John Cena because Cena picked him as his opponent for Summerslam. But, Cena doesn't think he can beat him at Summerslam. Bryan said after all Cena is a *superstar* and sells movies and cereals. But, he's 5'8″ with a scraggly beard and he's from the middle of nowhere. Bryan said the difference is Cena is an entertainer and Daniel Bryan is a *wrestler.* This popped the vocal males, leading to "Yes!" chants.
Bryan continued that while Cena has been here in sold-out arenas, he has not watched him crawl out of holes and filth to get to this point. Bryan said if Cena gets fired tomorrow, he goes back to his mansion and 20 cars and he will never wrestle again. But, if he were fired tomorrow – "and I just might" – he will be in every armory, gym, and dirtbox filled with a wrestling ring because he loves wrestling.
Bryan acknowledged cheers from the vocal males before asking the fans if they like wrestling, too. "Yes!" chants. Bryan smiled and said here's the deal. He's all dressed up in this suit for now. He said he'll comb his hair back for now and will do what they want for now. Because at Summerslam, he's going to do what everyone wants him to do – "I am going to make John Cena tap out!" Bryan then led his fans in "Yes!" chants.
Suddenly, Vince McMahon's music played. McMahon strutted down the ring, then entered the ring and faked out Bryan on a handshake. McMahon said he appreciates Stephanie trying to reconcile things between himself and Triple H via Daniel Bryan, then he mocked Bryan's attire and hair. "Just messing with you," McMahon said.
McMahon said he doesn't want Cena to be champion. And definitely not Bryan. McMahon then looked over Bryan again and said maybe he's warming up to ol' Bryan. McMahon said if Bryan were champion, it would be the first time a dwarf has been champion. McMahon continued to run down Bryan, who just smiled and laughed. McMahon then called Bryan a miniature Mick Foley because he's unkept and unruly. McMahon said if Bryan becomes champion, then maybe they can work something out. He said Bryan should listen to him because he has considerable influence over the WWE Title situation at Summerslam.
McMahon then surveyed Bryan's beard, which turned Bryan's smile into a frown. He said if Bryan really wants to be WWE champion, there's only thing they should do right here, right now. "And that's shave that beard off," McMahon said to boos. McMahon then asked for the chair to be brought out.
Stagehands wheeled a barber's chair down to ringside, then lifted it on-stage and down to ringside as Bryan led the crowd in "No!" chants. McMahon said these people don't know what they want; "I know what you want!" McMahon shouted.
[Q2] McMahon told Bryan that if the people truly want him to be WWE champion, then he will do what he says. McMahon reminded Bryan that he could be fired, just like he said earlier. He told Bryan that he just needs to take that one extra step. McMahon had pity on Bryan's beard, then asked Bryan if he really wants to be WWE champion. "Take that step. Take that first step," McMahon told Bryan. He told Bryan not to listen to the people. "Get in da chaaaair!" he shouted.
Bryan approached the ropes to leave the ring, then he slipped outside to approach the barber's chair. McMahon told him it will be all right from the ring, then he called for a barber. Naturally, Wade Barrett was the man for the job. Barrett's music played to zero reaction, then Barrett, sporting a beard, bounced to the ringside area as McMahon tried to dance to Barrett's theme song.
Barrett assembled his tools as McMahon continued to whisper from inside the ring. Barrett approached Bryan to shave his beard, but Bryan headbutted him before slamming Barrett into the barber's chair. Bryan then shaved off chunks of Barrett's beard, leaving him a mess. As McMahon seethed inside the ring, Bryan chucked Barrett over the guardrail before bouncing to the top of the stage.
On-stage, Bryan asked McMahon if he wants him to change. "No!" he shouted. No said he is going to be who he has always been and he will be WWE champion. Bryan then ripped off his dress shirt to reveal a "THE BEARD IS HERE!" t-shirt with an arrow pointing to his mouth to mock Cena's WWE Title t-shirt. Bryan's music played as McMahon threw a fit inside the ring. McMahon chucked a jacket into the crowd, then collected himself to end the 20-mintue segment.
WWE cut backstage to a split-screen of Rob Van Dam and Alberto Del Rio on a split-screen. Del Rio was accompanied by a returning Ricardo Rodriguez. RVD vs. Del Rio is next.
[Commercial Break at 8:21]
Back live, The Miz was on commentary. Michael Cole plugged Miz as the host of Summerslam, prompting an over-hyped plug from Miz. Rob Van Dam was then introduced for the opening match. As RVD made his way out, Cole recapped events two weeks ago on Smackdown when Del Rio snuck out a victory over RVD.
Justin Roberts then introduced Ricardo Rodriguez "returning from a serious injury" to introduce Alberto Del Rio. Cole filled in the storyline explanation that Dolph Ziggler put Ricardo through a table one month ago. As Del Rio made his way to the ring, Cole plugged Del Rio vs. Christian for the World Title at Summerslam in two weeks.
1 — World Hvt. champion ALBERTO DEL RIO (w/Ricardo Rodriguez) vs. ROB VAN DAM — non-title match
Forty seconds into the match, WWE cut to a backstage shot of Christian intently watching the match. RVD gained the upper hand one minute into the match and delivered a spin kick on the outside leading to break.
[Commercial Break at 8:28]
[Q3] Back from break, RVD knocked down Del Rio with more offense inside the ring. RVD wanted Rolling Thunder, but Del Rio moved. Del Rio followed with a standing kick to the face, but RVD kicked out of a pin attempt. Miz plugged his role at Summerslam as RVD made a comeback, this time connecting with Rolling Thunder for a nearfall. RVD tried to follow with a split-legged moonsault, but Del Rio blocked.
Ricardo took this as his cue to try to set up the bucket in the corner, but RVD reversed an Irish Whip and Del Rio ate the bucket head-first. RVD then leg-rolled Del Rio for a three count and the win. On commentary, Lawler noted Ricardo must be a little rusty on his timing.
WINNER: RVD at 6:15. Basic match setting up the post-match…
Post-match, Ricardo tried to explain himself, then Del Rio stunned Ricardo with a side kick to the head. Del Rio punched away at Ricardo, then used the bucket to deliver a beating to Ricardo. Del Rio then chucked Ricardo over the top rope to the floor as JBL noted this is what you do to an employee who screws up. Is that in the H.R. handbook? Del Rio then placed Ricardo's head inside the ring steps and ringpost before delivering a dropkick that crunched Ricardo's head/neck.
Del Rio jumped into the ring and flashed his title belt as Ricardo remained lifeless ringside. After a replay of the beating, they cut to a live shot of Del Rio standing tall on the ring entrance. Meanwhile, medics were tending to Ricardo to sell the injury angle.
Still to come: C.M. Punk vs. IC champion Curtis Axel.
[Commercial Break at 8:36]
Rhodes Scholars Explodes
Back live, Cody Rhodes was in the ring. Cody, dressed in a suit, said Damien Sandow is not a true friend, then he pointed to a gift standing at his feet. Before getting to the gift, Cody introduced a video package on his back-and-forth with Sandow the last two weeks on Smackdown.
Back on Raw, Rhodes said he knows how much it affected Sandow watching his MITB briefcase sink into the Gulf of Mexico, so he spared no expense getting this gift. Out from the box was the Smackdown MITB briefcase covered in various seaweed-type items. Rhodes told Sandow to come get his briefcase. Sandow marched to the ring demanding the case be placed down and Rhodes depart. Rhodes obliged and tossed down the mic, then Sandow charged the ring, but Cody tackled him. Cody and Sandow fought, then Cody kicked Sandow out of the ring.
As Sandow complained ringside, Rhodes opened the briefcase and dumped out the contents, revealing a soaking-wet contract for a World Title shot. As the crowd sat silently for this skit, Rhodes chucked the briefcase to the floor after retaining the soaking-wet paper contract. Cody's music played to end the skit.
[ JC's Reax: It's amazing how WWE took a hot issue between Cody and Sandow at MITB and watered it down (excuse the pun) to another fourth-grade-level playground fight. The way Cody is being presented in the babyface role isn't working right now. ]
[Q4] Up Next: Mark Henry vs. Ryback. Cole billed it as a WrestleMania re-match. Isn't that worth promoting in-advance?
This Sunday: The Most Unlikeable People On TV return to "Total Divas" on E! On this episode, one of the Bellas is drunk, one of the Usos has anger problems, and Daniel Bryan sits cross-legged on the floor.
[Commercial Break at 7:47]
In-ring: Ryback was introduced for the next match, followed by Mark Henry. Cole offered some Green Bay Packers references to these two big men set to square off, then the opening bell sounded.
2 — RYBACK vs. MARK HENRY
The match started with a "Goldberg" chant before the two big men met center-ring. Ryback then thumbed Henry in the eye to chop-block Henry and begin working on the left knee. Henry tried to come back with a powerslam, but Ryback slipped off Henry's shoulders and bailed to the outside.
As Ryback regrouped on the floor, the ref administered a ten count, then Ryback decided to back away at six, call it a night at eight, and get counted out. On-stage, Ryback gloated about his decision as Henry yelled from inside the ring.
WINNER: Henry via count-out at 1:47. That explains the lack of advanced hype for the match, but in a kayfabe environment, no one would know in advance that Ryback would walk out of a match less than minutes in, so they should still promote the match-up as if it's a big deal and put the heat on Ryback for ruining a big match booked by the authority figure.
[Commercial Break at 8:55]
[HOUR TWO]
Back live on Raw two minutes before the top of the hour, the Bella Twins talked about their starring role on "Total Divas." Brie and Nikki took digs at each other, then decided they were both the stars of the show. Eva Marie walked in and the Bellas ran her down before Natalya walked in and slapped Brie. Nikki held her back and said they will handle things their way.
John Cena Promo Response To D-Bryan
[Q5 — second hour] At the top of the hour, John Cena's music played to bring out the WWE champion to a mix of boos and cheers. Once in the ring, Cena basically said he always has a target on his back, but usually it's from a bad man. This time, it's a fan favorite standing opposite him.
Cena, with a stern tone accompanying his speech, said he's been listening to the crowd and they like Bryan. Cena said he also chose Bryan. He then called some of Bryan's comments ignorant running him down. Cena told Bryan he sounds like The Rock and C.M. Punk, noting that people might not like him or his style, but he doesn't change for anyone. Cena then shouted into the mic that Bryan wants to glorify wrestling in a gym, because that's where Bryan is more comfortable and where he would much rather be. The crowd responded with light "ooohs."
Cena said Bryan is right that if he got fired tomorrow, he would never wrestle another match. Because he would never tarnish WWE or the title. Cena said Bryan keeps looking to his past and glorifying his past, but that's like saying he was the All-Star of the Arena Football League.
Cena shifted the discussion to Bryan saying he can't wrestle. Cena said he wouldn't be 11-time champion if he could not wrestle, then tried to guide the crowd into an anti-Cena chant, but they responded with quietness. Cena said if the people at home can't hear the crowd, they're chanting, "You can't wrestle." As Cena continued, the crowd stopped him with a "boring" chant. Cena showed skills owning the chant by saying it appears the crowd wants to see them wrestle at Summerslam. The crowd cheered, then chanted, "Yes!"
Cena got to the ending that the crowd can pick whoever they want at Summerslam, but the bottom line is his time is now and the Champ is here. Lawler said he didn't think the "vocal minority" could get under Cena's skin as Randy Orton's music suddenly played.
Orton, with MITB briefcase in-hand, marched down to the ring with eyes locked on Cena, who stood his ground in the ring. Orton then entered the ring and said Cena is too busy focused on the target on his back when he should be focused on the target staring him in the face. Orton said he doesn't care who wins at Summerslam because this contract guarantees he will be WWE champion.
Orton said this could happen at Summerslam, the night after Summerslam, or at WrestleMania. Orton held up the briefcase and said the point he's trying to make is "The Champ Is Here." Suddenly, The Shield's music played. Shield came through the crowd and circled the ring as Cena and Orton stood tall in the ring. Suddenly, Daniel Bryan charged the ring dressed to wrestle. Cena backed away as Bryan and Orton paced the ring.
Raw GM Brad Maddox then showed up and called for calmness. Maddox said he has a little idea since no one seems to be getting along tonight. He then booked a six-man tag match in the main event: Shield vs. Orton, Bryan, and Cena. The camera then focused on the babyface trio selling uneasiness in the ring.
[ JC's Reax: Cena seemed to be out of his comfort zone trying to deliver an "edgy" promo on another babyface, leading to a tough promo, but also one of his best saves turning the "boring" chants into getting the crowd fired up for Cena-Bryan at Summerslam. Overall, the Creative for the Cena-Bryan build-up has been inconsistent – WWE seems so focused on "elevating the promotion" and battling "vocal" wrestling fans that they've gotten away from the basic deal of Fan Favorite vs. Fan Favorite, pay to see who comes out on top. In the process, Cena's character is being hurt living in this environment, as the message he is trying to deliver to his fanbase seems to be lost in the fluff. ]
[Commercial Break at 9:11]
[Q6] Back live on Raw, Tons of Funk were dancing in the ring. Suddenly, the "feed cut out" to the Wyatts's intro vignette. Bray Wyatt led his henchmen down to the ring, then sat down on his rocking chair as Luke Harper and Erick Rowan hit the ring.
3 — THE WYATTS (LUKE HARPER & ERICK ROWAN w/Bray Wyatt) vs. TONS OF FUNK (TENSAI & BRODYS CLAY)
Harper and Tensai battled center-ring to begin the match. All four men found themselves in the ring moments later as the ref lost control of this ordeal. Rowan then delivered a big splash to Clay for the pin and the win less than 90 seconds into the match.
WINNERS: Wyatts at 1:20. Basic set-up for an apparent Kane vs. Bray match at Summerslam…
Post-match, Bray Wyatt stood up from his rocking chair and entered the ring. Bray readied himself, then scooped up Clay and delivered his spinning facebuster finisher. Bray called for Clay to be dragged to the middle of the ring, then Bray delivered another message to Kane. "Kaaaaaaaane," Bray said. "Follow the buzzards." Bray extended his arms, then the video feed cut out.
Suddenly, Kane's pyro shot off, freaking out Bray and his men in the ring. Kane appeared on the Titantron. He said he does not condemn Bray's intentions, but he sees through Bray's cryptic words. Kane said he enjoys doing what Bray does, but he does what he does for his own personal amusement.
At Summerslam, Kane vowed to make Bray find out why he is the devil's favorite demon. He said no one does the devil's work better than he does. Kane said Bray's family won't be able to save him at Summerslam. "No one will be able to save you from inside a ring of fire," Kane dramatically said. The ring then light up with Kane's pyro, prompting Bray to drop down to the mat and soak up the pyro. Raw suddenly cut to break.
[Commercial Break at 9:22]
Backstage: Back from break, Josh Mathews was smiling for the camera. To his left was C.M. Punk, who was not smiling. Mathews asked Punk about facing Curtis Axel tonight. Punk changed the subject to Axel's father (Mr. Perfect) and Bobby Heenan. Punk said Axel's dad still had a mind of his own when Heenan managed him, but Axel has so much blind loyalty to Paul Heyman that he's going to take a beating tonight. Punk then reminded Heyman of his vow to tear him down. Next, Punk was asked about facing Brock Lesnar at Summerslam. Punk said if Lesnar loses at Summerslam, then Heyman loses everything.
[Q7]
4 — KAITLYN vs. LAYLA
Back in the arena, Kaitlyn was standing by for singles action. After a replay of Layla turning on Kaitlyn to help A.J. Lee retain the Divas Title on Smackdown, Layla came to the ring. In an inset promo, Layla said she did what she did because she wants attention. She said all eyes need to be on her. In the ring, Kaitlyn blasted Layla to begin the match.
When Layla was in trouble, A.J. Lee suddenly skipped down to the ring. The distraction allowed Layla to pin Kaitlyn, further embarrassing Kaitlyn. After the match, Layla and A.J. skipped away from ringside to taunt Kaitlyn.
WINNER: Layla at 3:03.
Still to come: Dolph Ziggler vs. Big E. Langston.
[Commercial Break at 9:34]
Back from break, the announcers were shown on-camera. They discussed the Sandow-Rhodes events earlier in the night when Cody took Sandow's World Title MITB contract paperwork. So, it's Rhodes vs. Sandow in two Sundays at Summerslam.
Back live, the #1 contender to the World Title, Christian, was in the ring without an entrance. Also already in the ring were 3MB members. Suddenly, the bell sounded for Heath Slater to face Christian.
5 — CHRISTIAN vs. HEATH SLATER (w/Jinder Mahal and Drew McIntyre)
Christian scored an early nearfall with a missile dropkick, then he punched at Slater's gut before back-dropping him to center-ring. Slater continued to escape pin attempts before shoving Christian into the bottom turnbuckle. Slater was slow to follow up, allowing Christian to smash him with a spear center-ring. Christian scored the pin for the win.
Post-match, Christian left the ring as 3MB threw a fit in the ring. On-stage, Christian did the belt-around-the-waist motion as the announcers discussed Christian building momentum toward Summerslam.
WINNER: Christian at 3:14.
Backstage: C.M. Punk was shown walking down the hallway with his arms folded. Punk faces Curtis Axel next.
This Friday on Smackdown: Del Rio-Christian hype continues.
[Q8] [Commercial Break at 9:45]
WM30 Plug: One of the first vignettes for WM30 in New Orleans focused on a guy trying to hitch-hike to the event. The plug was for travel packages being made available next Monday.
In-ring: Cult of Personality played to bring out C.M. Punk on-stage for singles action. After Punk entered the ring, the lights went down for Curtis Axel's dramatic ring introduction. Axel, flanked by Paul Heyman, bounced onto the stage, but Punk didn't want to wait for Axel, so he charged the entrance ramp. Punk's attack on Axel sent Heyman scurrying, then the brawl continued ringside before entering the ring. Ref Mike Chioda ensured a fair start before calling for the bell.
6 — C.M. PUNK vs. IC champion CURTIS AXEL — non-title match
Axel got the upperhand momentarily, but Punk came back with a leg sweep to begin targeting the left knee. Punk followed with a clothesline over the top rope before measuring Axel for a suicide dive through the middle ropes. Cole said Punk is on-fire as Raw cut to break to the sound of a loud "C-M-Punk" chant.
[Commercial Break at 9:53]
Back from break four minutes before the top of the hour, Axel was in control of the match. Axel taunted Punk: "I'm the best in the world! You're nothing!" as Cole described Heyman as a weasel, continuing the Bobby Heenan references tonight. On cue, Heyman slowly walked out on-stage, then slowly walked down to ringside as Axel retained control. Punk spotted Heyman ringside, which fired up Punk to make a comeback.
Punk broke free of Axel, then tried to crawl toward Heyman, who backed away ringside. Axel cut off Punk each time Punk tried to get his hands on Heyman, then Axel smashed Punk with a knock-down clothesline on the outside. Back in the ring, Axel covered Punk for a nearfall.
[Q9 — third hour] At the top of the hour, Punk made his comeback before climbing to the top turnbuckle. Punk wanted a top-rope move, but Axel popped to his feet and crotched Punk. Axel followed with his running neckbreaker move, but Punk escaped a pin attempt. Axel tried to follow up, but Punk stood up and kicked him near the head. Axel sold major pain, then Punk suddenly grabbed Heyman. Apparently this was good for a DQ, as the bell sounded.
WINNER: No Decision Announced/DQ win for Axel at 10:21.
Post-match, Brock Lesnar's music played immediately after the bell sounded. Lesnar bounced down to the ring to confront Punk, but Axel yanked Punk to the outside. Punk reversed momentum and gave Axel the GTS . Lesnar then tried to attack Punk, setting off a wild brawl ringside. Punk won momentum as Cole shouted, "Punk's in this thing! Lesnar's reeling!" Punk then flew off the announce table to smash Lesnar with a flying attack. "The Beast is down!" Cole shouted. Punk tried to follow up, but Lesnar grappled Punk like a bear, then flipped him overhead with a big overhead suplex.
Lesnar smirked and dragged Punk into the ring to end Punk, but Punk escaped and slammed a chair across Lesnar's back. Heyman realized his predicament as Punk stared him down, but Lesnar blindsided Punk before he could get his hands on Heyman. Lesnar then dropped Punk with an F5 center-ring. Heyman wasn't done, as he demanded that Lesnar hurt Punk. Lesnar followed with chair shots to the back before standing tall over Punk. To close the segment, Lesnar walked out of the ring as Cole emphasized Punk being in this fight before Lesnar used an equalizer to stand tall tonight.
[ JC's Reax: Well-done. For the average viewer to take Punk seriously as a threat to Lesnar, they needed to show Punk at Lesnar's level, physically, complete with Cole emphasizing Punk "in this fight." But, Lesnar still stood tall at the end in a heelish way to keep Lesnar relatively strong and keep building Punk's quest for revenge. ]
[Commercial Break at 10:05]
[HOUR THREE]
Moments Ago: C.M. Punk was resilient, Punk kept fighting Brock Lesnar, Punk kept refused to back down, and Punk was ultimately done in by his "blind rage" for Paul Heyman, which led to an F5 from Lesnar. Cole said if Punk does not get his mind off Heyman and on Lesnar, he's going to take a beating at Summerslam.
Backstage: Renee Young reluctantly brought in Heyman, Lesnar, and Axel for an interview about what just happened. Lesnar spoke that that was the best of the best of the best this world has to offer? He said he is The Beast and The Best. Lesnar told Heyman to "say something stupid." Heyman told Renee to take that mic and tell C.M. Punk that he may not make it to Summerslam because he is going to walk out to the ring next week on Raw, not as an advocate, but for a one-on-one, man vs. man fight. Heyman said if Punk is man-enough to accept, it will be C.M. Punk vs. Paul Heyman.
In-ring: Fandango's music played to bring out Summer Rae paving the way for Fandango. After the duo danced on-stage, they made their way to the ring as Cole said something smells fishy about Heyman's bravado challenging Punk next week. After FandangoRae completed their entrance, Kofi Kingston's music played to bring out a returning Kofi. The announcers noted Kofi was out for two months after Ryback put him through tables.
[Q10]
7 — KOFI KINGSTON vs. FANDANGO (w/Summer Rae)
Of note, Kofi was sporting new full-length black wrestling pants with green trim. The "come-down match" after the Punk-Lesnar segment opened with Fandango controlling the match. A few light chants didn't catch on, then Kofi came off the top rope with a springboard forearm smash to Fandango. Kofi followed with a leaping fist smash, then a Boom Drop. Kofi tried to fire up the crowd for Trouble in Paradise, but Fandango easily rolled out of the way.
Fandango then tried a top-rope move, but Kofi avoided before coming off the top with a springboard cross-body splash for a nearfall. More counters and reversals, then Kofi snapped off Trouble in Paradise. It was good for the pin and the win.
WINNER: Kingston at 3:45.
Backstage: Triple H was on the phone. Stephanie McMahon then walked in laughing and covering her mouth. Check that, she was crying and covering her mouth. Stephanie said her dad bit her head off because D-Bryan's make-over segment was a disaster. Stephanie said she's just trying to focus on business, but he's so vindictive. Hunter responded that Vince has lost it and the "once great Creative genius" is gone. Hunter said he's had enough of this. He said McMahon wants to have a hissy-fit because Daniel Bryan wouldn't shave his beard, but he's not going to let McMahon ruin Summerslam.
Hunter shouted that he's tired of it and he won't let this ship go down. Hunter vowed to make sure McMahon doesn't do anything at Summerslam. "Watch me, Steph!" Hunter walked off, then the camera stayed on Steph catching her breath and selling either shock at Hunter's strong words or self-satisfaction that she got Hunter fired up at McMahon. Apparently that's the "mystery" aspect of the angle – interpret Stephanie's facial reactions and whether she is manipulating Hunter or not.
[Commercial Break at 10:21]
Exterior Shot: The Green Bay Packers's Hall of Fame area.
Earlier Tonight: Alberto Del Rio destroyed Ricardo Rodriguez after losing to Rob Van Dam. Cole said on commentary that Ricardo is still going through medical evaluations right now.
In-ring: Zeb Colter was in the ring with Antonio Cesaro and Jack Swagger. Colter ran down Green Bay for eating cheese, saying it has clogged their brains as well as their hearts. He told the crowd to make like the over-rated football team in this town and leave. Colter finished by telling the crowd to stand and shout in a loud, clear voice: "We The People." In response, The Usos were introduced as their opponents.
8 — THE USOS vs. THE REAL AMERICANS (JACK SWAGGER & ANTONIO CESARO w/Zeb Colter)
In response to Zeb's promo, the crowd woke up with a "Go Pack, Go" chant as the match began. The heels took control as Cole used this time to plug WWE's international tours, noting the Real Americans took their message overseas last week.
[Q11] The Real Americans continued to isolate Uso as Colter leaned against the ring apron whispering instructions. The Usos eventually made a tag and the action broke down. One of the cameraman almost got taken out ringside, then Swagger blind-sided Uso while the new ref did his job distracting himself having a conversation with Colter. This allowed Cesaro to follow up with the Neutralizer for the pin and the win.
WINNERS: Real Americans at 4:53.
Still to come: A "huge main event," according to Cole, with The Shield facing Cena, Orton, and Bryan in six-man tag action.
Up Next: Dolph Ziggler vs. Big E. Langston delivered in the quarter-hours last week; now, they get a third hour singles spotlight.
[Commercial Break at 10:35]
In-ring: Back from break, Dolph Ziggler's music played to bring out Ziggler for the semi-main event. WWE replayed A.J. Lee interfering in Ziggler vs. Big E. Langston last week before Langston was introduced. A.J. skipped down to the ring to wave at Ziggler, who was restrained by the referee before the bell sounded.
9 — DOLPH ZIGGLER vs. BIG E. LANGSTON
Ziggler delivered an early dropkick as A.J. sold concern ringside. Langston tried to come back with a powerslam, but Ziggler slipped out, only to take a big knockdown clothesline on the ring apron. Ziggler rolled to the floor, so Langston chucked him back into the ring.
Suddenly, Kaitlyn emerged from the back and charged A.J., who decided to meet her on the entrance ramp. The Divas fought and scrapped ringside, then A.J. rolled into the ring, where the fight continued. Ziggler tried to create separation, but Big E. destroyed him with a clothesline. Apparently the match was not thrown out during the skirmish. Langston then scooped up Ziggler and dropped him with the Big Ending for a three count as Kaitlyn sold concern ringside.
After the finish, the announcers acknowledged the issue of the referee allowing this match to continue despite the commotion in the ring. Big E. and A.J. then stood over a fallen Ziggler as Kaitlyn sold disdain over inadvertently costing Ziggler the match.
WINNER: Langston at 4:16.
Up Next: Six-man tag main event.
[Q12] [Commercial Break at 10:45]
This Friday on Smackdown: Miz TV with guests Big E. Langston and A.J. Lee.
Ringside: Cole, Lawler, and JBL were shown on-camera to set up the six-man tag main event. Cole then plugged USA Network's "Summer Camp" competition show before throwing to a preview clip.
Back in the arena, Josh Mathews was ringside to interview two "Summer Camp" contestants as the crowd sat quietly.
In-ring: Daniel Bryan was introduced first for the main event. Bryan was still sporting the Bruiser Brody ponytail and neat beard. Randy Orton was out next for the face trio, prompting the announcers to discuss the various scenarios that could unfold at Summerslam with Cena-Bryan and Orton's briefcase in-play. John Cena's music then played to bring out the WWE champion as the third babyface in the six-man tag match. Cena stormed the ring and stared down the other faces before hoisting his title belt in the air. Cole wondered aloud if Cena can hold his own tonight.
[Commercial Break at 10:54]
Earlier Tonight: WWE recapped the Punk-Lesnar battle earlier in the show. Punk fought toe-to-toe with Lesnar, but Lesnar got the best of Punk on this night. Then, Heyman challenged Punk to a match next week on Raw. Cole said Punk has accepted, "taking the bait." Cole said they think Heyman has a plan.
In-ring: The Shield made their way through the crowd to the ringside area. Shield then entered the ring and the match started just before the top of the hour.
10 — WWE champion JOHN CENA & #1 contender DANIEL BRYAN & MITB briefcase holder RANDY ORTON vs. THE SHIELD (U.S. champion DEAN AMBROSE & WWE tag champions SETH ROLLINS & ROMAN REIGNS) — six-man tag main event
Orton started things off controlling Rollins in the ring. Orton delivered a snap suplex for a nearfall, then tagged in D-Bryan as Cena gave Bryan the floor. Bryan delivered a big missile dropkick to Rollins, then Ambrose tagged in.
[Q13 — over-run] Bryan and Ambrose exchanged offense, then Bryan flew through the ropes with a suicide dive to Rollins. Bryan tried to follow up, but Ambrose blind-sided Bryan to give Shield control of the match. As Shield worked on Bryan, the announcers discussed Bryan not being able to take Cena lightly at Summerslam just because he thinks he's the better wrestler. JBL labeled it all gamesmanship to try to find the upper-hand at Summerslam. A solid, sports-like discussion from the announcers removing most of the fluff from Bryan & Cena's earlier promos.
Shield continued to work on Bryan until Bryan finally broke free and tried to reach the face corner, but Rollins pulled him away. Bryan eventually kicked off Rollins to tag in Cena, but the ref didn't see the tag and disallowed it.
The action broke down with Orton deciding to take matters into his own hands. Bryan suddenly chucked Rollins into the ropes, where Orton was standing with his back to the action. This caused Orton to fall to the floor. In the ring, Bryan tried to slap on the STF to Rollins, but the other Shield members jumped Bryan, so the match was thrown out.
WINNER: Team Cena via DQ at 5:24. Shield was positioned as a mechanism to advance the story of Cena, Bryan, and Orton's tension. Not a bad place to be, in general, but they've settled at a level below where they were when they were undefeated.
Post-match, Cena helped Bryan eliminate Shield from the ring, but Orton snuck back into the ring and dropped Bryan with an RKO. Orton and Cena then cleared Shield from the ring before Orton snapped on Cena with a surprise RKO. The crowd helped Orton think about cashing in his MITB briefcase, but Orton took too long to make a decision. Orton measured Cena for a potential cash-in, but Shield hit the ring, so Orton backed away to ringside.
Suddenly, Reigns dropped Cena with a big spear, which ended Cena's night. Shield then put the boots to Bryan as Orton slowly paced the ringside area watching the events unfold. Orton turned and left as JBL noted Orton wants both Cena and Bryan weakened for a potential MITB cash-in at Summerslam.
Back in the ring, Shield assaulted Bryan before setting him up for a triple powerbomb, which they connected with. On-stage, Orton simply watched as Shield stood tall over Bryan. JBL said this is Shield's yard and they own it. Shield's music played as the announcers recapped Orton not caring who the WWE champion is at the end of Summerslam. WWE went to final back-and-forth shots of Shield standing tall in the ring and Orton standing his ground on the entrance stage as Raw ended at 11:08.
FINAL THOUGHTS: When WWE cuts out the fluff and "hidden messages" in the Cena-Bryan build-up, the Cena-Bryan issue is intriguing. But, WWE still doesn't seem to have confidence in Bryan in a PPV main event slot with Cena, as they went heavy on Orton The Third Wheel and McMahon Family Involvement to continue building up the Summerslam main event in two weeks. The most consistent build-up has been for Punk-Lesnar, which is clicking with a simple, yet strong story building to their PPV match.
---
NOW CHECK OUT THIS RECENT FLASHBACK: 10 YRS AGO – KELLER'S WWE RAW REPORT (8-4-08): Mike Adamle debuts as G.M., plus Cena & Batista in main event, Jericho, Punk, Cody, JBL, Kane