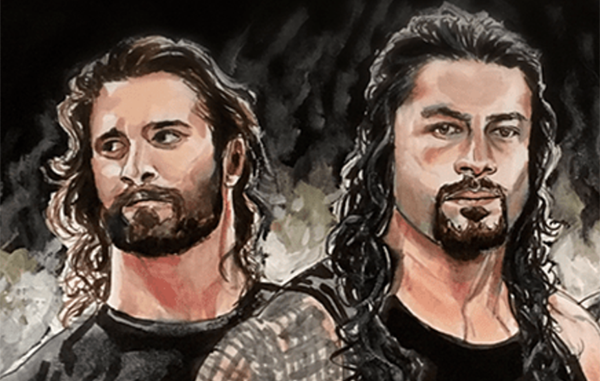 ---
SPOTLIGHTED PODCAST ALERT (YOUR ARTICLE BEGINS A FEW INCHES DOWN)...
---
Roman Reigns is one of the most dramatic, divisive and discussed WWE performers in history. The company makes desperate play after desperate play to make him your favourite graps guy – with limited success. How do they do it? What do they do?
I'm Tom Colohue and this is the Monday Night Reigns-o-Meter.
---
Follow Tom Colohue on @Colohue for news and updates.
---
Last week, Roman Reigns was not the story of Monday Night Raw. Instead, the continuing employment of Brock Lesnar and his continuing employment of Paul Heyman were. This week, while Paul Heyman was still part of the focus, Roman Reigns came back in a big way with multiple segments all across the broadcast. Everything was Roman.
We started the night with a recap of last week, in which Roman Reigns assaulted a superior in Baron Corbin. You'd think that, Stephanie McMahon being Stephanie McMahon, he would have faced some discipline for that action. Maybe he would lose his title shot. Maybe he would be suspended. Maybe he would be arrested.
Instead, nothing happened. Who says consistency is important, eh?
The rest of the opening package featuring Roman Reigns is mostly based around Brock Lesnar. You might think this isn't all about Roman but let's all be honest with ourselves: building Roman's Summerslam opponent is the same as building Roman.
We cut to the crowd, where someone's "Jar Jar wasn't that bad" sign shows that this audience is very deluded. I'm not talking a little deluded, I'm talking so deluded that they tell Kurt Angle he sucks when he comes down. Who would do that?
As usual, Baron Corbin looks the more professional of the two. Kurt, who puts over Ronda Rousey as though she didn't beat the ever living hell out of him a month ago, goes on to celebrate everyone who shows up week after week. Isn't his son cleared to compete? Hasn't his son been cleared to compete for a while? Doesn't he have a son who wrestles on Raw? An American son? A son who isn't a beta? You know, the one who hasn't been on the show for a long time now.
Thankfully this segment is rescued by the arrival of Roman Reigns. There are some boos, which you'd expect from a pro Jar Jar Binks crowd. Thankfully, Jacksonville has clearly been paid thousands upon thousands of dollars to like Roman Reigns. That's a thing now, apparently.
It's seriously not a thing, guys, if I could be serious for a moment.
Roman shows respect for Angle's managerial skills by flubbing the word manager like Angle usually flubs and says WWWWWWE. He runs down Baron Corbin. Corbin's alright with it. Next time he has a character change they should try Bacon Corbin. That'd be over with me.
Roman is glad Angle doesn't suspend Lesnar, which is great news considering that nobody thought that was going to happen. As you might expect with two wrestlers and a general manager in a ring together, a match ends up breaking out. Thankfully, Corbin takes a cheap shot so you know who you're supposed to cheer. It's not always easy in WWE nowadays. Sometimes I don't want to cheer anybody on Raw.
WWE are very clearly banking heavily on Roman Reigns for this show. The main event is Ronda Rousey and the hope is that we will wait the full three hours no matter what's on the show as long as we get that match. For those who aren't too convinced, you have constant Roman Reigns to keep you hooked. He is proven to move the needle, as is Rousey. It's not a bad strategy technically but it does mean those fans who don't like Roman Reigns are going to have a very rough time. Let's check back in on the match, shall we?
There are some good moments, there are also a lot of #CorbinResthold going on. Both these men need to expand their movesets a little but they're rescued by how well refined that offence is. It's a slow moving match but the crowd are into it. As crowds go it's very pro Roman, which is nice leading into the inescapable torrent of abuse that he's going to get in Brooklyn.
That deep six is gorgeous. Gorgeous. Corbin is limited but his moves are just so effortlessly sexy. That End of Days man, that End of Days.
Speaking of the End of Days, the only move on the WWE main roster that has never been kicked out of don't you know, surely we all knew that Corbin was never going to hit it on Roman. There's a reason Corbin usually competes against smaller men. While several people in the crowd pump their fists up in hopes of a spear, Corbin is protected by the distraction of Finn Balor. This year he's a coward. Last year he was a dumpster fire. It's an upgrade at least. Corbin returns to the ring just in time to be fisted by Roman.
Meanwhile, Finn Balor continues his stroke of being The Shield's Best Friend.
Unfortunately other matches then happen and Raw largely winds down in a bad way, entering its usual dry patch that just isn't very exciting. Mojo Rawley gets beaten by Bobby Roode in the eternal race to the midcard. Elias' segment is ruined by Bobby Lashley, both in and out of kayfabe and Seth Rollins gets beaten down. Even Braun Strowman doesn't get much of a response when he interrupts the meeting of two former world champions in Owens and Mahal.
It's all about Ronda. It's all about Roman.
Later in the night, Roman Reigns is forbidden from returning to the ring to help his brother Seth Rollins. Naturally, he accepts this. We all know what's important to Roman; that WWE Universal Championship. Seth Rollins? Nah. Let him suffer.
Oh, they also showed a brief video package highlighting how nice a guy Roman is.
Odds Counter
– Baron Corbin
– Stephanie McMahon
Did Roman Reigns beat the odds?
Yes
Who says consistency is important, eh?
Whatever happened to Brains Strowman? He had a great debut and he hasn't been seen since. WWE really buried that guy.
Whatever happened to Brains Strowman? He had a great debut and he hasn't been seen since. #wwe really buried that guy. #justiceforBrains pic.twitter.com/BPeiEetK8q

— Tom Colohue (@Colohue) August 5, 2018
---
NOW CHECK OUT LAST WEEK'S COLUMN: MONDAY NIGHT REIGNS-O-METER #71: Tracking Roman Reigns's ability to beat the odds and come out on top