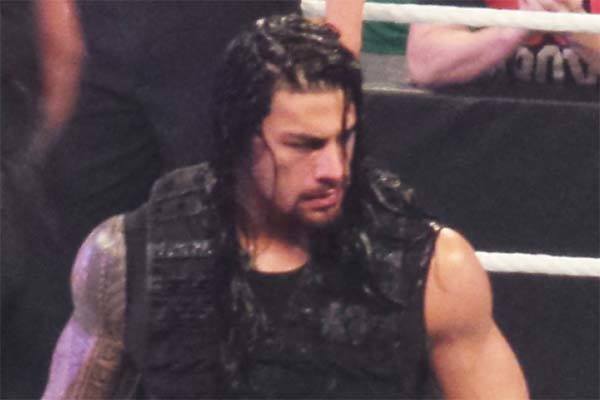 ---
SPOTLIGHTED PODCAST ALERT (YOUR ARTICLE BEGINS A FEW INCHES DOWN)...
---
Roman Reigns is one of the most dramatic, divisive and discussed WWE performers in history. The company makes desperate play after desperate play to make him your favourite graps guy – with limited success. How do they do it? What do they do?
I'm Tom Colohue and this is the Monday Night Reigns-o-Meter.
---
This week's Raw was all about one thing. One major announcement. One huge, monumental moment of must see TV that gave us something we have never seen before and might never see before. That's right, Roman Reigns won the right to face Brock Lesnar at Summerslam for the Universal Championship.
Huge news. Massive. Incredible.
Okay yeah, there was another announcement. Something that changed the landscape of everything around it. Something that I, for one, never saw coming. Yes, that's right, Elias released an EP.
Oh, and Stephanie McMahon announced WWE's next step in recognising that women exist, can wrestle and might want to actually do it but let's be fair, that's not as important as Roman Reigns.
The night opened with a focus on Roman Reigns, standing front and centre on the Raw stage. In fact, as Stephanie and Triple H made their entrance Roman was even sandwiched between two bosses. Usually it's between Vince McMahon and Triple H of course but Stephanie and Sasha Banks is good too I suppose.
Roman did nothing. He didn't applaud. He didn't smile. He didn't really do anything. What a hero.
In the end we didn't get all that much Roman. We got some size issues with Balor and Corbin. We got some Drew McIntyre business. Sasha and Bayley had a lovely cuddle. That was nice. Meanwhile, any viewer knew what was coming. They were getting hyped. They were getting thrilled. They knew what was coming and they wanted it. They wanted it bad.
Roman vs Lashley, the rematch from their very important clash at Extreme Rules, in which there was a midcard scrap, nothing was settled and the match was completely forgotten about the next night, was coming up.
Braun Strowman knew it. In his almost Rollins style promo, he was able to talk like himself for almost the first time and yet he still dedicated almost his whole promo to the celebration of his hero, Roman Reigns.
When Roman Reigns first appeared for his promo, later in the night, Charlie Caruso literally had to introduce him louder to fight off the chorus of boos. Sporting a hell of a black eye, which I'm guessing he got while accepting that Humanitarian award, Roman played his usual angry, intense, smug badass role perfectly. By the end of the promo, cheers had started kicking in.
The usual Roman Reigns system. You start with boos and before you know it you're hearing cheers.
About halfway through Raw, we even saw the odds briefly threaten to move to someone else, with Strowman put into a match with extremely steep odds. Meanwhile, Roman is down to wrestle a straight one on one contest. To be blunt, this might be the first time in almost a week that the odds were actually in his favour.
And so the rematch was on. Roman Reigns competed with the sweatiest man in the world to go to Summerslam and wrestle with the sweatiest man on the planet. A win for Lashley here ensures that the Summerslam main event is fought in a bowl of Beast Bob soup. Roman, a man who is not over, gets a dueling chant all of his own within the first minute of the contest. There is a cheer for Reigns' fellow Shield mate Dean Ambrose. Lashley gets nothing.
I often wonder if Roman would get a reaction any worse if he didn't have an opponent and instead just wrestled with himself for twenty minutes. He could do it too.
Lashley physically dominates, throwing Roman around in a way that makes the fans very happy. Roman sells one rest hold hard, feeling the pain from Lashley's acid chin sweat dribbling on the back of his head. I'd say the gloves are off but Roman's still got his punching glove on. Roman even gets a chance to do his new middle rope leg drop. A sixth move of doom if you will. We even see our first full nelson since the Master Lock was broken by John Cena. Didn't bring their A game at Extreme Rules, did they?
As Roman is held in a submission hold, he once again gets dueling chants that completely ignore his opponent. It's almost like Roman Reigns is the only one anybody cares about, isn't it? Although he also left a kid hanging on a high five so naturally I now know that Roman is the devil.
After kicking out of a Bobby Lashley spear, which involves a front flip and looks incomparably more badass than Roman's, the tide began to turn for poor Bobby Lashley. Roman gave us the patented Hogan hulk up technique and just like that took the win and sent the crowd home happy, apparently.
Odds Counter
– Bobby Lashley
Did Roman Reigns beat the odds?
Yes
Did a great handstand getting into that ring though. Definitely intentional.
Follow Tom Colohue on @Colohue for news and updates.
---
NOW CHECK OUT LAST WEEK'S COLUMN: MONDAY NIGHT REIGNS-O-METER #70: Tracking Roman Reigns's ability to beat the odds and come out on top