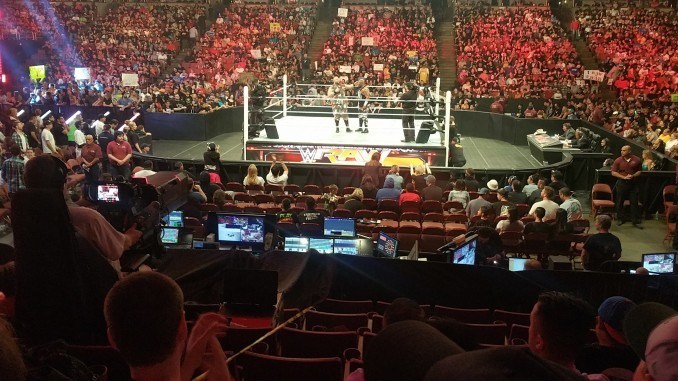 ---
SPOTLIGHTED PODCAST ALERT (YOUR ARTICLE BEGINS A FEW INCHES DOWN)...
---
WWE RAW ON-SITE REPORT
AUGUST 6, 2018
JACKSONVILLE, FLA.
REPORT BY STEVEN G & CHRIS K, PWTORCH CORRESPONDENT
---
If you attend a live event, please send results in the format of the following report to pwtorch@pwtorch.com. Thanks!
---
MAIN EVENT TAPING
(1) No Way Jose beat Curt Hawkins. It seemed the crowd was just excited to get the first match started. It lasted about 5-6 minutes.
(2) Heath Slater & Rhyno & Chad Gable beat The Ascension & Mike Kanellis when Gable pinned Kanellis. Nothing overly special, but it was a solid match. My wife felt like they let the momentum of the match died at the finish. Rhyno was super-hot and when Gable came in it seemed to kill the finish just a little. I felt that they didn't want Rhyno to win by a Gore and then Reigns win by a spear back-to-back.
OTHER NOTES (from Steven G)…
-Attendance was probably 75-80 percent full. Jacksonville seemed to be thrilled to have a WWE Raw TV event back in Jacksonville. It seems like it has been a while since WWE, except for regular NXT house shows, has been in town. The arena's website states that it seats approximately 15,000. They tarped off about two-thirds of the upper deck.
-We sat directly facing the entrance ramp on the side across from the hard cam. We were behind the "Kevin Owens" stage. Our sections were pretty much full and everyone was having a great time.
Partial Raw Thoughts Live from Jacksonville Arena. We left after the Hardy/Wyatt B team match & segment because my wife, who is 6 months pregnant, needed to go home.
-There were a lot of fans wearing t-shirts. In our section, I saw many Seth Rollins, Braun Strowman, and Roman Reigns shirts. John Cena had a strong presence, too. There were some Bullet Club t-shirts, plus The Rock, Stone Cold, and Macho Man.
-I've been to show's in Jacksonville in the past, including the ECW PPV, and this crowd seemed a little less vocal. In the past, I noticed a lot more "wooooooos" and other wrestler cheers before the show. There were a good number of families and young kids. I think most people were there to just see the show, favorite Superstars, and the event. It did seem like the sound was not as loud as other shows and I personally miss the pyro. The live Raw experience is missing a little bit of excitement that it once had.
-The crowd popped for Kurt Angle and was into his promo. They wanted the Roman match.
-The crowd was into Roman Reigns. No matter what people say, the cheers in Jacksonville outweighed the boos for Roman. The cheers were more kid sounding. A few "Roman Sucks" chants broke out, but they came across as the cool thing to do more than hating Roman. That was at least the perspective from my section.
-The Bobby Roode entrance is really cool live, but the crowd hit the concession stands. There was a loud "Duval" chant and the crowd seemed to lose interest.
-The Jacksonville crowd was into Elias. Bobby Lashley is a beast, but he doesn't connect with the crowd.
-A lot of people were talking about how big Titus is in person.
-The crowd was ready for Braun Strowman. Owens got a good pop from my section, but everyone gave one of the biggest reactions to Strowman. I was sitting behind the stage set up so I could see the hydrology lift when the stage tipped over. The crowd was into the segment and match.
-From where I sat, the crowd didn't really react to many of the prepackaged on screen segments.
-Dolph Ziggler and Drew McIntyre cut a promo that was just for the Jacksonville audience to get some heat. Ziggler screamed, but it wasn't too bad. The crowd was hot for Rollins. There was a big "We Want Ambrose" chant at the start and then a big "Burn it down!" chant in our section.
-After the match, the B Team came out and was in the ring for a few minutes. The lights were out and the ring crew came out so Matt Hardy & Bray Wyatt could get underneath the ring. People were into the "Delete!" chant and was obviously happy to see the Deletor of Worlds. We left after that segment.
-My friend brought his girlfriend for her first wrestling experience ever and she thought it was pretty cool. She said it made her want to see what happens at Summerslam. He spent time explaining what was going on storyline-wise and what to watch for in the ring.
-My wife enjoyed it and she loved seeing the main wrestlers. She's not an uber fan but she enjoys watching it (to some degree). She did say though that tonight's show felt like a rerun of last week's show.
OTHER NOTES (from Chris K)
-Biggest pop of the night came for Ronda Rousey.
-In an email when trying to entice fans to buy tickets to the event, they advertised a big tag match featuring Braun Strowman & Seth Rollins & Roman Reigns & Finn Balor vs. Jinder Mahal & Kevin Owens & Drew McIntyre & Dolph Ziggler, but it never happened. No explanation was given and no dark match of any kind took place.
-What I'll remember most about this show a year from now is Ronda's WWE TV debut and Braun flipping over the KO set stage.
BIGGEST POPS
-Ronda Rousey
-Rollins
-Strowman
-Angle
-Reigns at the beginning
---
If you attend a live event, please send results in the format of the following report to pwtorch@pwtorch.com. Thanks!