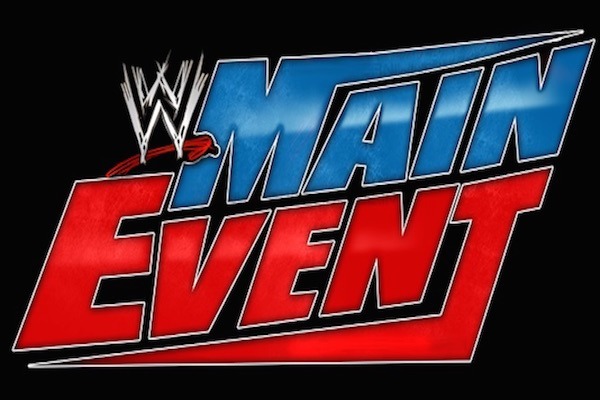 ---
SPOTLIGHTED PODCAST ALERT (YOUR ARTICLE BEGINS A FEW INCHES DOWN)...
---
WWE MAIN EVENT TV REPORT
JULY 10, 2019
HULU STREAMING TV
REPORT BY MIKE F. MEYERS, PWTORCH CONTRIBUTOR
Announcers: Renee Young, Byron Saxton, Sam Roberts
REASONS TO WATCH…
– Exciting finish from Natty & Tamina.
(1) NATALYA vs. TAMINA
As the match got off to a slow-paced start, Sam hit the ground running with his inflammatory remarks about Natalya: "There was a time when Natalya was synonymous with being in the picture for the WWE Women's Championship, and now she's nowhere near it."
Tamina got the upper hand by knocking Natalya down with a shoulder block, then landed a series of kicks in the corner. Tamina whipped Natalya to the mat with a wrist lock, but Natalya was able to reverse out and get to her feet. Natalya ducked a clothesline, then struck Tamina with a kick and a right hand. Natalya snap mared Tamina to the mat, then covered for a two-count. Natalya got up and quickly started to apply the Sharpshooter but Tamina kicked Natalya away and rolled out to ringside to regroup.
On the floor, Tamina paced slowly and angrily, then foolishly turned her back to the ring. This allowed Natalya to take Tamina down with a baseball slide under the bottom rope. Natalya rolled Tamina into the ring, who continued log rolling all the way across the canvas and off the other side to the floor. Natalya followed Tamina out through the ropes, just in time to receive a super kick from Tamina. Tamina seemed thoroughly amused.
Tamina rolled Natalya into the ring and covered her for a two-count. Natalya scooted over to the corner, trying to recover, but Tamina ran in from the opposite corner, turned, and slammed into Natalya hip-first. She dragged Natalya a couple feet away from the corner to make the cover and a two-count. Tamina then locked in a headlock.
Natalya battled out with elbows, but failed at an attempt to scoop up Tamina. Tamina laid in some deliberate heel offense until Natalya sprung to life and hit a surprise roll-up on Tamina for a two-count. Tamina responded with a fast, hard clothesline, sending Natalya again to the mat.
Natalya showed a brief mean streak by muscling Tamina into a corner and landing repeated blows. Even when the ref pulled Natalya away from the trapped Tamina, she charged back in like a mad bull and delivered more right crosses. Once the wrestlers were freed from the corner, Tamina hit Natalya with a Samoan drop out of nowhere, which led to a believable near fall.
With Natalya leaning against the corner, Tamina ran in to deliver a big splash, but Natalya narrowly side stepped the attack. As Tamina stumbled away from the corner, Natalya scooped her up, successfully this time, and landed a sitout body slam for the three-count.
WINNER: Natalya by pinfall.
(Meyers's Analysis: Not a bad match, probably the best one can get from Tamina. It was distracting to see each wrestler make such stupid tactical blunders, one after the other. They did a nice job of teasing a body slam from Natalya early, then paid it off for the finish.)
-Main Event recap session:
Replay of Rollins & Lynch vs. Andrade & Vega from Raw
Recap of Styles heel turn with the Club against Ricochet
Replay of Ricochet vs. the Club from Raw
Recap of Samoa Joe – Kofi feud
Match rundown for upcoming PPV Extreme Rules
Replay of Ziggler – Owens parking lot confrontation from Smackdown
Replay of Owens's ringside "pipe bomb" promo from Smackdown
Replay of Ziggler vs. Reigns from Smackdown
(2) HEATH SLATER vs. ROBERT ROODE
After some early showmanship from Roode, Slater got the upper hand and rammed Roode's head into two different top turnbuckles. Slater mounted Roode up high in the corner and began raining down old school punches, but Roode slipped away after punch number four, then swept Slater's feet out from under him, causing him to drop face-first onto the turnbuckle. Roode ran in from behind and knocked Slater to the mat with a clubbing clothesline, then laid in a series of kicks to his prone opponent as we cut to commercial.
After the break, both men were reeling from carnage witnessed only by the live crowd. The wrestlers met in the middle and Roode landed right punches before knocking Roode down with a knee strike. Slater climbed the corner and landed a flying clothesline, then covered Roode for a two-count.
As Roode slowly got to his feet, Slater crept around behind him, waiting to strike. Eventually he went in for a neckbreaker, but Roode side stepped to dodge the attack. Instead, Slater rolled Roode up quickly for a two-count. After this, Slater successfully landed the neckbreaker and covered for another-two count.
Roode pulled himself up to his feet using the corner ropes, and Slater ran in after him. Roode dodged, causing Slater to splash into the turnbuckles. Roode then executed the Glorious DDT on the stunned Slater and covered for the three-count.
WINNER: Robert Roode by pinfall.
(Meyers's Analysis: Move along, nothing to see here.)
SHOW SCORE (0-10): 5.6
FINAL THOUGHTS: The women's match is perhaps worth watching for its surprising finish, otherwise give this episode a miss.
---
RECOMMENDED: 7/3 WWE Main Event TV Report: Dana Brooke redeems herself and shines against Sarah Logan, discover importance of Logan's howling, Cedric vs. Roode