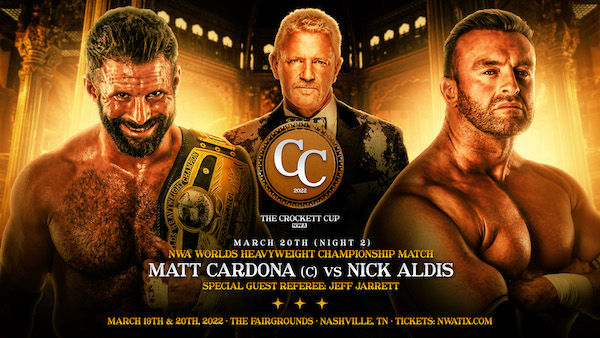 ---
SPOTLIGHTED PODCAST ALERT (YOUR ARTICLE BEGINS A FEW INCHES DOWN)...
---
NWA CROCKETT CUP 2022 NIGHT TWO PPV REPORT
MARCH 20, 2022
AIRED ON FITE TV
REPORT BY JUSTIN MCCLELLAND, PWTORCH CONTRIBUTOR
Announcers: Tim Storm, Velvet Sky, and Joe Galli
Pre-Show Matches
(a) AJ CAZANA vs. BIG STRONG MIMS
Mims pinned Cazana with a backdrop suplex
(b) MAGIC JAKE DUMAS & THE FIXER vs. GOLD RUSHHHH vs. THE MASKED CYON & OGK – Team War Match
Taven was the only survivor in this elimination style match.
(c) ALEX TAYLOR vs. PJ HAWX
Taylor and his manager, Captain Yuma, got into an argument, leading to Hawx making Taylor submit with a cloverleaf. Taylor attacked Yuma afterwards.
Main Card
(1) Crocket Cup Semi Final Match 1: THE BRISCOE BROTHERS vs. THE CARDONAS
The Briscoes man-handled VSK early until Knox was finally able to tag in and flatten Mark with a cross body. VSK missed a frog splash, letting the Briscoes hit Red Neck Boogie and a Doomsday device for the pin at 7:46.
(McClelland's Thoughts: This was the basic Briscoe's match template. They were saving some things since they had to wrestle again later, but it was a good opener.)
(2) Crocket Cup Semi-Final Match 2: LA REBELION vs. THE COMMONWEALTH CONNECTION
La Rebelion are NWA tag team champions. The announcers noted La Rebellion had come into Night One over-confident and almost lost so tonight they were very serious. Wolf clipped Smith's knee from behind and the champs worked over his leg for a while. La Rebelion screwed up some sort of double team powerbomb spot to the point it was unrecognizable. The Commonwealth Connection won soon after when Smith gave Mecha a top rope powerslam at 9 minutes.
(McClelland's Thoughts: A decent enough match until things fell apart after the powerbomb. Again, like The Briscoes, The Commonwealth Connection were saving their energy for later.)
(3) ANTHONY MAYWEATHER vs. JAX DAYNE – NWA National Championship
Mayweather tried to go after Dayne before the bell. For all his big talk, Dayne tried to run, with Mayweather giving chase and continuing to beat on Dayne. Mayweather's aggression finally got the better of him and Jax was able to clip his knee. Mayweather fought back but his knee gave out repeatedly when he'd try big moves. Dayne got cocky working over the knee, letting Mayweather hook a cross arm breaker out of nowhere for the tap out at 10:12. Dayne attacked Mayweather as the champ was leaving and further injured his knee. Dayne then announced he was cashing in some kind of "anytime, anywhere" title shot he was in possession of.
(4) ANTHONY MAYWEATHER vs. JAX DAYNE – NWA National Championship
As soon as Mayweather struggled to his feet, Dayne lariated Mayweather for the pin in :25. Dayne is the new NWA National Champion.
(McClelland's Thoughts: The real match was a little slow, but I liked the ending. The title shot anywhere, anytime concept is very played out at this point.)
(5) THE HEX vs. PRETTY EMPOWERED – NWA Women's Tag Team Championship
Pretty Empowered were outmatched from the start and even attempts to cheat with switches and sneak attacks were easily countered by the champs. Ella finally used a Matrix dodge to gain a brief advantage on Belle. This offense was short-lived when Ella missed a kick and hit Paige. Hex won in 7:10 with Hex Marks the Spot in what was just barely more than a squash.
(McClelland's Thoughts: The Hex looked great, both in how they were presented and the smoothness of both women working separately and together.)
(6) AUSTIN ARIES vs. HOMICIDE vs. DARIUS LOCKHART vs. COLBY CORINO – NWA Junior Heavyweight Championship
Aries and Homicide were the vets who would dominate Lockhart and Corino before fighting each other. Very strong match from all four fighters. Homicide pinned Corino with a Cop Killer at 9:48. The announcers put over it was Homicide's birthday.
(McClelland's Thoughts: Really fun match with a unique story. Because NWA does very little high flying, these guys had to do just a little to stand out as the lighter, faster division. Homicide made the win feel important as well.)
Trevor Murdoch was interviewed. He is mad at Matt Cardona for stealing the world title from him, Nick Aldis for how quickly he jumped in to replace Murdoch in the title match when Murdoch was ruled unable to compete, and the fans for cheering Cardona. Murdoch said he wanted to fight both men.
(7) KAMILLE vs. KYLIE RAE vs. CHELSEA GREEN – NWA Women's World Championship
Kamille accidentally took out the ref when she put Chelsea in a torture rack although the ref bump turned out to be a red herring. Whereas many assumed this would lead to a tainted win for Chelsea, Kylie gave Chelsea a TKO but turned into a Kamille spear and was pinned at 12:02.
(McClelland's Thoughts: I thought the match was sloppy but it had the most heat of anything up to this point. The fake out ref bump was a clever way to mess with expectations.)
(8) TYRUS vs. RODNEY MACK – NWA WORLD TELEVISION CHAMPIONSHIP
Very slow match with Mack basically getting steamrolled by Mack but coming back with a few flurries of offense. Mack managed to superplex Tyrus but Tyrus got his foot in the ropes. Tyrus immediately hit a heart punch out of nowhere for the pin at 8:17.
(McClelland's Thoughts: This was not very good with even the announcer calling it "slow and methodical.")
Aron Stevens gives a weird promo about transcending the business. Then he got "real" and said he was robbed of the Crockett Cup. He promised to reinvent wrestling.
(9) THE BRISCOE BROTHERS vs THE COMMONWEALTH CONNECTION – Crockett Cup Finals
David Crockett and Da Pope join Joe Galli on commentary. Very strong back and forth match. Doug baffled Mark with submission wrestling early. Harry superplexed Mark from the top rope. Mark saved Jay from a running powerslam then ran Harry into Doug. Jay gave Harry a Jay Driller and Mark finished him off with the froggy bow at 13:56. The Briscoes posed with the Crockett cup afterwards and made winning the Crockett Cup feel like a big deal.
(McClelland's Thoughts: This was my favorite match on the show. A great back and forth match with both teams putting in the idea of a struggle to win a trophy and make it feel important.)
(10) MATT CARDONA vs. NICK ALDIS – NWA World Heavyweight Championship
Jeff Jarrett is the special referee. Jarrett said he wanted a classic NWA title match during the referee's instructions, so everyone waited for him to screw over Aldis. Cardona tried to run away, which led to a long brawl on the floor. Cardona ran Aldis into the post, then DDT'd him on the floor to go on a long offense run. Cardona repeatedly mocked Jarrett, including doing the Fargo strut and trying a figure four, only to get small packaged. Aldis finally came back with a tombstone and flying elbow for 2. Aldis finally backdropped Cardona to the floor, drawing out VSK and Mike Knox. The Commonwealth Connection came out to save Aldis and in the commotion, Chelsea Green gave Jarrett a low-blow. Mickie James then emerged from the crowd and threw Green out of the ring. Aldis blocked Radio Silence from Cardona and locked on the cloverleaf for the apparent tap out win… but, in fact Jarrett, believing James had been responsible for the low-blow, DQ'd Aldis at approximately 21:00.
(McClelland's thoughts: What would a classic NWA title match be without a Dusty finish? Seriously, this match was actually very well booked with a lot of drama and playing with expectations of someone screwing over Aldis. The end was a bit messy, but also dramatic enough to build for a rematch.)
Overall Thoughts: A very enjoyable show. The NWA is never very flashy, but presents an easy watch of mostly good action. The last two matches in particular were strong and the announcers did a good job of explaining what's going on for new viewers.
---
CATCH-UP: 3/19 NWA CROCKETT CUP 2022 NIGHT ONE REPORT: First round and quarterfinal round tournament action, more