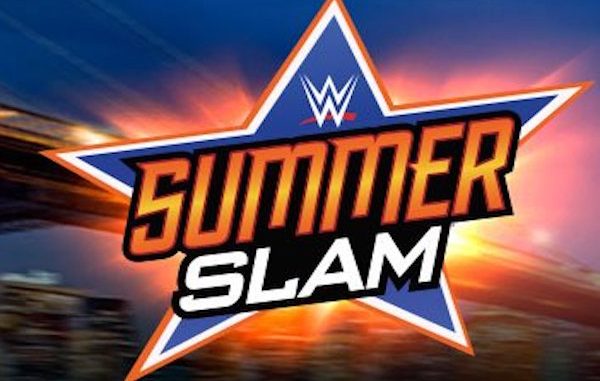 ---
SPOTLIGHTED PODCAST ALERT (YOUR ARTICLE BEGINS A FEW INCHES DOWN)...
---
It's Been A Long Minute (and Six Hours) – McNEILL Previews WWE Summerslam 2016 (w/Wrestling History Lesson!)
Y'all don't really even know what you're aiming at
So far back, what'cha waving at?
Y'all can't see the stage that I'm playing at
And y'all hating that. But that's why I do it
– "Welcome" by Fort Minor
Wake the pets and call the neighbors, it's time for our exclusive WWE Network Premier Show projections!
DISCLAIMER: Projections are based on what the columnist would do if he were booking this event, instead of Paul "NXT" Levesque, Runjin Singh, Ed Koskey, Ryan Ward, and WWE chairman Vincent Kennedy Trump McMahon. Projections are not predictions, because this is the column where everything's made up and the points don't matter. This preview has been sealed in a mayonnaise jar on Funk & Wagnall's porch since noon today. Some of our departing contestants will receive a picnic basket from Picnic Time. The exquisitely handcrafted Napa picnic basket contains wine and cheese for two and was designed for the picnicking elite. The unique, original design is functional as well as elegant. Furnished by Picnic Time. Pat McNeill's wardrobe is provided by Botany 500. Remember, this is only an exhibition. This is not a competition. Please, please, no wagering. This lineup is based on the best available information as of this writing. These predictions are based on what the columnist would do if he had creative control over WWE, right after he adds a whole bunch of 1970's and 1980's wrestling to the Vault on WWE Network.
After last night, a number of people were asking the question "Why can't Raw and Smackdown be more like NXT?" More to the point, they wanted to know why WWE's "premier shows" like Summerslam can't be more like NXT Takeover. Here's a short list of reasons why:
– NXT does three Takeover shows in full-sized arenas per year. WWE is planning to have 20. This gives NXT more time to prepare.
– NXT Takeover ran a little over 150 minutes. WWE's major shows (like this one) are booked to last six freaking hours. I love NXT's show as much as the next guy, but if Takeover had 13 matches last night, and ran six hours later, you'd have noticed.
– WWE is trying to get mainstream media attention for Raw and Smackdown, because they're on major television networks. NXT? Not so much.
– NXT tapes the bulk of its television within 30 miles from its home base, so its wrestlers are fresh, and the TV crew has more prep time. WWE tapes its TV shows on the road at the end of a weekend loop.
– NXT turns over 90 percent of its roster every twelve months. WWE still has some of the same main roster guys from the last brand split.
– NXT shows are geared toward WWE's targeted demographic of 18-49 year olds. WWE Raw and Smackdown are geared toward WWE's target demographic of one 70-year-old male with attention deficit disorder and a love of tuna fish. So there you are.
Before we preview tonight's show, let's get to this month's edition of the Wrestling History Lesson, because that's why many of you clicked here in the first place. Twenty years ago, on August 19, 1996 the World Wrestling Federation presented a live episode of Monday Night Raw from the Civic Center in Wheeling, West Virginia. One of the big matches on the program was a four man battle royal. It was Sycho Sid vs. Steve Austin vs. Savio Vega vs. Goldust. Jim Ross, Kevin Kelly, and Jerry Lawler had the call.
What was happening in World Wrestling Entertainment 15 years ago? I'm glad you asked! On August 16, 2001 the World Wrestling Federation presented its first-ever live episode of Smackdown from the E-Center in Salt Lake City. Utah. Your opening match saw a one time only battle between "The Rock" Dwayne Johnson and Sean Stasiak. No, really. Michael Cole & Paul Heyman had the call.
Did you catch the opening match on WWE Superstars this week? Watch it now (sort of). It's Sin Cara going one on one with former Intercontinental Champion Curtis Axel. Tom Phillips & Corey Graves have the call.
Michael Cole, Mauro Ranallo, Corey Graves, David Otunga, Byron Saxton, John B. Layfield, and the late Dr. Joyce Brothers will be announcing the show. Renee Young, Booker T, Lita, and Jerry Lawler will be doing the pre-show while Tom Phillips will be hiding in the social media lounge. On with the program!
American Alpha, The Usos & Hype Bros vs. The Vaudevillians, Breezango & The Ascension (Kickoff Show Match): Didn't we see this one on Smackdown? Yes, yes we did. Projection? The Alphas pin Simon Gotch with Grand Amplitude and we tease more tension between American Alpha and The Usos. (Because, really, that's the only tag team rivalry that looks interesting.)
Sami Zayn & Adrian Neville vs. The Dudley Boyz (Kickoff Show Match): Still waiting for the Dudleys to split, so D-Von can debut his new weird internet character and get his wife and kids back on camera. Hey, don't look at me. I didn't invent the trend. Projection? Neville pins D-Von with the Red Arrow. WWE brings back Los Conquistadores to feud with Bubba & D-Von on Superstars every week.
Cesaro vs. Sheamus (Kickoff Show Match): This is scheduled to be the first match of a best of seven series. By rule, the heel must go over. Projection? Sheamus wins dirty with a Brogue Kick while Cesaro is tied up with the referee.
Carmella Van Dale, Becky Lynch & Naomi Fatu vs. Natalya Kidd, Alexa Bliss & Eva Marie Coyle: Yes, we know, Eva Marie is suspended from WWE. But don't worry. We can tie this into the gimmick. Projection? The voiceover guy announces that Eva Marie has skipped Summerslam to help the flood victims in Louisiana. Summer Rae from Raw is her replacement. Becky makes Summer tap to the Disarmer.
Certified G's (Enzo Amore & Colin Cassady) vs. Sarcastic Canadians (Chris Jericho & Kevin Owens): Enzo and Big Cass look like potential contenders for the WWE World Tag Team Titles. But Jericho and Owens look like Canadian icons. Projection? Owens pins Enzo with the pop-up powerbomb. I'm guessing we'll have some sort of rematch on Raw where the good guys get their heat back.
Mike Mizanin (w/Maryse Mizanin) vs. Apollo Crews (WWE Intercontinental Title): On the one hand, four months of The Miz as Intercontinental Champion seems like a long time. On the other hand, maybe when the title changes hands, it should go to someone who isn't ice cold. Projection? Distraction, low blow, The Miz wins with the Skull-Crushing finale.
Sasha Banks vs. Charlotte Flair (WWE Women's Title): WWE put the title change on a live Raw to help with the ratings. Unfortunately, you can't do a major title change every week, as WWE's numbers are inching back to what they were before the brand split. Projection? A lengthy match and Sasha wins with the Bank Statement, as both ladies try to move the Women's Division higher up the card.
The New Day (Kofi Kingston & Dr. Xavier Woods) vs. Balls Deep (Luke Gallows & Karl Anderson) – WWE World Tag Team Titles: Yes, I suppose it's time. Projection? Big E. limps to the ring to try and assist his squad, but Xavier falls victim to the Magic Bullet. New champions, who may or may not be booty.
Alexander Rusev (w/Natasha Fatale) vs. Roman Reigns (WWE United States Title): Yes, we already saw the head of the Roman Empire win this one back on Raw. Projection? Rusev gets himself disqualified and keeps the title. I'll get you next time, Rusev!
John Cena vs. A.J. Styles: I feel like we've seen this one before. Cena is WWE's alpha superstar, and deservedly so. But we need a top heel for Smackdown, so this has to happen. Projection? Styles pins Cena with a handful of jorts to earn the next shot at the WWE World Heavyweight Title.
Dean Ambrose vs. Dolph Ziggler (WWE Heavyweight Title): Everyone agreed that Dolph Ziggler desperately needed a personality to be a top-level guy in the modern WWE. So the company gave him Shawn Michaels' personality. Hey, it's a process. Projection? This will be a long match, and this will probably be a good match. Ambrose wins with Dirty Deeds.
Finn Balor vs. Seth Rollins (WWE Universal Title): The temptation is, with the company stuck in a ratings muck, to pull the trigger on The Demon and get people talking. But if that doesn't work, it's going to be a long football season for WWE. Projection? A brain-addled Jon Stewart charges Balor with a pitchfork. Rollins hits the Pedigree while Finn is distracted. Seth Rollins is 2-0 on SummerSlams in Brooklyn when Jon Stewart interferes.
Brock Lesnar (w/Paul Heyman) vs. Randy Orton: Something is most definitely going to happen in tonight's main event, and I don't know what it is. There's a lot of talk about Bill Goldberg showing up, and that would certainly liven up Raw. But I'm not holding my breath. Projection? Orton hits the RKO, the Wyatts drop by to say good evening, and Lesnar rallies to win with the F-5.
Aftermath: Backlash is happening in three weeks. Now I remember why I didn't enjoy everything about the first brand split. Ambrose vs. Styles. Randy Orton vs. Bray Wyatt. See you in Richmond.
Pat McNeill of Greenville, South Carolina. has been a PWTorch Columnist since 2001. He'd pick the Giants to beat the Mets Sunday Night Baseball. You know, if gambling were legal.