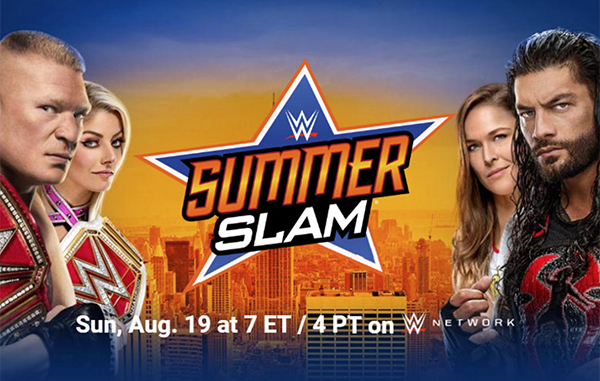 ---
SPOTLIGHTED PODCAST ALERT (YOUR ARTICLE BEGINS A FEW INCHES DOWN)...
---
Wake the pets and call the neighbors, it's time for our exclusive WWE pay-per-view projections!

DISCLAIMER: Projections are based on what the columnist would do if he were booking this event, instead of Paul "NXT" Levesque, Runjin Singh, Ed Koskey, Brian G. James and Presidential Cabinet Secretary Trophy Husband Vincent Kennedy McMahon. Projections are not predictions, because this is the column where everything's made up and the points don't matter. This preview has been sealed in a mayonnaise jar on Funk & Wagnall's porch since noon today. Some of our departing contestants will receive a Norelco Dial-A-Brew coffee maker, with a built-in 24 hour analog clock and timer. Furnished by Norelco. Pat McNeill's wardrobe provided by Rick Pallack of Sherman Oaks. Remember, this is only an exhibition. This is not a competition. Please, please, no wagering. This lineup is based on the best available information as of this writing. These predictions are based on what the columnist would do if he had creative control over WWE, except for the part where gets Mojo Rawley to yell "He ain't hype!" every fifteen seconds during the creative team meetings.
Nothing against Flo Rida's theme song, but I'm more of a Brian Wilson guy.
I'm not sure you're aware of this, but Episode 205 of Wayback Playback is live. Check it out. Episode 206 drops later today.
Before we get down to business, let's get to this month's edition of the Wrestling History Lesson, because that's why many of you clicked here in the first place. Twenty years ago, on August 11, 1998, the World Wrestling Federation taped an episode of "Shotgun Saturday Night" in Des Moines, Iowa. Your opening bout saw the man they called Vader against Jesus Castillo. Michael Cole and Kevin Kelly had the call.
What was happening in World Wrestling Entertainment fifteen years ago? I'm glad you asked! On August 23, 2003, World Wrestling Entertainment aired "WWE Sunday Night Heat", which was pretaped at the Joe Louis Arena in Detroit, Michigan. It doesn't get much better than this, as WWE Smackdown Tag Team Champion Shelton Benjamin locks up with John "Bradshaw" Layfield. Josh Mathews & Ernest "The Cat" Miller had the call.
Did you miss this week's episode of WWE 205 Live? Don't sweat it, everybody else did. Here are highlights of the feature from Tuesday, as WWE Cruiserweight Champion Cedric Alexander battled "Gentleman" Jack Gallagher. Vic Joseph, Percy Watson and Nigel McGuinness had the call.
Let's talk about the Kickoff Show.
The B Team vs. The Revival (WWE World Tag Team Champions – Kickoff Show Classic): With Matt Hardy on the shelf, and Titus Worldwide locked in a death struggle with the Authors of Pain, the Raw tag team division doesn't look so hot. I'm just saying. Projection? Dallas pins Dawson after the champs hit the B-Breaker.
Alexander Rusev & Lana Rusev vs. Andrade Cien Almas & Zelina Vega (Mixed Tag Match – Kickoff Show Classic): The Rusev family has started a rivalry with Team Tranquilo. Yes, it's a big drop from Rusev's title match at Extreme Rules, but this is Smackdown, so it isn't THAT big of a drop. Projection? Aiden English does not help, Zelina Vega hits Lana with a moonsault for the victory.
Cedric Alexander vs. Drew Gulak (WWE Cruiserweight Title – Kickoff Show Classic): We're four and a half months into Cedric's reign as leader of 205 Live. But the Prince of Powerpoint has been on his game, and maybe it's time to see a submission specialist take charge of the purple brand. Projection? Cedric makes one miscue, and that's all it takes for Gulak to lock in the dragon sleeper and choke the champ out. Drew is your cruiserweight champion, and he starts lobbying to get Drew Oh Five Live moved to FS1 next year.
Yes, it will be Michael Cole, Tom Phillips, Corey Graves, Johnathan Coachman & Byron Saxton announcing the show, while Renee Young, Booker T, Peter Rosenberg and David Otunga appear on the All-Star Panel, I mean, the WWE Network preshow. Charly Caruso will be in the social media area, because this isn't Saudi Arabia.
On To The Main Show!
Finn Balor vs. Baron von Constable: Yes, Finn defeated Corbin at Extreme Rules, but WWE needed to keep The Fergal One in a meaningful storyline, so they repeated the month and hoped nobody would notice. I hope they repeat the ending as well. Projection? Sling Blade, 1916, Coup De Grace, one more win for Finn Balor.
Daniel Bryan vs. Mike "The Miz" Mizanin: Sure, there's more than a 90 percent chance of Daniel Bryan reisgning with WWE, but why take chances? The only reason not to have D-Bry win here is so The Miz can get his victory to kick off the feud. Projection? While I fully expect this feud will continue, the fans are going to want their Daniel Bryan moment in Brooklyn. Daniel wins with the running knee.
Carmella Van Dale vs. Becky Lynch vs. Charlotte Flair (Smackdown Women's Title – Triple Threat Match): The triple threat stipulation means there's 16.67 percent less Carmella in the match, which is likely to improve the workrate. (I used Official WWE Math.) Projection? Charlotte surprises Carmella with Natural Selection, but Lynch dropkicks Charlotte out of the ring, and applies the Disarmer for the submission before the queen can stop her. Becky wins the title, Charlotte gives chase and eventually turns heel. My guess is that Carmella turns babyface to even out the sides, but we'll see.
Dolph Ziggler vs. Seth Rollins (WWE Intercontinental Title): Drew McIntyre is in the champ's corner, while Dean Ambrose had returned to stand by Seth. I am slightly disturbed by how much Jacked Up Moxley looks like Eric Young, but that's me. Projection? This feud must continue, and that can't happen if Rollins wins the blowoff here. Rollins clocks Dolph with the ring bell and the champ gets a disqualification victory.
Shinsuke Nakamura vs. Jeff Hardy (WWE United States Title): His tag team partner is sidelined with an injury on Raw, he hasn't even had his mandatory rematch and WWE is already trying to shove Brother Nero into a feud with Randy Orton. Some people would call that "foreshadowing". Projection? Orton interferes. Nakamura wins. Again. Some more.
The Bludgeon Brothers vs. The New Day (Smackdown Tag Team Titles): The New Day had a tremendous match with Sheamus and Cesaro on Smackdown Live a couple of weeks ago. We hope you enjoyed that, because you're not getting a tremendous match here. It doesn't fit the gimmick. Projection? Harper and Rowan drop Big E with a Blue Brand Bludgeoning to retain the belts.
Braun Strowman vs. Kevin Owens (Money In The Bank Contract Match): I know a lot of people like the idea of Owens screwing Strowman out of the briefcase here. I'm not so sure about that. Braun is The Guy in WWE right now. If he's not, the company has done a fine job of pretending otherwise. Projection? Owens hits Braun with every dirty trick in his arsenal, gets powerslammed, and falls to the Monster In The Bank.
AJ Styles vs. Samoa Joe (WWE Heavyweight Championship): Now that Samoa Joe is receiving letters from Wendy Styles, I'm expecting this feud to get a little more personal. Projection? Joe roughs up the champ, but Styles manages to connect with the Phenomenal Forearm for the victory. Don't worry, WWE will find a way to continue this rivalry.
Alexa Bliss vs. Ronda Rousey (WWE Women's Title): Even if WWE misses the mark on the Lesnar-Reigns match, they're golden as long as this match closes out the third hour. That's enough time to move the story to ESPN and FS1, so WWE can hustle the sports reporters out of the building before the fans wear out. Projection? Alexa vamps for a few minutes, Natalya prevents Mickie James from interfering, and the challenger locks in the kimura. We have a new champion, and it's Ronda Rousey.
Having Ronda win the title also answers the question of why she's not wrestling every Monday on Raw. She'll be in action once a month for the paying customers on WWE Network. And she's already wrestled on Raw once. It's a better deal than WWE had with Brock Lesnar.
Brock Lesnar vs. Roman Reigns (WWE Universal Title): Would WWE have Carmella win the Smackdown Women's Title only to take the championship off her at the next pay-per-view? (Actually, they would. Never mind.)
Projection? Early on in the match, Brock gets a very near fall off of the F5. The two brawl around ringside. Reigns goes for a Superman punch, misses and knocks out Heyman, who gets stretchered from ringside. The Revival swagger down to ringside, but Rollins and Ambrose come out and run off the Top Guys. Roman hits a superman punch/spear combo, but Brock kicks out. Reigns wants to try it again, but Lesnar hits a german suplex and bumps the ref.
Brock hits two more suplexes. An F5 for Roman. Baron Corbin runs in, wearing a referee shirt, but refuses to count the pin. Mojo Rawley runs in to cause trouble, but Brock hits Rawley with an F5. All this gives Reigns time enough to recover. Superman punch, spear, and Reigns wins the title. Corbin raises Roman's hand in victory.
If that isn't subtle enough, Stephanie McMahon hosts a victory celebration for Roman on Raw. She introduces Constable Corbin and his new enforces, Rawley & The Revival, who make up the (ahem) Monday Night Law. To get the title off of Lesnar, The Authority & Corbin bypassed the "ineffective" Kurt Angle and made a deal with Roman Reigns.
Instead of having babyface Roman battling a weak heel roster and having fellow babyface Braun Strowman looking over his shoulder, heel Reigns has all sorts of babyface challengers. There's Strowman, Rollins, Ambrose, Finn Balor and Bobby Lashley (managed by Paul Heyman). That doesn't include the next challenger, Kevin Owens. KO is miffed that Hunter & Stephanie abandoned him for the Big Dog, and becomes the sort of misanthropic good guy you only find in professional wrestling.
Enjoy.
Aftermath: We go to WWE Hell In A Cell, which probably won't contain the same matches that they're currently advertising. We'll see you there.
---
Pat McNeill has been a PWTorch Columnist since 2001. He lives in Greenville, South Carolina. He'd take Monday Night Football on ESPN trouncing Raw in the ratings tomorrow night. You know, if gambling were legal.