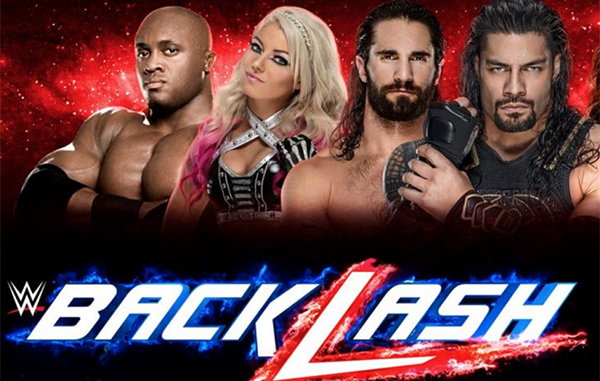 ---
SPOTLIGHTED PODCAST ALERT (YOUR ARTICLE BEGINS A FEW INCHES DOWN)...
---
Wake the pets and call the neighbors, it's time for our exclusive WWE pay-per-view projections!
DISCLAIMER: Projections are based on what the columnist would do if he were booking this event, instead of Paul "NXT" Levesque, Runjin Singh, Ed Koskey, Brian G. James and WWE President Vincent Kennedy Saudi McMahon. Projections are not predictions, because this is the column where everything's made up and the points don't matter. This preview has been sealed in a mayonnaise jar on Funk & Wagnall's porch since noon today.  Some of our departing contestants will receive a Black & Decker SmartBrew® coffee maker. The SmartBrew® has a Perfect Pour® Carafe with a dripless spout and ergonomic handle. Pat McNeill's wardrobe provided by Bernini.  Remember, this is only an exhibition. This is not a competition. Please, please, no wagering. This lineup is based on the best available information as of this writing. These predictions are based on what the columnist would do if he had creative control over WWE, except for where he replaces Mr. McMahon with the booking engine from WWE 2K18.
If you had told the 2013 version of Pat McNeill that the top heel in WWE in 2018 would be former IWGP Champion Shinsuke Nakamura, he wouldn't have believed you.
If you had told the 2013 version of Pat McNeill that Nakamura's WWE gimmick would be hitting people in the junk, he would have found that a lot more plausible.
I'm not sure you're aware of this, but the new episode of Wayback Playback is live.  Check it out.
https://www.hipcast.com/podcast/H1kJTZ94
Before we get down to business, let's get to this month's edition of the Wrestling History Lesson, because that's why many of you clicked here in the first place. Twenty years ago, on May 9, 1998 the World Wrestling Federation aired an episode of "Shotgun Saturday Night" from the Richmond Coliseum in Richmond, Virginia.  Your featured match saw WWF Light Heavyweight Taka Michinoku in a non-title bout against David "Kid Kash" Jericho.  Michael Cole and Kevin Kelly had the call.
What was happening in World Wrestling Entertainment fifteen years ago? I'm glad you asked! On May 3, 2003, World Wrestling Entertainment aired "WWE Velocity", pretaped from Manchester, New Hampshire.  The opening match of that program saw former ROH Champion Jamie Noble (w/ Nidia) facing the late Crash Holly (w/ Shannon Moore).   Josh Mathews & Ernest "The Cat" Miller had the call.
Did you miss this week's Smackdown Live, or forget what you saw on the program?  It's okay, because WWE posted some highlights for us.  WWE Champion AJ Styles was talking with Renee Young about Greatest Royal Rumble, and Shinsuke Nakamura responded.  Tom Phillips, Corey Graves & Byron Saxton had the call.
Bayley Martinez vs. Ruby Riott (Preshow Classic): The best part of WWE's return to dual-brand pay-per-views?  The disappearance of WWE's midcard.  This also happened the last time WWE did dual-brand pay-per-views.  That's why these two ladies will be rushing through an eight-minute match.  Projection?  Sasha does not come to ringside to help her friend, which Bayley at a three-on-one disadvantage.  Morgan distracts, Logan interferes, Ruby wins with the Riott Kick.
Yes, it will be Michael Cole, Tom Phillips, Corey Graves, Johnathan Coachman & Byron Saxton announcing the show, while Renee Young, Booker T, Sam Roberts and David Otunga appear on the All-Star Panel, I mean, the WWE Network preshow.  Mike Rome will be in the social media lounge, hating his life.
On To The Main Show!
Braun Strowman & Bobby Lashley vs. Kevin Owens & Sami Zayn:  After the Saudi Rumble, it's obvious Braun Strowman is the top fan favorite in these parts.   Projection?  Nattie uses her feet on the ropes for leverage to pin Lynch.  We might as well have a Smackdown women's feud that doesn't involve the Riot Squad.
Daniel Bryan vs. Colin Cassidy:  Let's say I'm in charge of booking WWE Smackdown.  Which main event feud is going to draw bigger crowds, better ratings, and more subscriptions to WWE Network?
a) AJ Styles defending the WWE Title against top challenger "Big" Colin Cassidy.
b) Shinsuke Nakamura defending the WWE title in a rematch with AJ Styles, and then against Daniel Bryan.
Projection? Bryan catches Big Cass with his running knee for the victory.  Cass gets to sit another for another spell under the learning tree.  Maybe he will get to feud with Rusev.
Roman Reigns vs. Samoa Joe: Many viewers are waiting for Roman Reigns to snap and turn heel on the WWE audience, and on that nice Braun Strowman fellow.  I have been waiting three years for Reigns to turn heel, and I'm fairly positive it's not happening.  Projection?  Joe pins Reigns clean after a muscle buster.  I feel like this is going to be a big night for the fan favorites.
Carmella Van Dale vs. Charlotte Flair (WWE Smackdown Women's Title): Would WWE have Carmella win the Smackdown Women's Title only to take the championship off her  at the next pay-per-view?  (Actually, they would.  Never mind.)  Projection? The Iiconics run in to attack Charlotte again, Becky Lynch and maybe Naomi come out to run them off, and the entire match ends in a clustermess with Carmella keeping the belt (and escaping up the aisle.)
Nia Jax vs. Alexa Bliss (WWE Women's Title):  Alexa hasn't been presented as a real challenge for Ms. Jax, and has been trying to get inside the champion's head.  But if Alexa can't beat Nia, who's left on the heel side of Raw?  Ruby Riott?  Projection?   Jax wins with the Fireman's Carry Powerslam.  And yes, we're down to Ruby Riott and Mickie James as potential heel challengers.  Someone is going to have to switch sides.
Jeff Hardy vs. Randall K. Orton (WWE United States Title): Brother Nero has been back for a month, and he's already won his feud with Jinder Mahal over the WWE United States Title.  Jeff Hardy is the hottest new act in the company.  That's not bad for a guy who debuted on the main roster in 1999. Projection? Hardy wins with the Swanton.  Orton is in the right position to take the Whisper In The Wind, so that works out.
Seth Rollins vs. Mike Mizanin (WWE Intercontinental Title): Brock Lesnar's reign as WWE Champion means the Architect Arsonist is the top male singles champion on Raw.  At least for tonight.  Actually, Miz would make a fine challenger for AJ Styles, although WWE was teasing Miz against Jeff Hardy on Smackdown last week.  Projection?  I expect some backstage interaction between Miz and his Tourage, but I don't expect them to factor into the finish.  Rollins retains with the Curbstomp of Doom.
AJ Styles vs. Shinsuke Nakamura (WWE Heavyweight Championship – No Disqualification):  The reason this feud is still going is due to Nakamura giving Styles a donkey punch at every opportunity.  So Smackdown GM Paige Knight decides to have a match where punches to the groin are legal.  Brilliant!   Projection?  There's only one way to go.  The referee misses Nakamura punching Styles in the ballpeens, but doesn't miss the Kinshasa the challenger hits moments later.  Shinsuke Nakamura has the WWE Title.  The lineage goes from Bruno to Backlund to Bret Hart to Shinsuke Nakamura.
Aftermath:   We go to WWE Money In The Bank.  Lesnar vs. Strowman, and some sort of Styles-Nakamura rematch.  We'll see you there.
---
Pat McNeill has been a PWTorch Columnist since 2001. He lives in Greenville, South Carolina. He'd take Utah over Houston  in tonight's NBA game. You know, if gambling were legal.