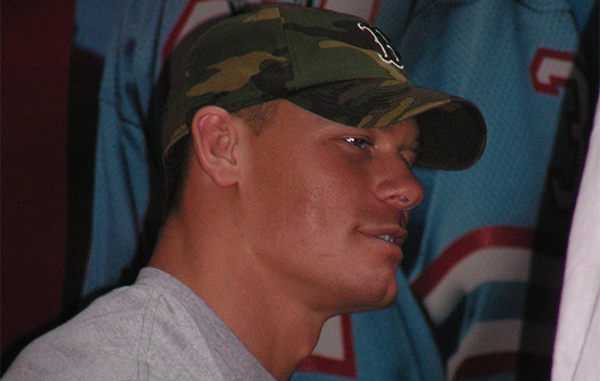 ---
SPOTLIGHTED PODCAST ALERT (YOUR ARTICLE BEGINS A FEW INCHES DOWN)...
---
WWE SMACKDOWN PRIMER
JANUARY 1, 2019
PITTSBURGH, PA. AT THE PPG PAINTS ARENA
AIRS ON USA NETWORK 8 P.M. EST
BY FRANK PETEANI (@FrankPeteani), PWTORCH SPECIALIST
Announcers: Tom Phillips, Byron Saxton, and Corey Graves
Personal Note to PWTorch Readers
As I did in yesterday's Raw primer, I would like to wish everyone and their families a happy and healthy prosperous new year.  Thank you to all whom have taken the time to read my primers.  I sincerely hope I serve you well getting ready for the shows and look forward to continuing to do so here in 2019. 
Arena and Items Advertised by WWE
Tonight's New Year's Day episode was pre-recorded this past Saturday in the PPG Paints arena in Pittsburgh, PA.  The arena previously hosted Smackdown in March of this year in the run-up to WrestleMania and also was the site of this year's Extreme Rules.  Here are the items advertised by WWE.com for the show:
New Day's New Year's Day Celebration
John Cena Returns
What will be the fallout of Mr. McMahon's attack on A.J. Styles
What's next for Miz and Shane McMahon
How will Rusev's U.S. Championship reign begin?
As has been the case the past few weeks due to the holidays, there are spoilers out for tonight.  I have not read any of them and treated this article as if you have done the same.
New Day's New Year's Celebration
Here's what WWE.com is saying about this segment:
It wouldn't be New Year's Day without a celebration. Thankfully, The New Day is here to throw a party worthy of 2019.

There's sure to be plenty of pancakes at The New Day's New Year Celebration, but what else will Kofi Kingston, Xavier Woods & Big E have planned for the WWE Universe?
Yeah so, we're doing this.
Frank's Analysis:  Thankfully, New Day is here to throw a party worthy of 2019.  Thankfully folks!  We would not know what to do with ourselves if we didn't have New Day flinging pancakes or gyrating for us on a regular basis.  It is interesting to note I came across and article saying New Day will no longer be allowed to fling pancakes into the crowd.  Apparently, something happens in tonight's segment that doesn't sit well with Vince McMahon.  It's hard to know if it's true, but if it is, it's no great loss to me.  I understand people get a kick out of New Day, but I don't need their antics on a weekly basis.  I'm hard on them because they're talented men and should be presented as credible wrestlers.  Drop the pancakes, the gyrations, and the trombone.
John Cena Returns
Sixteen-time world champion John Cena returns to WWE programming for the first time since Super Showdown this past October and Smackdown for the first time since the run-up to WrestleMania last year.  His return was one of Vince McMahon's "gifts" to the fans as he announced last week on Raw.
In early 2018 Cena pursued the WWE Championship but came up short.  He then went on to face the Undertaker at WrestleMania and lost a strange squash match.  He returned in October to team with Bobby Lashley and defeated Elias and the currently injured Kevin Owens.
Tonight, we kick off 2019 with the return of Cena.  He is a "free agent," and will also be part of Raw in some capacity as Vince pointed out.
Frank's Analysis:  It's WrestleMania season, and thus we can expect the heavy hitters to start making their way back.  No matter how you feel about Cena, he's been the guy in WWE since 2004 (I contend he became a big deal with the babyface version of his thuganomics gimmick).  It's likely he's in the WWE Championship picture, as a match with Daniel Bryan has a WrestleMania feel to it assuming Bryan is still champion at that point.  Either way, we'll look forward to what he brings to the table as we get ready for the Royal Rumble and the start of WrestleMania season.
Mr. McMahon Attack on A.J. Styles
At the close of Smackdown last week, WWE Chairman and CEO Vince McMahon confronted A.J. Styles.  He told him he felt they were a lot alike, and there was an animal inside him wanting to come out.  He wanted to know the real A.J. and why he was letting people compete in "his house."  He then proceeded to slap A.J., to which A.J. punched him back and knocked him to the floor.  Here's the YouTube clip to get the full effect:
Tonight, we can expect to follow up on this situation.
Frank's Analysis:  It was a strange segment that came somewhat out of nowhere.  Historically, when a former champion moves out of the title picture or when someone prominent is unoccupied, we've seen him get involved with the McMahons in some way.  Shawn Michaels in 2006 comes to mind; however, I don't see this leading to a match between the two at WrestleMania the way that situation went.  Where this goes is anybody's guess.  It certainly tells me they value A.J. to have him take a shot at Mr. McMahon and keep him occupied after running through pretty much all of the heels on Smackdown.  We'll need to see more to get a better feel as to where they are headed with the situation. 
Next for Miz and Shane McMahon
After weeks and weeks of hiring jobbers and referees, Miz had Shane McMahon on MizTV last week to ask him to be his partner again.  Miz revealed his motivation for wanting to team with Shane.  He said nothing was ever good enough for his father, even when he main evented WrestleMania years ago and retained the WWE Championship over John Cena.  He said he was finally proud of him during the World Cup tournament and wanted to continue the partnership with the man who became best in the world.  Here's the segment from last week:
Tonight, we'll learn what's next for the "co-besties."
Frank's Analysis:  It was clever of Miz to tap into his feelings about his father with Shane, whether or not they are actually true.  Watching Miz and Mrs. I don't get the sense their relationship is strained in any way, but who knows.  At any rate, like A.J., Miz is also unoccupied at the moment and thus his involvement with a McMahon is no surprise.  It's possible this leads to a match between the two at WrestleMania.  If that's the case, it's early to try and predict who would turn on who.  Just thinking outside the box, the situation with A.J. and Vince could be tied to this as well.  Perhaps Miz and Shane vs. A.J. and a partner of his choosing with Vince's blessing could be in the offing?  I'm just throwing spaghetti at the wall here to try and figure out where this is headed.  It could also be a partnership that makes Miz a babyface and just fizzles out over time.
Rusev's U.S. Championship Reign Begins
In the main event last week, Rusev captured his third U.S. Championship by defeating incumbent champion Shinsuke Nakamura.  He did so with his signature Machka kick after a well-wrestled 20+ minute match.  Here's some highlights from the match:
Tonight, we'll see what's in store for Rusev as his reign begins.  He has been working with Nakamura at house shows, but there's no guarantee we'll see a rematch.  The McMahons have said the automatic rematch clause no longer exists.
Frank's Analysis:  It was an enjoyable match and it was great to see Rusev genuinely happy winning the U.S. title on an episode aired on his birthday, Christmas Day.  Rusev had been one of the more popular figures in 2018, and we wondered when WWE would capitalize on that popularity.  It'll be interesting to see his opponents going forward.  After Shinsuke, you're looking at Samoa Joe and Andrade "Cien" Almas on the heel side.  Almas lost to Mustafa Ali last week and has lost several matches recently, so he'd have to be heated up to feel legitimate.  Joe could be turned around quickly, and perhaps that process began with his strange DQ victory over Jeff Hardy last week.
Other Items from Last Week…
R-Truth and Carmella came out as Santa Claus and an elf, respectively, to start the show.  They wanted to both celebrate Christmas and tout their #30 entries I their upcoming Royal Rumbles.  They were interrupted by WWE Champion Daniel Bryan.  He told them there'd be no Santa Claus and North Pole in 20 years.  After Truth and Carmella did a dance break, Bryan went after Truth.
The Good Brothers (Karl Anderson & Luke Gallows) and the Usos defeated Smackdown Tag Team Champions the Bar (Cesaro & Sheamus) and Sanity (Killian Dane & Alexander Wolfe.  Will Sanity ever win a match?
Start Time & Matches Advertised
This section is not applicable as the episode was pre-recorded Saturday night in Pittsburgh.
---
Follow me on Twitter @FrankPeteani.  My e-mail is fpeteani@gmail.com.  Questions and discussion are welcome.  Thank you for reading!