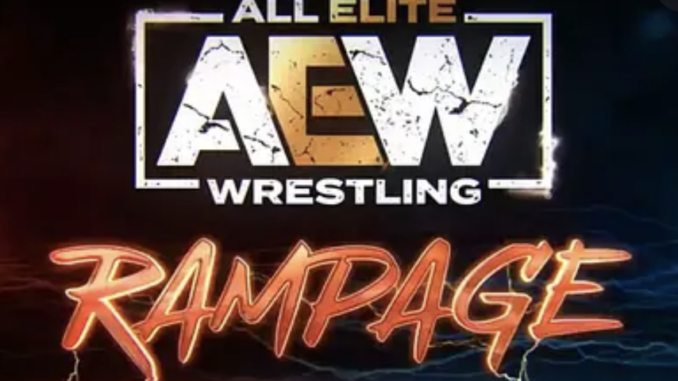 ---
SPOTLIGHTED PODCAST ALERT (YOUR ARTICLE BEGINS A FEW INCHES DOWN)...
---
KELLER'S AEW RAMPAGE TV REPORT
"ST. PATRICK'S DAY STORM"
MARCH 17, 2023
WINNIPEG, MANITOBA, CANADA
AIRED ON TNT (Taped 3/15)
Commentators: Excalibur, Paul Wight, Tony Schiavone
-The Rampage opening theme aired. The show started about 35 minutes later than usual due to a NCAA Men's Basketball Tournament game.
-Excalibur introduced the show as pyro blasted on the stage.
(1) POWERHOUSE HOBBS (w/Q.T. Marshall, Aaron Solo) vs. REY FENIX – TNT Title match
No entrances for the wrestlers, who were already in the ring. Excalibur recapped that Hobbs won the TNT Title and then issued an open challenge, which Fenix answered. Fenix outmaneuvered Hobbs early and then landed a springboard backflip onto Hobbs at ringside. Back in the ring, Fenix leaped at Hobbs off the ropes, but Hobbs caught him and delivered a gut-wrench slam for a two count. Wight called out Hobbs for "a lackadaisical cover." Hobbs snarled for the camera as he went for the pin.
Hobbs rammed Fenix into the ringside barricade, then returned to the ring and struck a pose. Wight said it's quite coincidental that Marshall showed up to repay a debt just as Hobbs won the TNT Title. He said he's an opportunist. Schiavone said he's a glory hound. (Wight said Hobbs has "top 1 or 2 percent power," which means 1 or 2 out of 100 people are stronger? That seems doubtful.) Excalibur said Solo broke into Wardlow's car and stole his passport, so he couldn't get to Canada. They acknowledged the woman at ringside who was in the QTV segments. She was recording the match on her phone. As Hobbs methodically beat on Fenix, they cut to a split-screen break at 5:00. [c/ss]
Fenix made a comeback by gloating over Hobbs and landing a German suplex at 9:00 which popped the crowd. Rey covered Hobbs, but Hobbs powered out with authority at the count of two. Hobbs came back by avoiding a charging Fenix and then shoving him hard into the corner. He landed a spinebuster right afterward for a near fall at 11:00.
Fenix came back with a sudden spinning hook kick and then kipped up with a surge of energy and took Hobbs down with a side kick to the jaw. Both were down and slow to get up. Schiavone said Fenix was so spent, it was hard for him to make the cover. Fenix eventually stood first and climbed to the top rope and then landed a frog splash for a near fall.
Fenix landed three sidekick to Hobbs's jaw. He signaled for a move, but Hobbs blocked it and turned it into a spinebuster. He then applied a torture rack into a slam for the clean win.
WINNER: Hobbs in 14:00.
(Keller's Analysis: This was a good and competitive match with some exciting highspots from Fenix and a lot of power moves and counter-moves by Hobbs to combat that. Fenix is spectacular enough, you could argue this shouldn't have been the lazy "open challenge" situation that AEW leans on too much to justify random title matches on TV. Hobbs is coming along nicely in all facets but doesn't leap out as a guy who's ready to be leaned on for more than this either.)
-After the match, Alex Abrahantes entered the ring and found himself chest to chest with Hobbs. Q.T. Marshall entered and walked up behind Alex with a smile on his face. He then gave Abrahantes a Diamond Cutter.
-They went to the announcers at ringside who talked about the AEW All-Access reality show. A video aired with soundbites from Cole talking about his return and saying he's looking for someone to step up and give him a good fight.
-Excalibur hyped Daniel Garcia vs. Brody King as the main event. [c]
-A promo aired with Stu Greyson talking about facing Jon Moxley next week on Dynamite. He said he's back to get revenge for him and his cohorts giving Evil Uno a concussion. He vowed, "I will break you!"
(Keller's Analysis: It's too bad only half of Dynamite's typical viewership saw that. It was good and it set the table well for the match and what the backstory is that motivates Greyson.)
(2) TAYA VALKYRIE vs. AVA LAWLESS
Excalibur said Valkyrie already had built a strong reputation. He talked about her journey from training in Canada, then moving to Mexico and learning the Lucha Libre style. Valkyrie easily fended off Lawless's opening attack. She chopped Lawless in the chest and then took her down hard with a spear. She played to the hard camera with swagger followed by her finisher. Excalibur said it looks like Jade Cargill's Jaded, but Valkyrie has been doing it longer.
WINNER: Valkyrie in under 2:00.
(Keller's Analysis: In this small sample size to the AEW audience, I think Valkyrie came across as a seasoned, formidable addition to the TBS Title picture and a threat to Jade.)
-Afterward, "Smart" Mark Sterling came out with Jade Cargill. Wight said Sterling is an "ambulance chaser" and is probably preparing to sue Valkyrie for using the same finisher as Cargill.
-Matt Hardy, Ethan Page, and Isiah Kassidy trained Stokely Hathaway for his match on Dynamite against Hook. Ethan slammed Hathaway, taught him a splash, had him do sit-ups, and had him run stairs. Hathaway broke up a cobra clutch by Kassidy by tickling him. (That should be done more often in wrestling matches.)
(Keller's Analysis: I have to say the tickling bit surprised me and, well, tickled me a bit.)
(3) MATT MENARD & ANGELO PARKER vs. THE BOLLYWOOD BOYS (Harv & Gurv)
Parker and Menard controlled the early action. Wight compliments Menard's smarts when it comes to tag team wrestling strategy. [c/ss]
Menard and Parker won with a double-team DDT after the break.
WINNERS: Menard & Parker in 7:00.
-They went to the announcers on camera briefly. They went to Don Callis at the Winnipeg airport greeting Takeshita when he arrived with flowers and a big drum ceremony. Excalibur then hyped the Kenny Omega vs. Vikingo match for Dynamite and commented on clips of him in Mexico hitting some big spots.
(Keller's Analysis: I can only imagine what the onlookers at the airport thought of this skit. I'm still curious where this Callis-Takeshita situation lands. (See how I worked in an airport-related reference there? Good!))
-They aired a segment with The Gunns outside their hotel room ripping on Winnipeg when Top Flight showed up. Austin Gunn said Top Flight are the second best tag team in AEW. Darius asked if they were talking about The Young Bucks or Lucha Bros. Dante took a dig at the Gunns and said they could beat them if they ever got a title shot. Colten Gunn offered a title match to them on Dynamite. "Top Bitches!" the Gunns said before laughing and walking away. Top Flight laughed over the Gunns leaving their bags behind.
(Keller's Analysis: The Gunns are so effectively obnoxious, I get why Tony Khan has chosen to push them as a featured heel act. They're also good in the ring and I don't sense they get the credit they deserve because people resent their personas and are not noticing their attributes in terms of taking bumps and having really good timing. The problem is that despite their attributes, they're seen as jokes by the fans and it does bring down the prestige of the tag division having them at the very top this long.) [c]
-A recap aired of the closing segment from Dynamite with Hangman Page standing between the Blackpool Combat Club and The Elite.
(4) DANIEL GARCIA (w/Chris Jericho) vs. BRODY KING
Garcia and Jericho struck a pose together and smiled for the camera. When the bell rang, Garcia leaped to ringside to stall. Brody went him at ringside. Garcia avoided him and taunted him and then ran from him. When King caught up in the ring, Garcia kicked his ankle.
Brody fought right back including a hard chop to Garcia's chest. Garcia rolled to ringside where Jericho chatted with him. Garcia walked up to Julia Hart and had some words for her. Brody son Garcia around and then slapped his chest with both hands. (He spun him around before hitting him, for the record.) Brody threw Garcia into the ringside barricade and then charged at him a crossbody. Garcia side-stepped a charging Brody and sent him him into the ringside steps. They cut to a split-screen break. [c/ss]
Back from the break, Brody gave Garcia a Bossman Slam for a two count. He followed with a piledriver for a two count. Brody then hit a running cannonball in the corner for a two count; Garcia broke the count with his boot on the bottom rope.
Garcia avoided a charging Brody and rolled him up for a two count. Then he applied a Walls of Jericho. Brody crawled over to grab the bottom rope to force a break. Jericho jabbed Brody in the forehead with the baseball bat. Garcia then applied a submission hold and Brody's hand dropped three times for the win. "He stole it!" shouted Excalibur. "The Jericho Appreciation Society once again sports entertaining their way to victory."
WINNER: Garcia in 12:00
(Keller's Analysis: Why is using a baseball bat as a weapon considered "sports entertainment"? A good win for Garcia, though, even with the cheating because he easily could have just been portrayed as fodder for Brody. That was competitive, with Garcia doing a good job playing the heel role and Brody playing the no-nonsense badass role.)