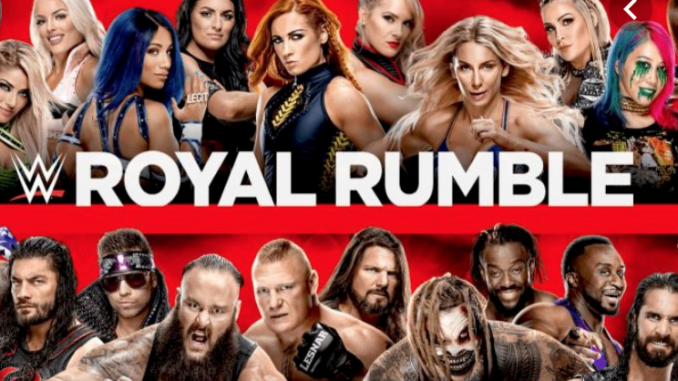 ---
SPOTLIGHTED PODCAST ALERT (YOUR ARTICLE BEGINS A FEW INCHES DOWN)...
---
WWE Royal Rumble 2020 Live Report
January 26, 2020
Houston, Tex. at Minute Maid Park
Report by James Caldwell, former PWTorch assistant editor
After three-plus years away from the wrestling scene, I couldn't turn down the Rumble at my hometown ballpark. I've still kept up with WWE events through the Torch Newsletter, so I wasn't completely in the dark, but it was interesting to see a live WWE show play out without intricate knowledge of all the storylines and build-up.
Overall, the live event was really unique and well-executed in a ballpark setting. They set up the ring in the outfield and created this neat walk-up area from the Astros dugout on the first base side of the field. I've been to other special events at Minute Maid Park and I would say this was the best set-up I've seen.
As for the matches, the standout action was clearly the Royal Rumble. Brock Lesnar dominating the first-half of the Rumble generated so much heat and interest to see someone finally come out and eliminate him. When Drew McIntyre eliminated Brock, it was thunderous. All of that build-up completely flipped to a star-making moment for Drew. Then, Edge's surprise return was right there as the next big reaction of the night. That was an all-time great live moment. After Roman Reigns eliminated Edge, the crowd completely turned on Reigns. When Drew eliminated Reigns to win, the crowd was quite pleased. So, WWE made a huge investment in Drew by giving him those two big moments (eliminating Brock and winning the Rumble) in one match. From a live perspective with no thoughts toward where the storylines are going, I thought they did a great job booking the Rumble breaking it up into two separate segments.
Elsewhere, the walking brawl between Roman Reigns and Baron Corbin was fine to start the PPV. I'll say this, it was better than watching them lumber through a straight-up singles match, but it dragged at times, especially when they disappeared from sight. The crowd was engaged, but this could have been a good slot for a 10-minute, athletic singles match to get the crowd revved up.
The Women's Royal Rumble that followed was well done. You could just tell that Charlotte was going to win, but WWE kept the crowd's interest with some well-done sequences, moments, and surprise returns.
At this point, there had been two matches in 90 minutes. The crowd saw this as a bathroom break opportunity, leaving the Women's Title match with no real opportunity to generate crowd interest. It was a pure comedown match after two long matches to start the PPV, especially with Bayley playing an emo heel and most of the crowd seemingly unfamiliar with Lacey Evans.
The crowd came back around for Daniel Bryan vs. Bray Wyatt. Bryan's crossface submission with the strap across Bray's teeth generated one of the loudest reactions of the night up until the Rumble main event. That was a very memorable moment to give Bryan something to hang his hat on before losing in the end.
Becky vs. Asuka was able to build on the Bryan-Bray momentum to deliver a really good semi-main event title match. Becky is definitely a big deal in the eyes of fans. She captivated the entire audience from what I could tell.
Other Notes:
– One thing that stood out to me was the lack of an MC hosting the live event portion of the PPV. I can't remember ever attending a live WWE show where the ring announcer or someone else did not interact with the crowd before, during, or after the event. I suppose during a PPV, there isn't a lot of opportunity to rev up the crowd since there aren't any commercial breaks, but there wasn't even audience engagement before the PPV started. It was just video packages or voice-overs leading in and out of matches. I found that interesting.
– Minute Maid Park was like a time capsule from Game 7 of the 2019 World Series. The World Series graphics were still on top of the visitor's dugout (as seen when Reigns pinned Corbin in the opening match) and there's still graphics of Gerrit Cole in an Astros uniform around the concourses. MMP hasn't been turned over to the 2020 season just yet! But, they did remove all of the netting from behind home plate and along the foul lines to create a clearer view of the ring from the bleacher seats. That was nice. As for the whole sign-stealing deal, I was surprised there were no references being in the Astros' park. Obviously, I couldn't hear commentary, but nothing live about it. I thought for sure Elias was going to have something to say at the start of the Rumble, but nada. Just the stale "Houston, We Have a Problem" line that generated 42,000 x2 eye rolls.
– There were some fans throughout the arena holding up signs or jerseys tributing Kobe Bryant. That tragic situation seemed to be in the back of a lot of people's minds since it was so fresh. Being back in a live show setting, I was reminded that a live WWE show truly is escapism, as you enter into this alternate universe of fictional storylines and matches playing out before you, but that was on a lot of people's minds.
Biggest Reactions:
– Drew eliminating Brock
– Edge's return
– Drew eliminating Reigns to win the Rumble
– Bryan's crossface on Bray
– Becky submitting Asuka
– Reigns pinning Corbin on top of the visitor's dugout