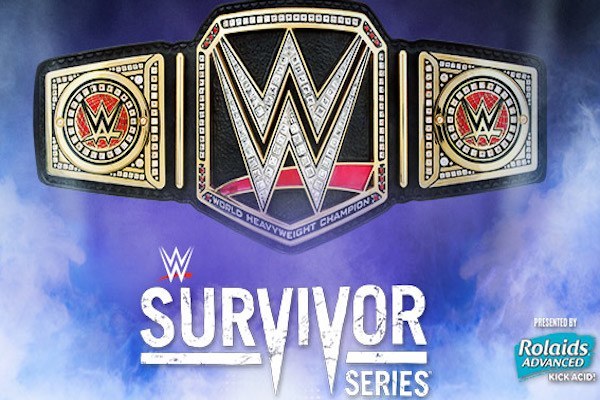 ---
SPOTLIGHTED PODCAST ALERT (YOUR ARTICLE BEGINS A FEW INCHES DOWN)...
---
In this week's Raw Hits & Misses, PWTorch specialist Jon Mezzera reviews Monday's U.K. Raw episode featuring the start of the WWE Title tournament and The Undertaker & Kane reuniting …
RAW HITS
Undertaker /Kane Clips: Once the decision was made to have Bray Wyatt's eulogy for The Undertaker and Kane end the show, it became important for WWE to build up to it, and they did a solid job of it with multiple clips of great moments in their careers throughout Raw. I enjoy these trips down memory lane and these ones underscored the impact of what the Wyatt Family did to these two icons was. I question having this as the main event. The only reason it was the main event was that it was going to be interrupted by Undertaker and Kane. But The Authority, who presumably are putting the show together form a kayfabe standpoint, would not have known that the interruption was coming. So why would Triple H give Bray Wyatt the final slot on the show instead of a match? I may be in a small minority here, but those things bother me.
Paige vs. Becky Lynch: I would have liked to see this match go longer than five minutes as Paige and Becky Lynch have the skill to pull off a very good longer match against each other. But, this was good while it lasted. The post-match beat down was well done. It looked cool how Paige had the PTO on Lynch on top of the announce table. This allowed Charlotte a chance to come out and save her friend. All of that makes sense. I just don't understand having Lynch get the win. Paige is the #1 contender and is facing Charlotte for the Divas Championship at Survivor Series. Why not protect her? You could have her win by hooking the tights, and then when Lynch complains to the referee about the cheating, that is when Paige would see the opportunity to jump her for the post-match beating.
Cesaro vs. Sheamus: This was the highlight of Raw. Cesaro and Sheamus had the best match of the show that lasted 15 minutes. They worked hard and worked well together to put on a good match. I liked how Cesaro sold the arm injury, only to fight through it by switching to doing left handed European uppercuts. The match was hard hitting and physical. Wade Barrett added to the match with his actions in the corner of Sheamus. The use of local football hero Wayne Rooney sitting at ringside and getting into it with Barrett worked well to give the local fans a chance to pop for him, while also allowing other fans a chance to enjoy seeing the heels get their comeuppance and their hero Cesaro a chance to advance in the tournament. Also, I really like that cool innovative pin that Cesaro used (and has in the past) to get the win.
Ambrose vs. Breeze: I don't understand why Tyler Breeze was in the tournament to crown a new WWE World Champion (more later). I don't understand having Breeze lose his first Raw match (again, more later). But, Breeze and Dean Ambrose did have a good first round match. The match went over 11 minutes and was fun to watch. They both performed well. They had good chemistry together in the ring. Breeze was great in showing an aggressive side. I like his character, although it is just a modern twist (with the selfies) on a very traditional pro wrestler archetype character. Breeze plays it well. But it can be cartoonish and goofy if you aren't careful. So, having an aggressive wrestling style is important.
RAW MISSES
Opening Segment: Raw's opening should have been a Hit. I like the idea that Triple H would try to recruit Roman Reigns to replace Seth Rollins as The Authority's new guy. The idea that he would give Reigns a chance to jump to the finals of the tournament made sense. And Triple H was good in his performance. This was a chance for Reigns to stay a babyface with an impassioned speech where he turns Triple H down. He did turn him down, but his delivery was not good. It was not inspiring in any way. In terms of his performance, it was a dud. He did the right thing, and yet Michael Cole as the lead announcer seemed to question his decision instead of making a big deal about how proud he was of Reigns for turning Triple H down. This was a chance for a big Hit to start the show, but it turned out to be a Miss.
Big Show vs. Reigns: As the announcers pointed out, Big Show and Reigns had a memorable last man standing match earlier this year. That was a surprisingly good match. This was a predictably boring match. I know these two can have a good match together since they did once upon a time. But, this was dull.
Tournament Participants: This is maybe more of a WWE Miss than a Raw Miss, but it is telling about how poor the roster is right now when these are the 16 wrestlers that they have to be in this tournament. I understand that part of the problem is injuries to guys like Randy Orton and Daniel Bryan (and of course Rollins himself whose injury set up the need for the tournament in the first place). Part of the problem is that it came when John Cena was taking a break for whatever reason. Of course, there has been no reason given on WWE TV for Cena's absence. So from a storyline stand point, why isn't Cena in the tournament? Part of the problem is that they have this Wyatt Family angle otherwise you would have Kane and Bray Wyatt presumably in the tournament. But while it makes sense not to book Kane in it, why wouldn't Wyatt be in it? There are plenty of worthy people in the tournament, why was Titus O'Neil included? He's been in a losing tag team with no pedigree of being a winning singles wrestler. Why was Kalisto in it? His tag team has had a few big wins lately, but inexplicably they were part of the Wyatt Family squash elimination tag match on Smackdown (instead of a team like Los Matadores). What has he done to be in this tournament? When was the last time that Stardust won a match? Lately he hasn't even been wrestling, just sitting in the crowd with The Ascension sort of stalking Cesaro. Has Tyler Breeze even had a main roster match on Raw or Smackdown? I know he hadn't on Raw, but I don't remember him having one on Smackdown either. So how did he earn this chance? You could even say that neither Neville nor King Barrett have been getting many wins lately. This is a very weak field.
Mex-Americans: Ugh. This continues to be terrible. It is a waste of Zeb Colter. It is a waste of Alberto Del Rio. At least Del Rio doesn't look disgusted to be a part of it like he did at first. But, that doesn't mean that it is working at all. I don't care to hear a heel run down the British population. That gives you some cheap heat there, but what does that do for you here in America? It is a waste of time. Their political rhetoric doesn't get me angry. It just bores me.
Leverage Pins: Did every match end with a roll-up or some type of leverage pin? It sure seemed like it. In reality, the first two matches ended with a finishing move. The third match (Paige vs. Lynch) was the first roll up victory of the night. The fourth match ended with a big non-finishing move (loved seeing Dolph Ziggler win a match with a surprise Super Kick). The problem started with the fifth match when Natalya beat Naomi with a roll-up. It was the same move that Becky Lynch won with earlier, and it was followed by the same type of post-match beat down that we saw in the first Divas match. I assumed that I would be giving a Miss for having the two Divas matches booked with the same ending including the post-match beat down. But at the time, I didn't realize that they would just be the first two in a long list of matches that ended with leverage pins. The sixth match, Cesaro vs. Sheamus, while good, it also ended with a leverage pin, albeit a cool-looking one. The seventh match, Breeze vs. Ambrose, ended with a small package. The eighth and final match ended with Xavier Woods using the ropes to get extra leverage on a pin fall. So, five out of eight matches ended with a leverage pin, including the final four. You have to have more variety than that.
Breeze Loses: I am among the many who would like to see Ambrose vs. Reigns as the final match in the tournament at Survivor Series. A heel turn for Reigns after losing to Ambrose has a lot of potential to set up a heel Champion Reigns (after winning the Title maybe at Royal Rumble) against the Rumble winner (Brock Lesnar?) at WrestleMania. Or you could have him turn heel and not get the Title, setting up a frustrated heel Reigns against his cousin The Rock at WM. Okay, enough with the fantasy booking. Basically all that I really mean by that is that it was good to see Ambrose win to advance in the tournament. However, did that win have to come at the expense of Breeze? I already questioned Breeze's inclusion in the tournament at all. I doubly question it knowing that it meant he had to lose his first match. I'm guessing he will cost Ziggler in the second round against Ambrose, but will that make as much sense after he lost to Ambrose here. He should have had a debut match against someone like R-Truth (and gotten some more squash matches on Smackdown and Raw over the next few weeks) and then cost Ziggler next week to set up their match at Survivor series.
Return of Taker and Kane: There was some good stuff here. The fans were certainly hyped for the surprise return of Undertaker and Kane. It definitely felt cool. It definitely felt like a big deal. So, I'm not totally negative on the show-closing segment. But, where do they go from here? Undertaker and Kane easily destroyed the entire Wyatt Family despite having a 2 on 4 disadvantage. They successfully showed that they still have their magical powers, so Bray Wyatt didn't steal them. They successfully showed that Wyatt didn't really eat their souls. They freaked Wyatt out just by walking out onto the entrance ramp. Then they beat him up. They beat up Luke Harper and Erick Rowan. They beat up and man handled Braun Strowman albeit in a two-on-one situation. So, the story is over. At least it should be. Obviously, Wyatt will do something to get his heat back next week, but will it be enough? How do you sell their eventual PPV match when we've already seen the babyfaces get their revenge? You can't just sell it on seeing one last match with The Brothers of Destruction. You need more than that and you could have simply had an appearance by Kane and Undertaker here, showing that they will be back, teasing that they will get their revenge, without giving away the physicality.
Jon Mezzera is PWTorch.com's WWE Hits & Misses Specialist, providing his point of view for Raw and Smackdown each week. Email him at his NEW email address – jmezz_torch@yahoo.com.
Act now and become my 30th Twitter follower @JonMezzera (pretty clever handle right?). Just be aware that I don't live tweet Raw, I don't tweet much about wrestling, and I don't tweet much at all. But, it would be nice to say I got back to 30 followers!
For another view from the original Hitlist author, compare Jason Powell's views to mine by visiting prowrestling.NET's "Hitlist" section HERE.